Hello, bLifers! I hope you had a great turkey time, yes, it counts even if your turkey was made of impossible meat.

Our Thanksgiving dinner and gathering were very simple and extra lovely than our past usual. We were missing our daughters that live on the mainland and judging by the cuddlings they missed their parents too!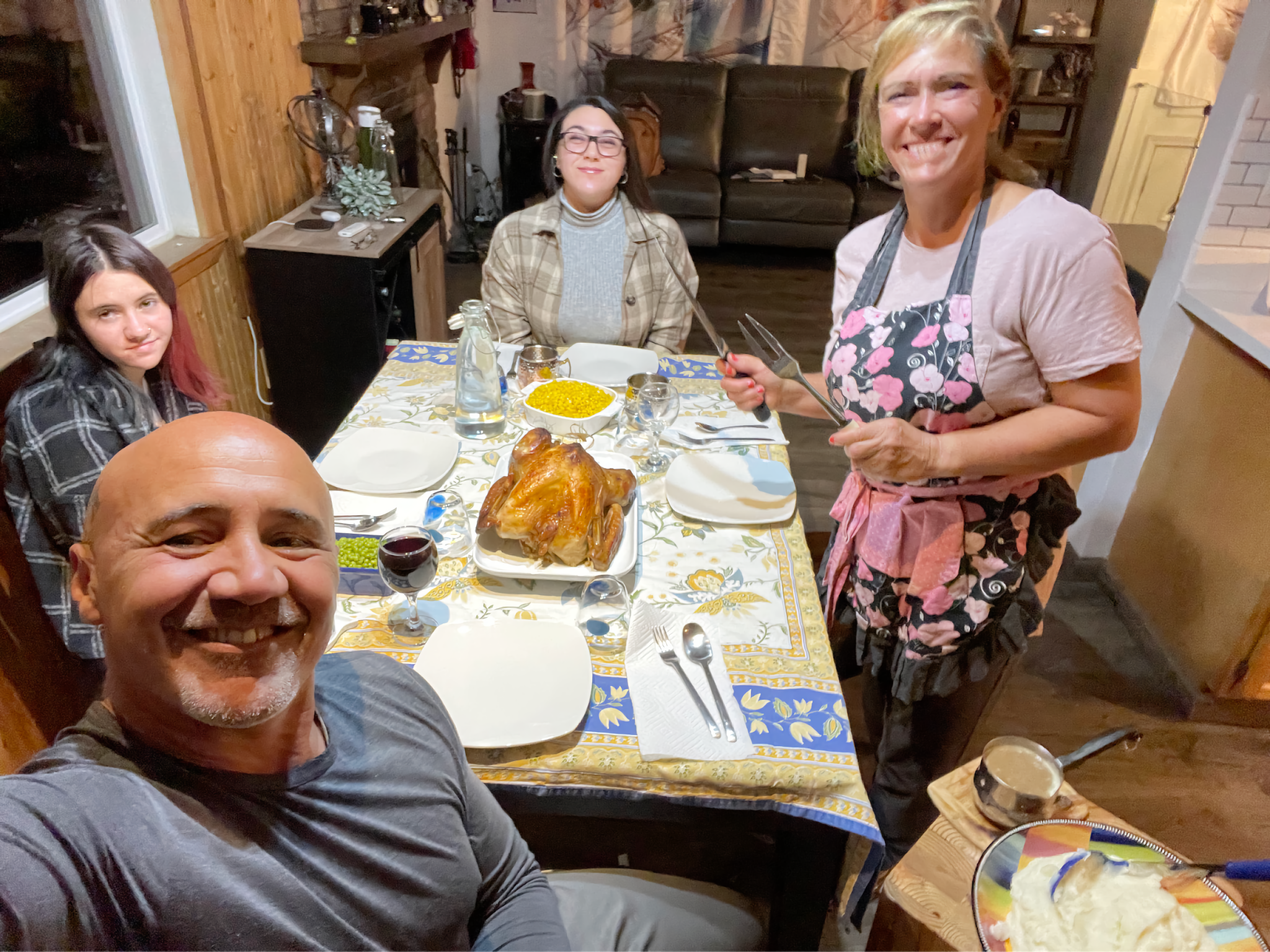 Every time something major happens in our lives we celebrate it by buying live lobsters from Maine. And incidentally this time something great to celebrate happened just a few days before Thanksgiving. An extra reason to be grateful, therefore the big orange girls were in order.

It is an expensive treat but by far a bLife moment that we live in full blast and as an opportunity to exercise our skills in maximizing the critter's value for our belly. This is the first time I was able to pull off this type of extraction of the claw. A CIA extraction operation would have not pulled off that well! #justsayin
We are going ROBOTICs
There are lots of things to unpack, so in my typical New York Times type of article, detailed and funny I am going to give you all the background information and kick-off formally our 2022 The bLife Movement mission.
VIKIBOT brings imagination and originality in creating a Truman show alike experience by streaming the life of a different type of family. Bots an family in an off-grid setting.
The Good News
A few days before Thanksgiving we received a communication from the USPTO, that's the government office for trademarks and patents, about our The bLife Movement trademark application. It has been finally approved and it will go live in their registry on Dec 7th, 2021!
It has been a lengthy process and a roller coaster ride, particularly because the side of the business of the project is not too public-facing and they demand proof of usage. It becomes a bit of a pickle when you have an agreement with customers to protect their information and at the same time prove *what* you are doing for them to the USPTO…
Fortunately, we ended up speaking to one of the examiners and he was extremely helpful and pleasant to work with on figuring out a way to comply. THANK YOU!
Looking forward
This seems about the right time to start talking about the future of this movement on the business side and the founders' focus moving forward.
Mario has a track record of being a visionary. Victoria has a stubbornness for workaround difficulties. As matter of fact is more likely that a cockroach dies of an atomic bomb than either of them makes one of those statements untrue.
Our vision for The bLife Movement™ hasn't changed and the achievement of being able to protect our branding efforts has solidified that vision furthermore.
We believe that COVID-19, now COVID-20, 21, and who knows how long this killer will continue to be our boogyman... has highlighted the broken joints of our society and the illogical ways we function to make a living or connect with others.
Just two years ago Zoom wasn't a verb to have a chat with friends separated by just a few miles. Thousands of people weren't complaining about their lackluster jobs with quitting in en mass. And more obviously companies that are worldwide distributed to avoid heavy taxing had to face the reality that even their workforce wants some of that distributed benefit.

To name one: people want to work from where they are happier to be and that's not the office in expensive areas without taking a pay cut.

A recap
The founders of this movement believe that the rush to accumulate wealth goes at the expense of health, and relationship values and ultimately leaves very small time to enjoy the result of that effort. Since there's no template on how to successfully accomplish a better-balanced status quo, many people dream of working from a remote island/forest/cave you name it, but then, in reality, it never happens, for the most.
Some blame that they need more money to cross that bridge, some others have another 10 other random reasons why they just talk of wanting to do it but ultimately they continue to follow the tracks of everybody else.
In the early days of our civilization, people would move by the water source for a better life. From many degrees, centuries later we still doing this. For instance, folks from all over the world transitioning to Silicon Valley for a better trade-off.
There's no blueprint for leveraging modern technology and knowledge of all times to set up camp anywhere and prosper regardless of what the location offers. If wasn't for the COVID events people would still accept the principle that leaving your family, friends, and hometown in pursuit of better jobs is the only prescribed way.
The pursuit of those shiny pots of gold takes control over the best of life in the process.
We are on a mission to develop a set of blueprints that enable people to find a better compromise while not sacrificing freedom.
Some people do drugs, and some meditate for life. We figured we could apply our smarts differently and make a living out of it in the pursuit of making those blueprints for ourselves and others.

The real pickle in the jar
Many off-grid.ers or travelers use YouTube as a source of income. They make money while they document what they are doing to enjoy their lifestyle. It's a niche so small that the Google Ads department refuses to give our blog the right to publish ads because they label our type of content not monetizable enough.

I still don't understand why YouTube doesn't have an issue with the same content, as the rest of their ad business does, but that is another story.
In all cases, the pool of people out there that are interested in living off-grid is marginal when compared to other subjects. Most people love the comfort of street food, Costco, Amazon, and all other things that are perceived as nonexistent in alternative lifestyles.
How many out there are going to install their solar-powered chicken coup? And in particular, the ones living in an apartment?
Therefore, this new off-grid trend, van-life, and all other phenomena that COVID brought out of the darkness are destined to stay small and they don't spin new innovations to make it more widespread for others.
To have a successful YouTube channel or content creation outlet you need to learn the craft of equipment, video editing, scripting, and constantly pumping new content out to stay relevant to the YouTube algorithm.
It's such a big tall order that only a few manage to make that for a living. Now to that level of complexity add that the subject of your content is an off-grid life. In the words of the social media lingo, it's #tough.
We figured that there has to be a better way of creating monetizable content while living off-grid without making the building of a shed or the installation of Starlink dish, the focus of that content.
Beginning phase II
Elon Musk during one of his talks over the years has repeated the concept of using your Tesla as a robotaxi. Something along the lines of "my car offers UBER rides to others while I don't use it". It's a brilliant idea and no doubt at some point in our evolution it will be a thing of the past too.
Bill Gates has mentioned more than one time that at some point robotic automation will take over and we will have to establish a universal basic income that will be generated by robots working on our behalf in factories. I have a sense that this last one given the standard corporate greed will take longer than the robotaxi to happen but the man isn't wrong on the matter. And with him, there are many that think the same.
Our vision
We believe that at some point at the mainstream level, robots will be an integral part of our lives, not just for utility. We will be relating to them, in the same way, today we relate to pets.
This means that while you live off-grid or travel solo while documenting your life, you could have a companion that records you, does the editing, and all the kinks that are making the content generation economy function today. Let's end the selfie deaths.
If you think that this is over-fetching, then you should wonder why just less than a decade ago, people were using phones exclusively for making calls and texts. Nowadays that is something fading out of fashion and a phone is basically a shrunk desktop computer in your pocket.
Differently from others that share online their lives via YouTube while experiencing the off-grid, we plan to limit that type of sharing, and instead, we want to contribute to that vision by building an ecosystem of robots made for nomads and off-grid-ers that generate income on their behalf.
I know what you are thinking.
It's wild. It's crazy. It's out there.
You are certifiable nuts.
You may be correct.
However... they were saying the same thing to Eric Yuan less than a decade ago. He ignored everyone and built a 139 billion dollars company. You may call it Zoom. Want to know that story in detail? Check this out by yourself.
The real crazy bit
If you ask Mario what is crazy in this adventure, his answer is:
The real challenge for me is to be able to coordinate all the micro milestones that have to happen in order to make the whole puzzle come together. The project is designed to not fully reveal itself until there's been enough momentum built up. I am a first-principle dude, therefore the technical challenges don't scare me, I will find the core and then figure out how to crack the nut.
If you ask Victoria what are her feelings about this project are:
I absolutely love the grandiose idea behind this project. We don't even have robots in modern homes and we are after to build some for off-grid-ers! Out of all things that my husband has come up with over the years, this project is the most out of the scope of our prior knowledge. It is so futuristic that by the time we will be done it might be accepted by society and we will be old farts in space. I don't know if we can pull it off but it is so exciting that I feel like my first time driving a car!
We have no prior experience in any of the things that must be done but the vision is crystal clear to us and the path to get there becomes less murky as we keep doing our homework.
Literally every business that we have pursued in the past the scenery was the same if not slightly worse and yet we succeeded and faced all challenges, financially, emotionally, technically, and everything that comes with booting your own business while everyone and everything around tells you that isn't worth or possible.
Follow your dreams and if you think you can't make them happen then you don't desire them strong enough to want them in the first place. Timur is a great example of pursuing what you love.
At the age of 39 he decided to kick off a project that builds the book of knowledge, if the zombie apocalypse happens tomorrow, you don't have an iPad to look up how to filter water from the river. Tamir's book, full of majestic illustrations is fixing that. In his own words.
"I am 39 years old, I was born and raised in Moscow. I travel a lot around the world, I have been to Burning Man many times, created art for the festival, and actively participate in the development of the Burner community in Russia. I'm also a serial entrepreneur. My projects are a way for me to interact with the world and with myself. I am sincerely convinced that self-expression, art, and creation are things that can and should be capitalized on. The business market is the perfect place for self-expression and self-exploration. And since, for better or worse, money makes the world go 'round, this is the most honest way to make a contribution and for others to appreciate it. I've built a large quest company (Escape games), made and continue to make table games, and created many other funny and irreverent projects. This Book is one of the most challenging and ambitious tasks I have worked on and comes closest to my idea of how personal, engaging, and resonant the work you do can be. And I am very grateful to all of our bakers for the opportunity to create this wonderful product".
Prototyping
We are experts in figuring out the most effective and financially feasible ways of validating principles and testing out concepts. From chemical compounds to mechanical design all the way to fashion. We have established solid prototyping principles and YoY we become also better at picking the best prototyping model.
Many years ago we invented an ecosystem of products to measure pressure over garments that led to incredible intellectual property and business ventures. Some of the equipment necessary to test that invention was in the millions of dollars and that didn't stop us. We designed equipment that would perform the exact same task as those expensive machines but with a nanoscopic percentage of their price tag. With similar if not identical comparable results.
VikiBOT
Therefore, with that mental mindset, we are starting to set the foundations of VikiBOT. It is step zero for what we expect over time to become the source of income and emotions for The bLife Movement™ and the people that will be helping during the making of this quest, for years to come.
It will be a robot verse for free thinkers and alike. The bLife Movement, blueprint #1.

Victoria will be starting reviewing the robot world from design interaction, options available, and their specific functions. You will be observing our shifting in the nature of articles we publish from beautifully crafted outdoor kitchens to reviews of movies with robots, toy robots, and everything that is surrounding us already but we don't spot it because the robot revolution has started in the factories and has to make its way to our homes yet.

Mario will be focusing on how to build our own robot ecosystem that will be assisting us on the land. As typically happens with his inventions, he doesn't waste any time, as we co-edit this article, he's assembling a modified version of Petoi Bittle, a kickstart project that he loved from the second it appeared online.
Together we will be figuring out how to present, gradually our vision to the world and lurking in not just people that love robotics but also mere mortals that love soap operas in bolts and nuts salsa.
We are not revealing all the cards of what we are going to do and not just because we want to tease our audience. The rationale behind it is far less nefarious or smart, it's because the mantra of every startup-er is that you don't know what you don't know and therefore rather than shoot the breeze over a blog, we're sharing what we know for sure at this time and as the project progresses those articles will be our legacy.
Want to be part of it?
Let's chat, there's an opportunity anywhere if we look close enough.
The bLife Founders
Mario & Vic
(C) Garage Innovation LLC | All Rights Reserved