💡
The list of all other work/gifts handmade is
here
.
Dana was the first person I met when I joined the Tai Chi Molokai class. He has been a pleasure to spend time with, I was planning to make 3D wooden Easter eggs for him and the rest of the team but working those days, work is at the highest level of my career so I couldn't find the time. x
Martial arts have been historically my go-to cool-off type of sport. Then I got older and tried golf, which I enjoyed very much with the relevant exception that I sux beyond acceptable. So I started mountain biking, and it turns out that besides a few crashes, I sux a lot less at that sport. But golf has stayed in my heart.
When I heard that Dana does well in Tai Chi and even scores incredibly well on the green field, I thought I must share my admiration for the man.
Since I had to compromise with time, I picked one project that I had had in mind for a while. I didn't know what to make as a present until a couple of months ago when I cut a piece of Monkey Pod tree that I "saw it."
A Golf Cart with an 8-hole shot in it. So I start working on it during the last hour of the day when the sun sets from where I have the shed, smiling the most to the man who has been too sun-deprived in Seattle weather.
It started like this.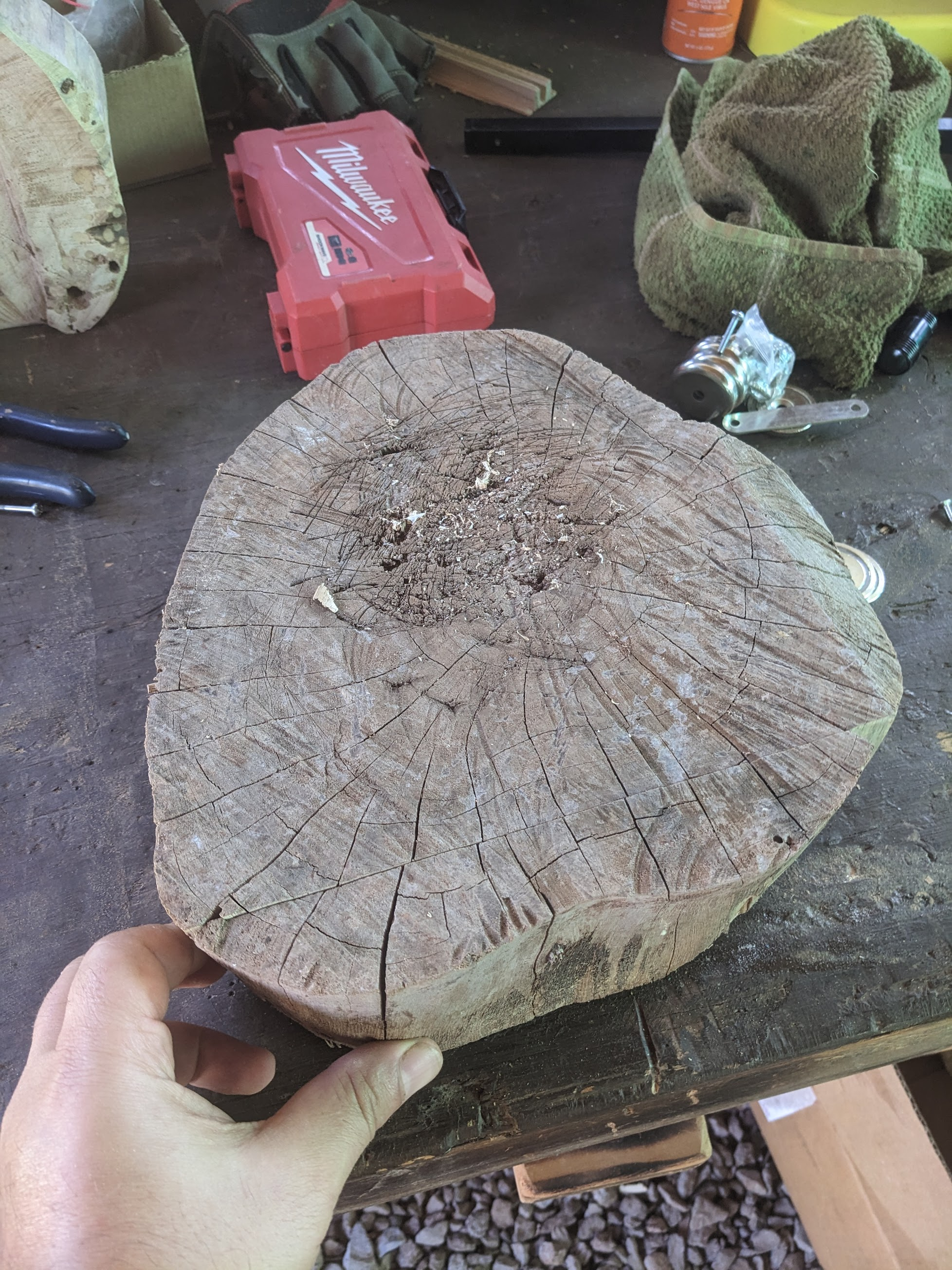 I then cut the base so that, if Dana doesn't throw it in the fireplace (you have my blessing, if you don't like it), it can stand on a flat surface.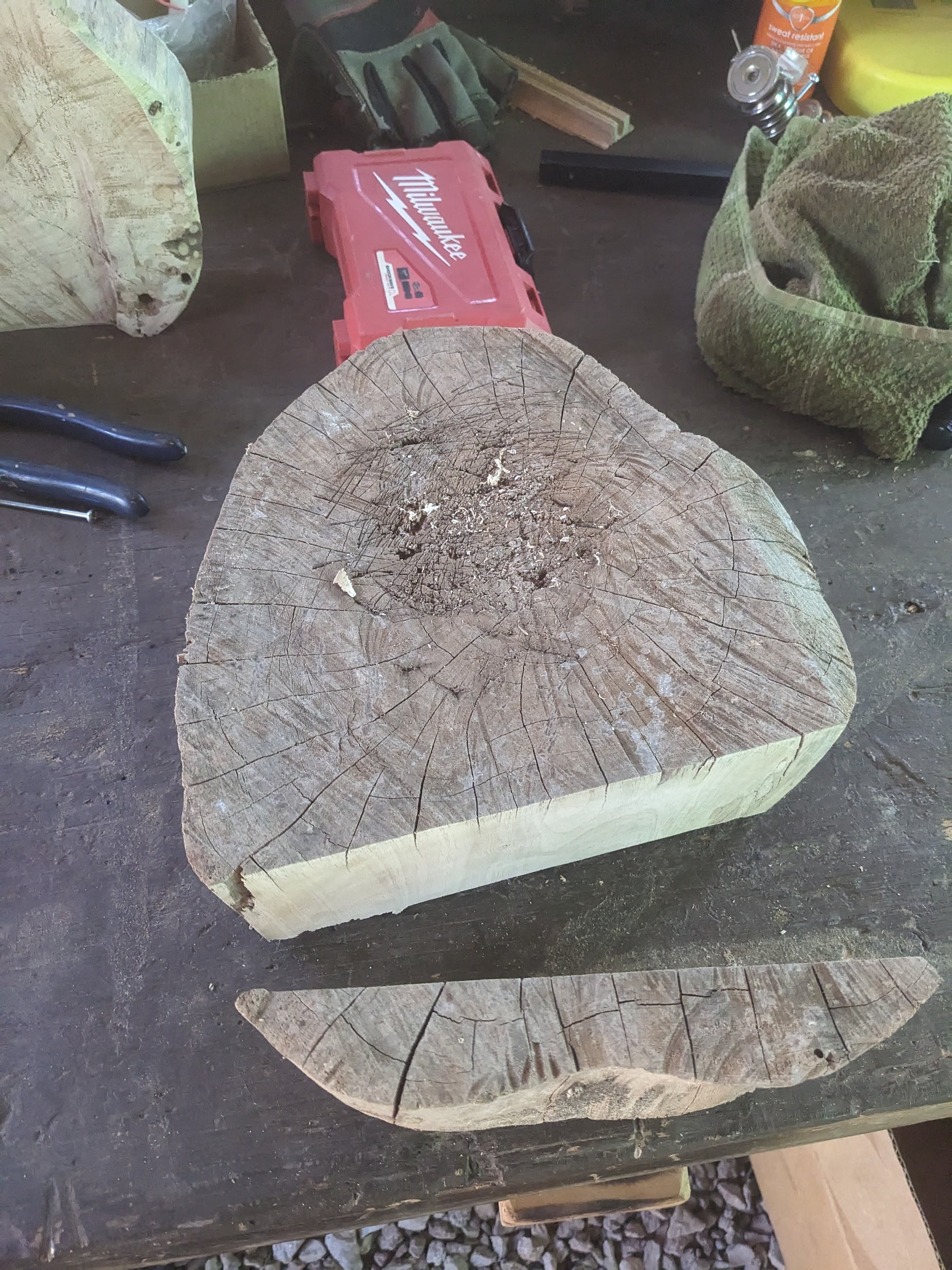 Naturally, as now it has become a custom for our egg makers, Thelma and Louis showed up to flock around and peck my toes through the shelled crocs!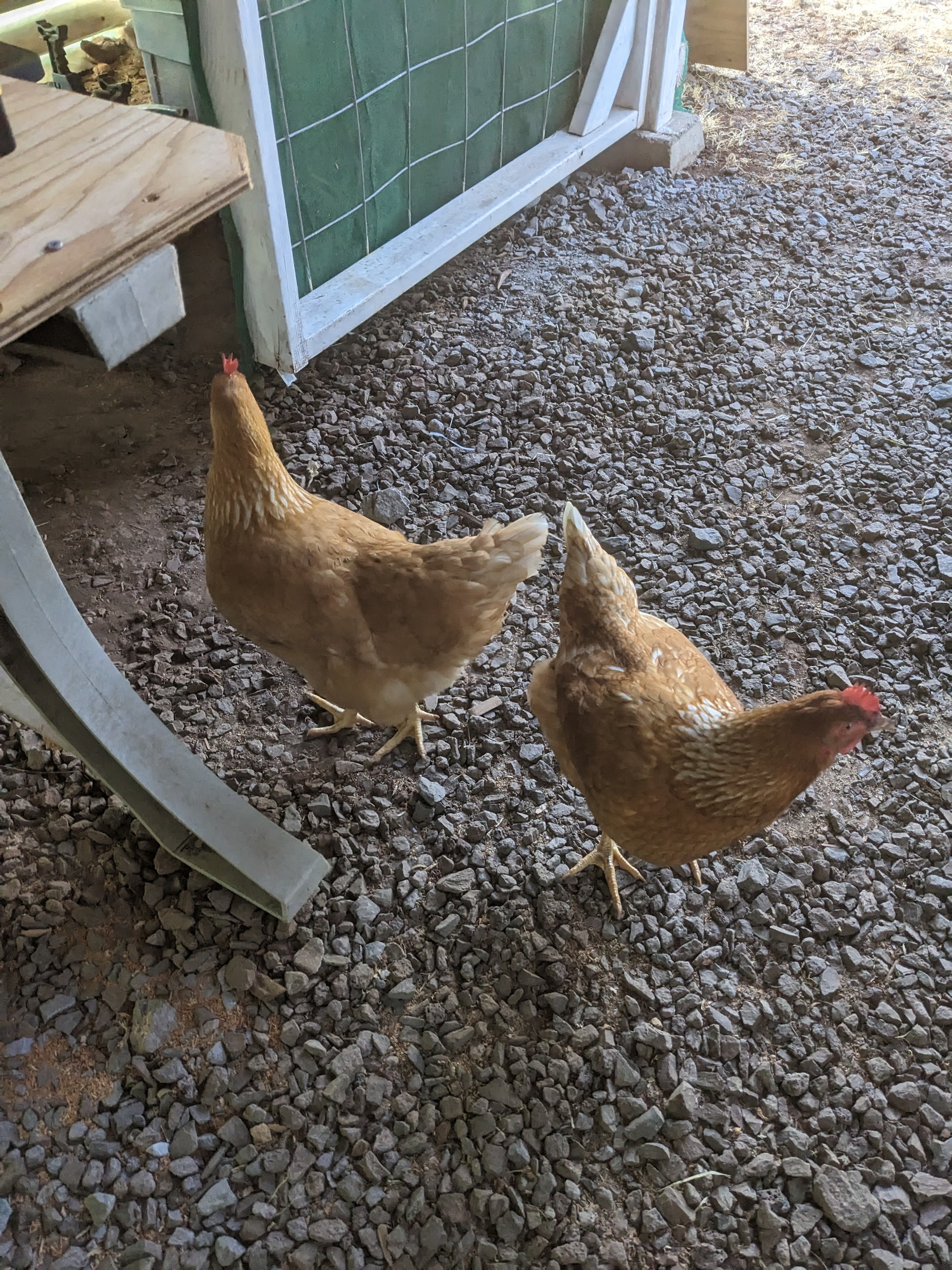 since the friendly annoying peckers wouldn't hush out after a few attempts, I grabbed the laptop and start drawing the lines for the stick figure I had in mind.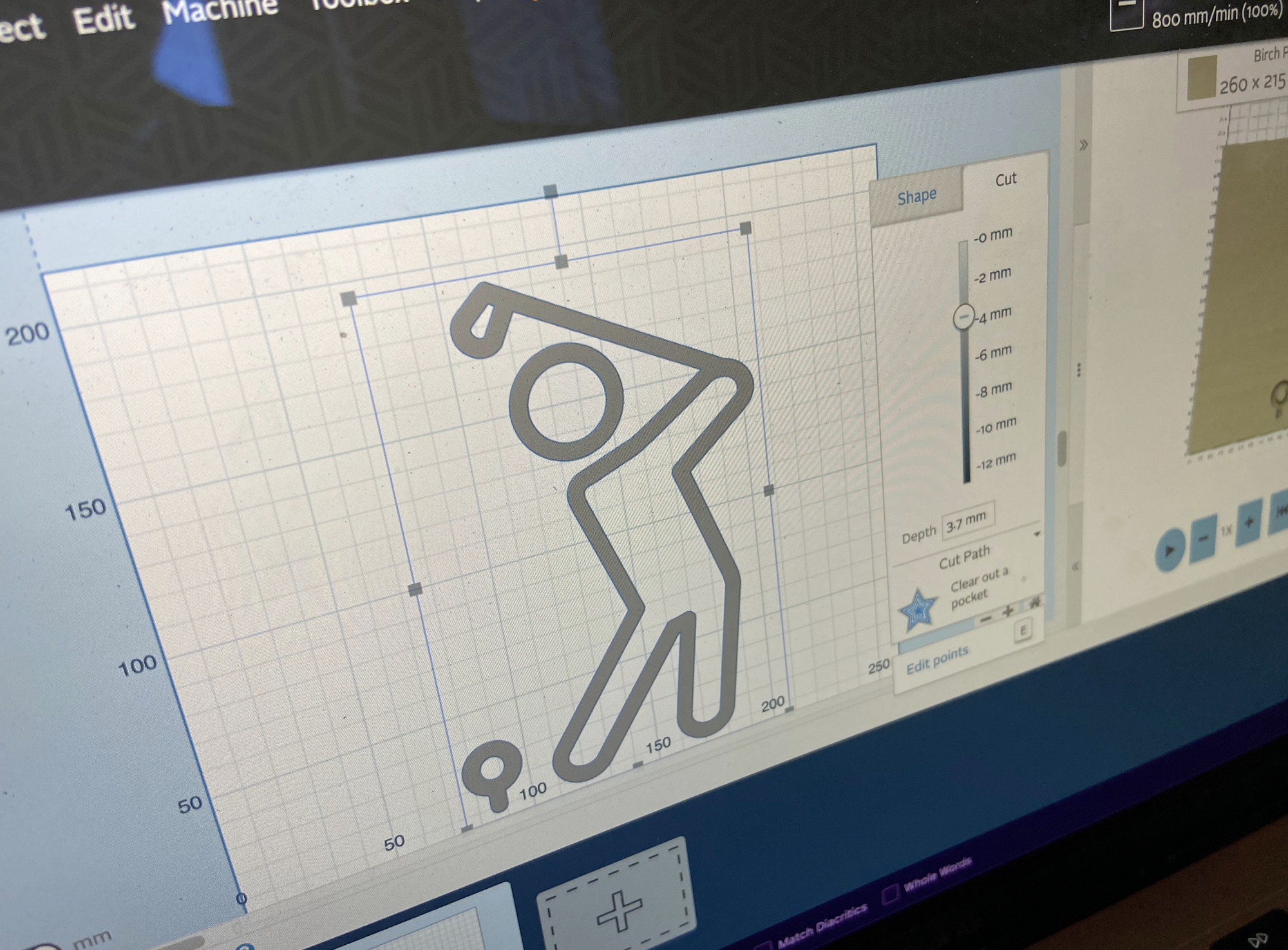 It took more than I had anticipated because, from the angle where I was standing, the view was just mesmerizing.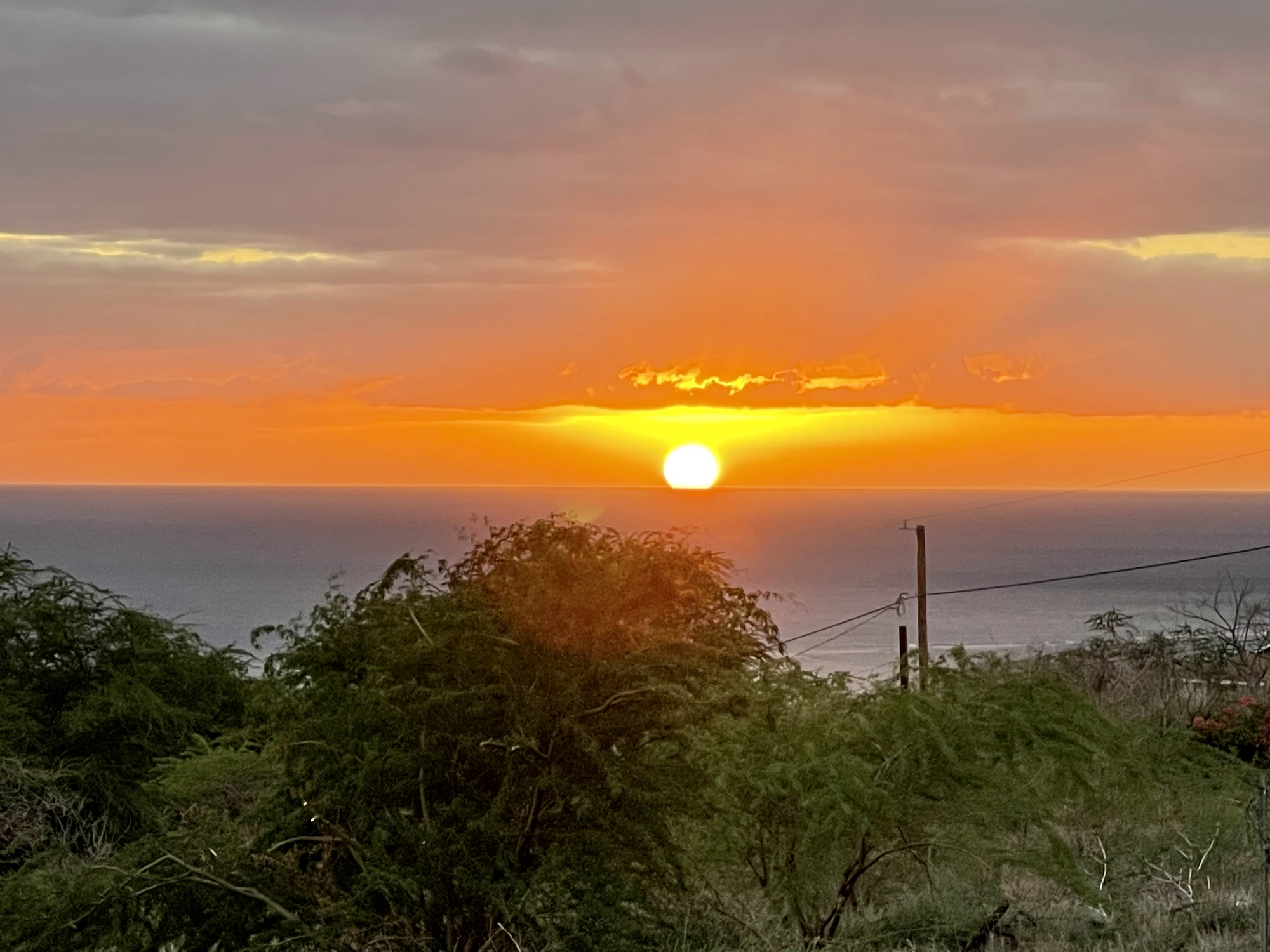 Once I got back to the lab, I fired up my assisted router and start shaping the figure I had designed. I miscalculated some angles which end up extending the carving time by a couple of hours, but at least no swearing in multiple languages was shared in the ether!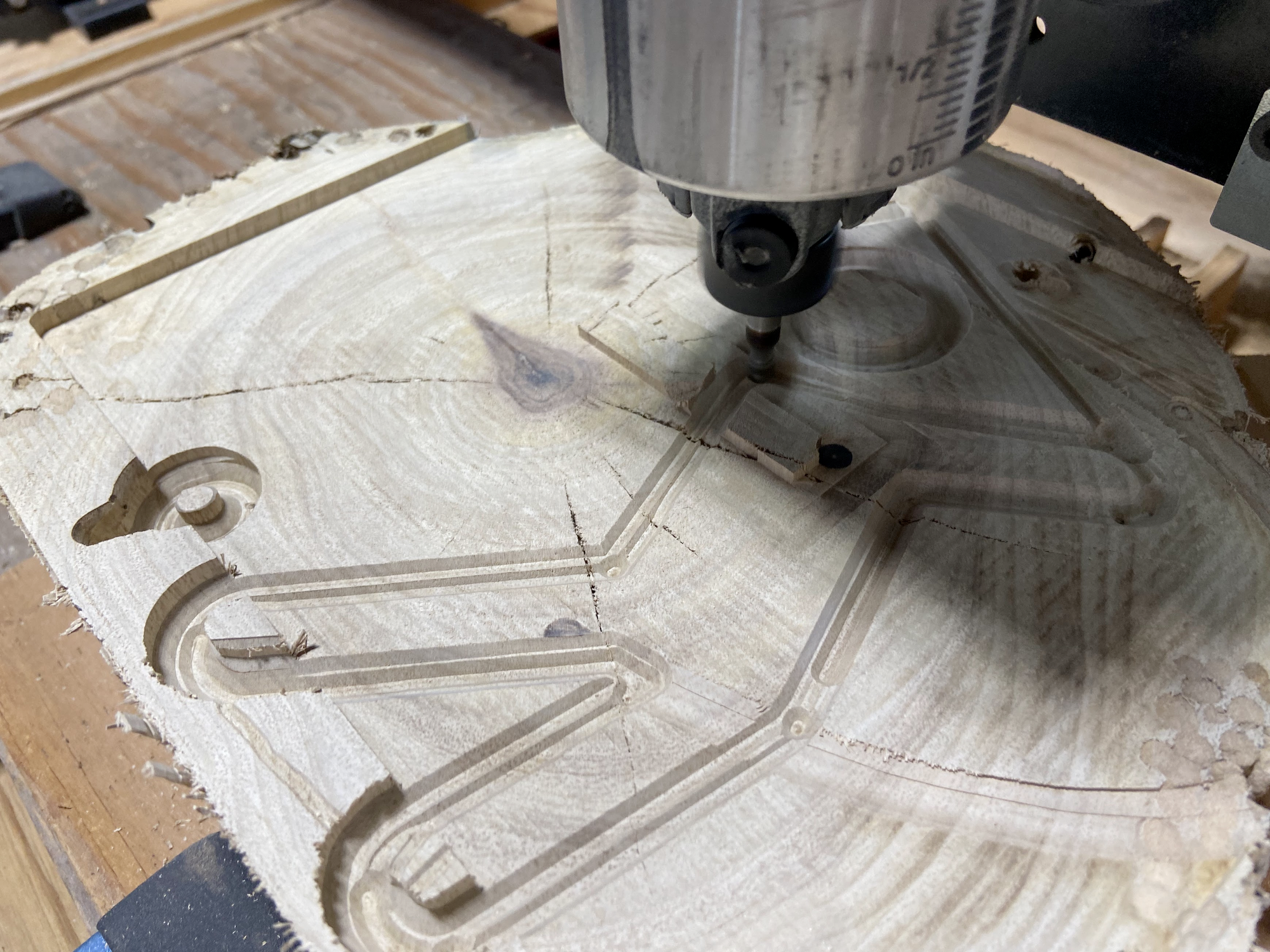 Now was the time to start cleaning up the outer shell of the block, remove the dead layer and deepen into some spots to create more darkening effects. Once the oil soaks in, those spots give a more 3D look when standing in front of the block.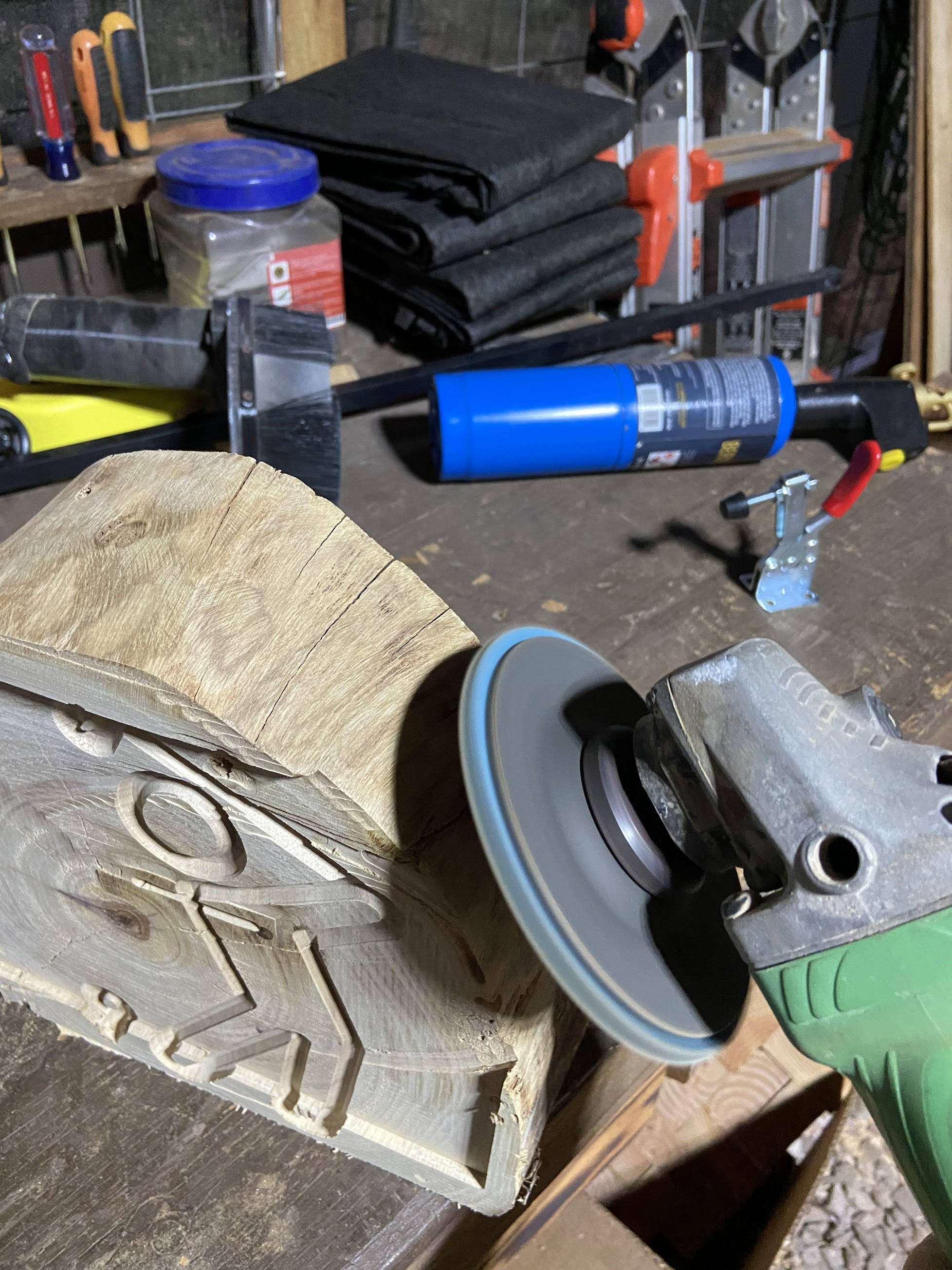 Torching wood is quite satisfying unless you are recording with one hand, tossing the foot to keep the chicken away from peching your toes and singing lullabies. All at the same time... Yeah, I live on the edge!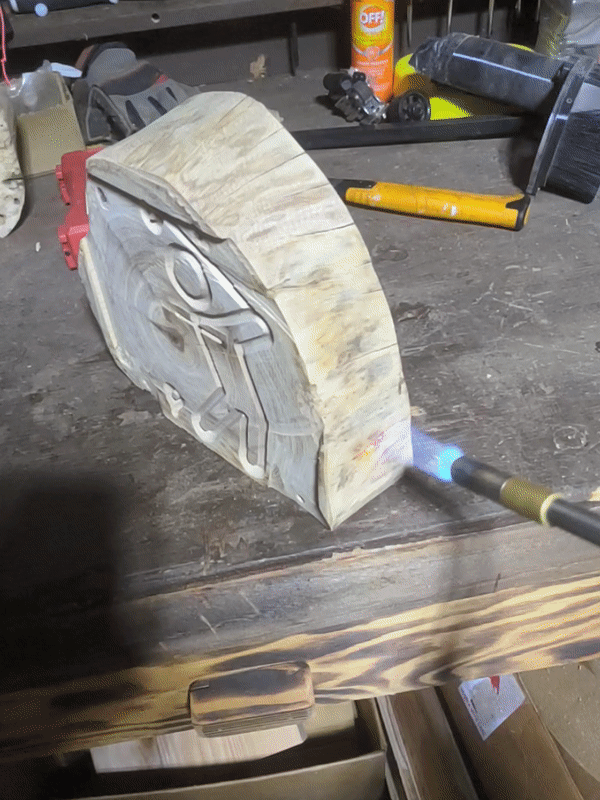 I have a pack of different mechanical parts that I use for prototypes, I remember having saved a few wheels, and after a good round of tossing and selecting, I found exactly what I was looking for.
I drilled the holes for the pin at a high that would give a 10-degree angle when flat, but I didn't glue it just in case Dana wouldn't like the additional feature 😅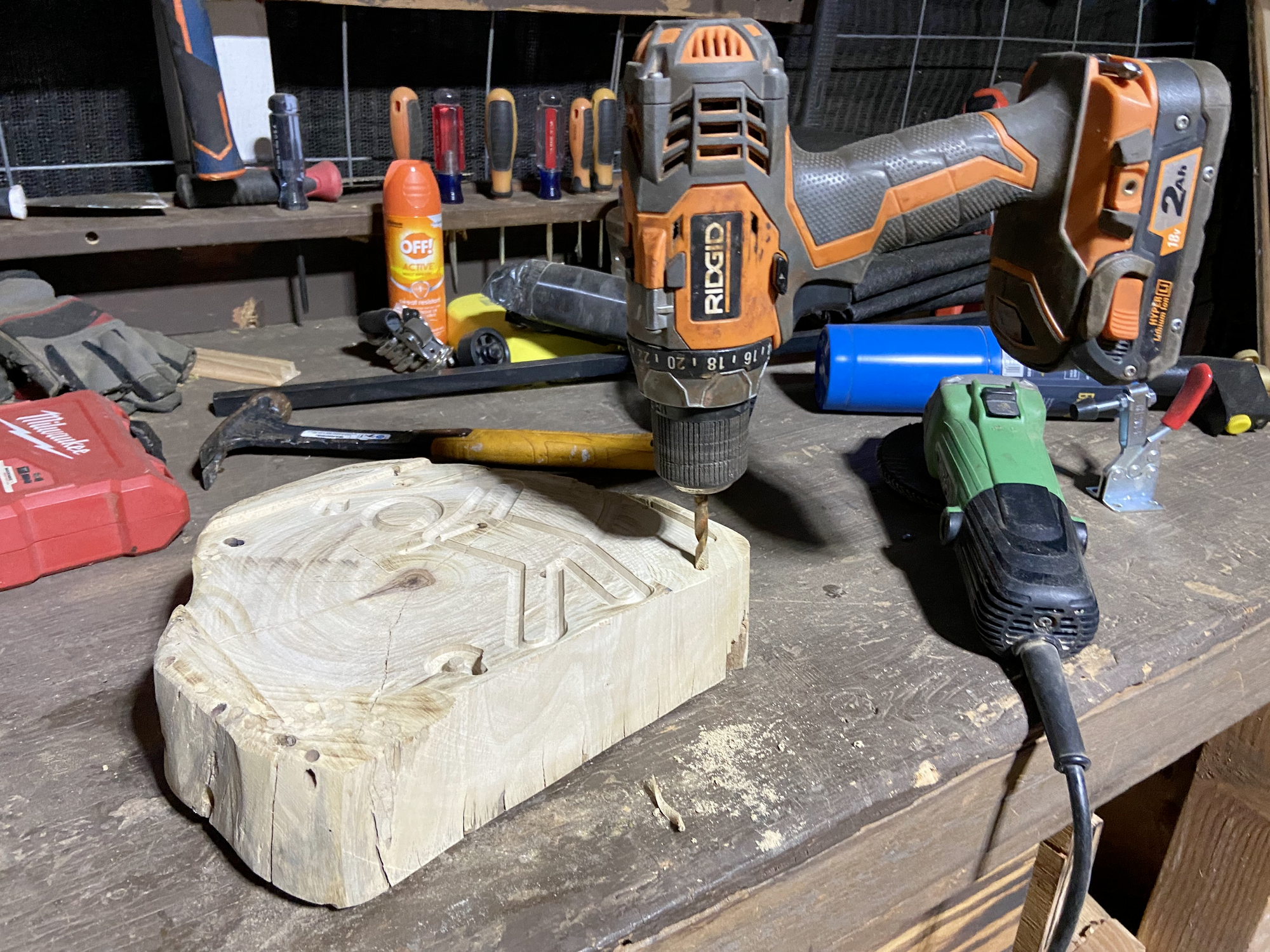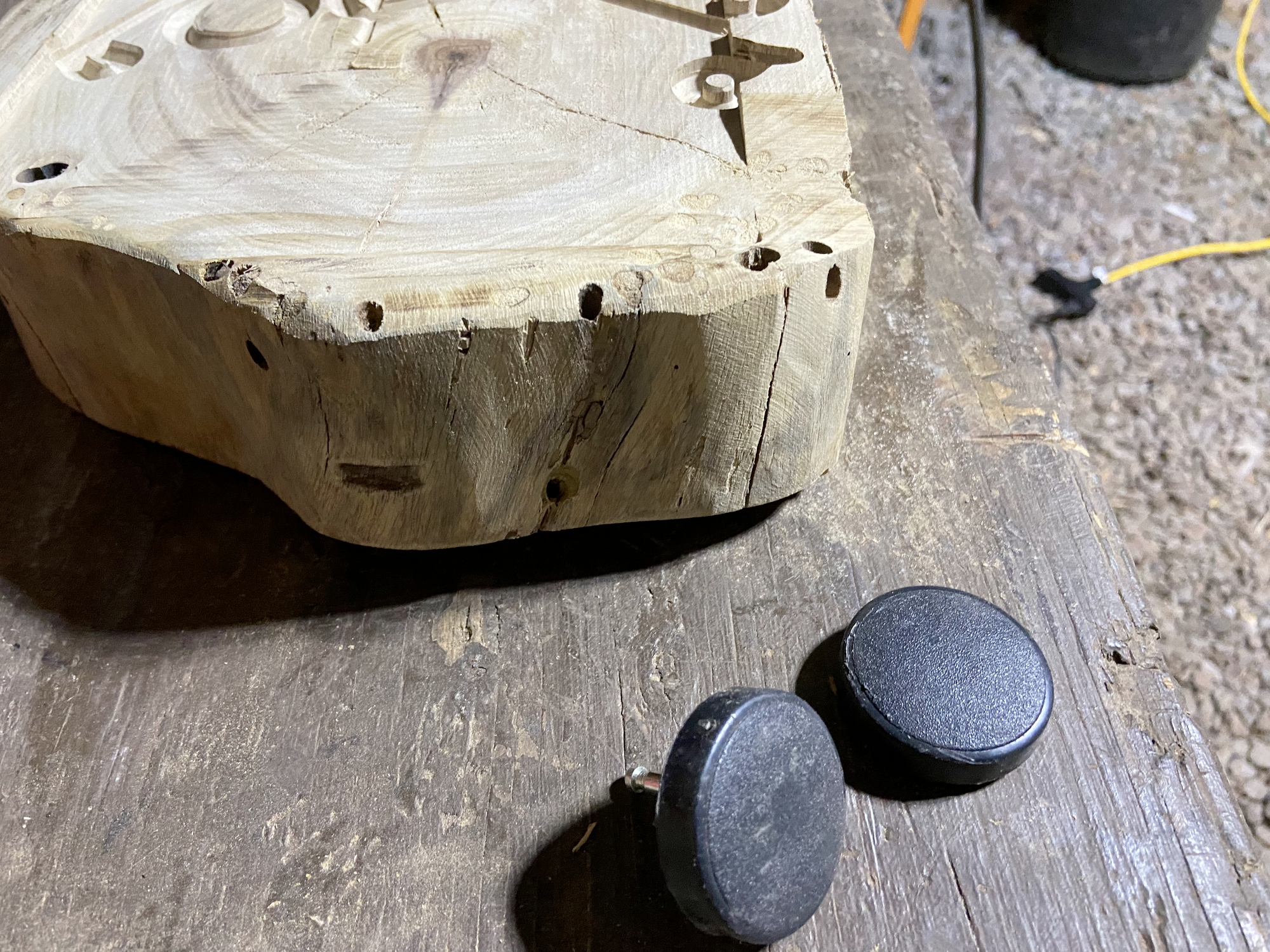 and et voila!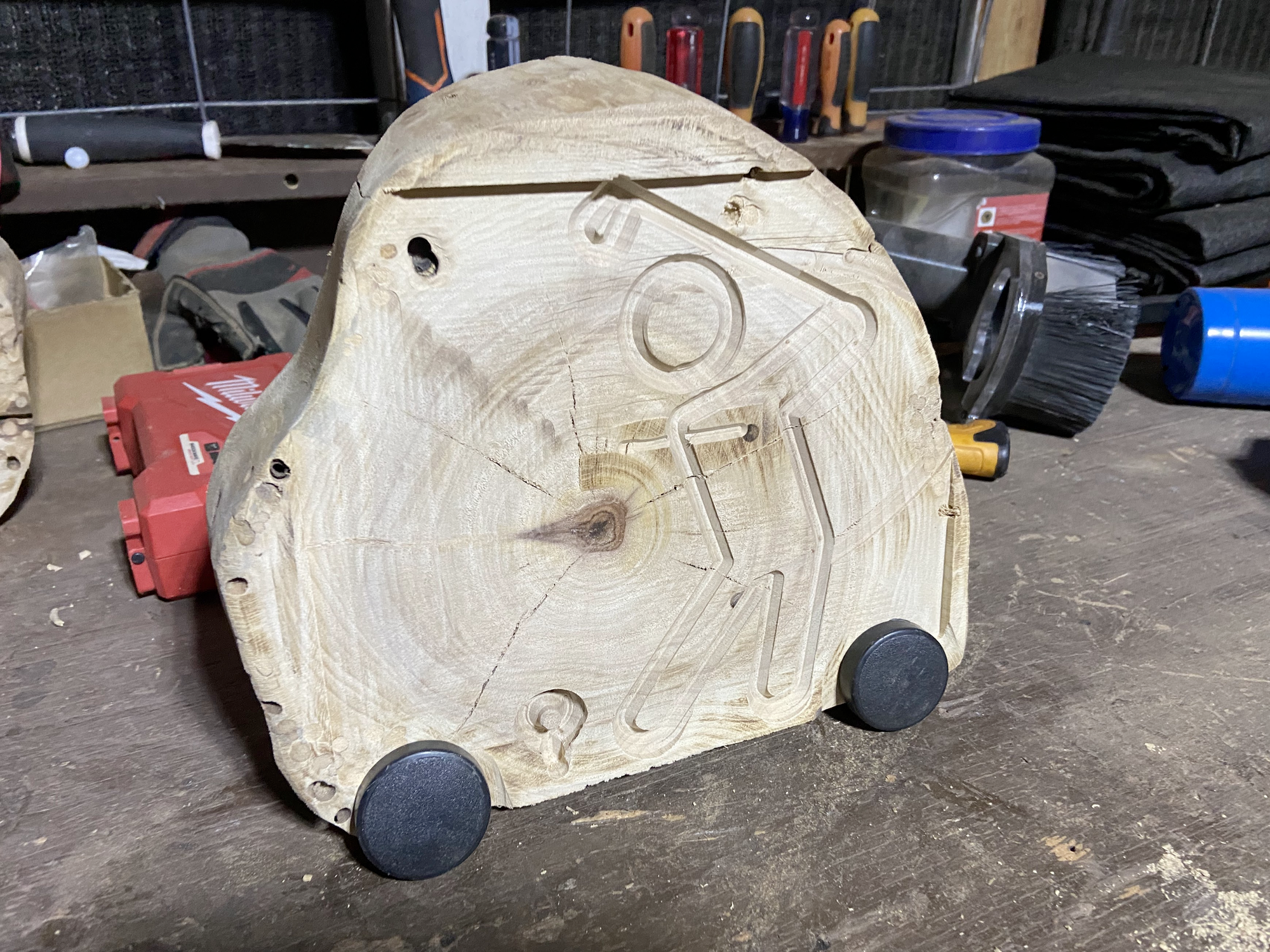 Then it was time to laser his name in the front for the golf part of the gift story
and a single whip-like move in the back for the Tai Chi. At this point, my vision was coming to life; normally and against my will, I rise at 6 AM to work on my actual daily job. By this time of editing this page and looking at the speed of my typing, I realized that the almost old man had to go to sleep before hitting the mouse with the front lobe.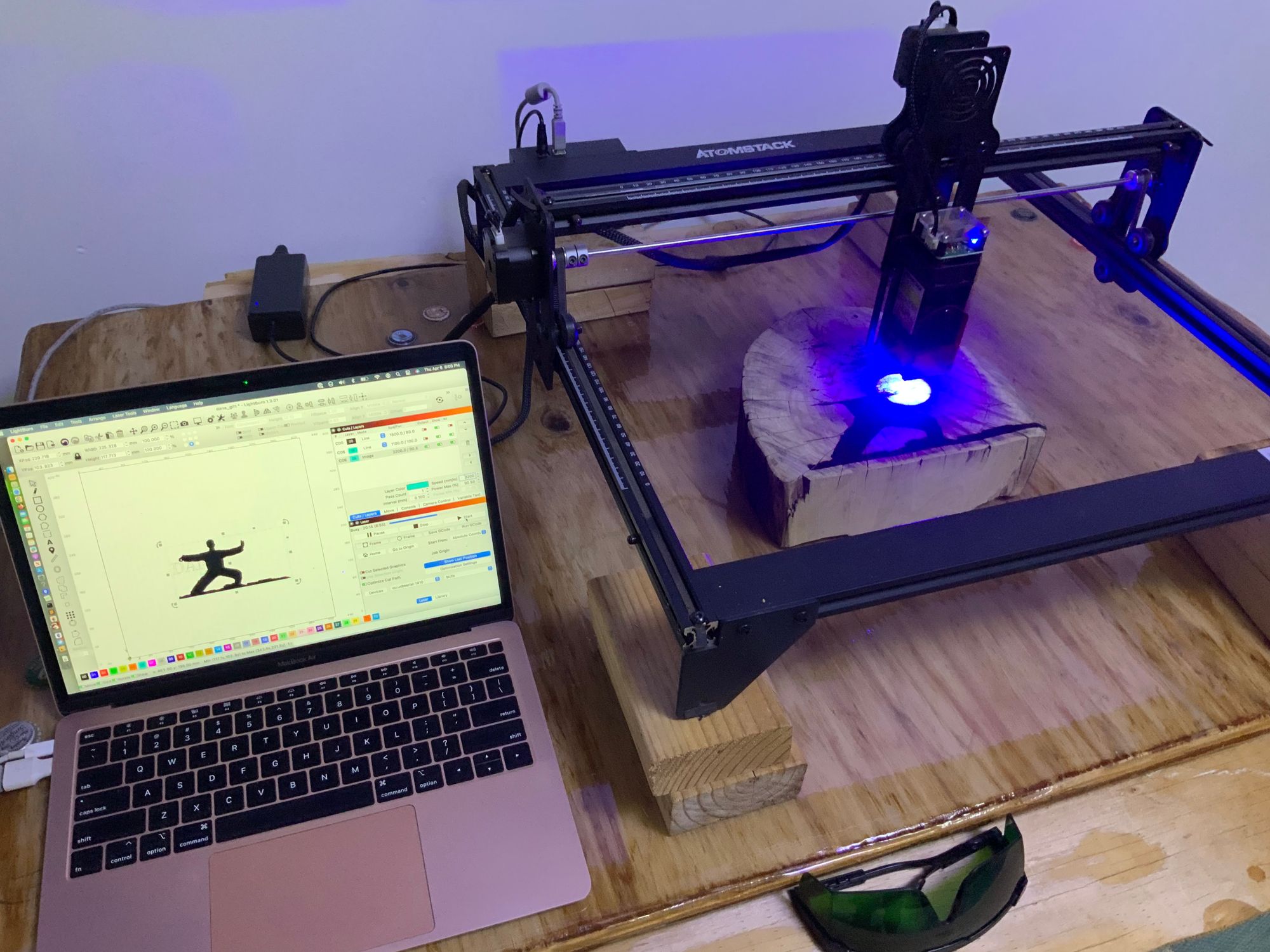 Tomorrow, hopefully, I will be able to paint little Dana in a stick figure and publish this article for him to see backstage the making of this gift. I take every opportunity I can to express my creativity and bring a smile to others. Thank you Dana, for being a humble and friendly being!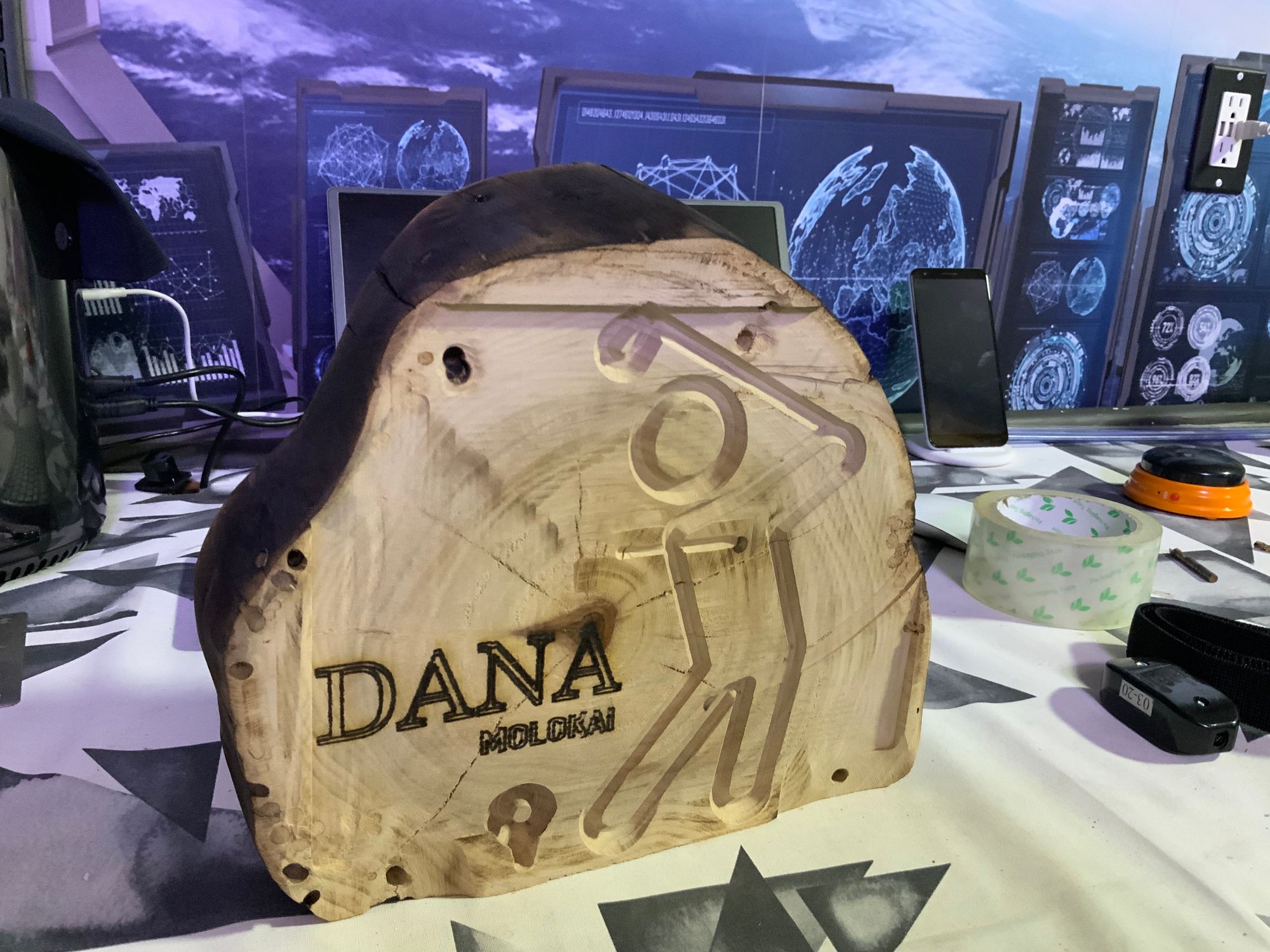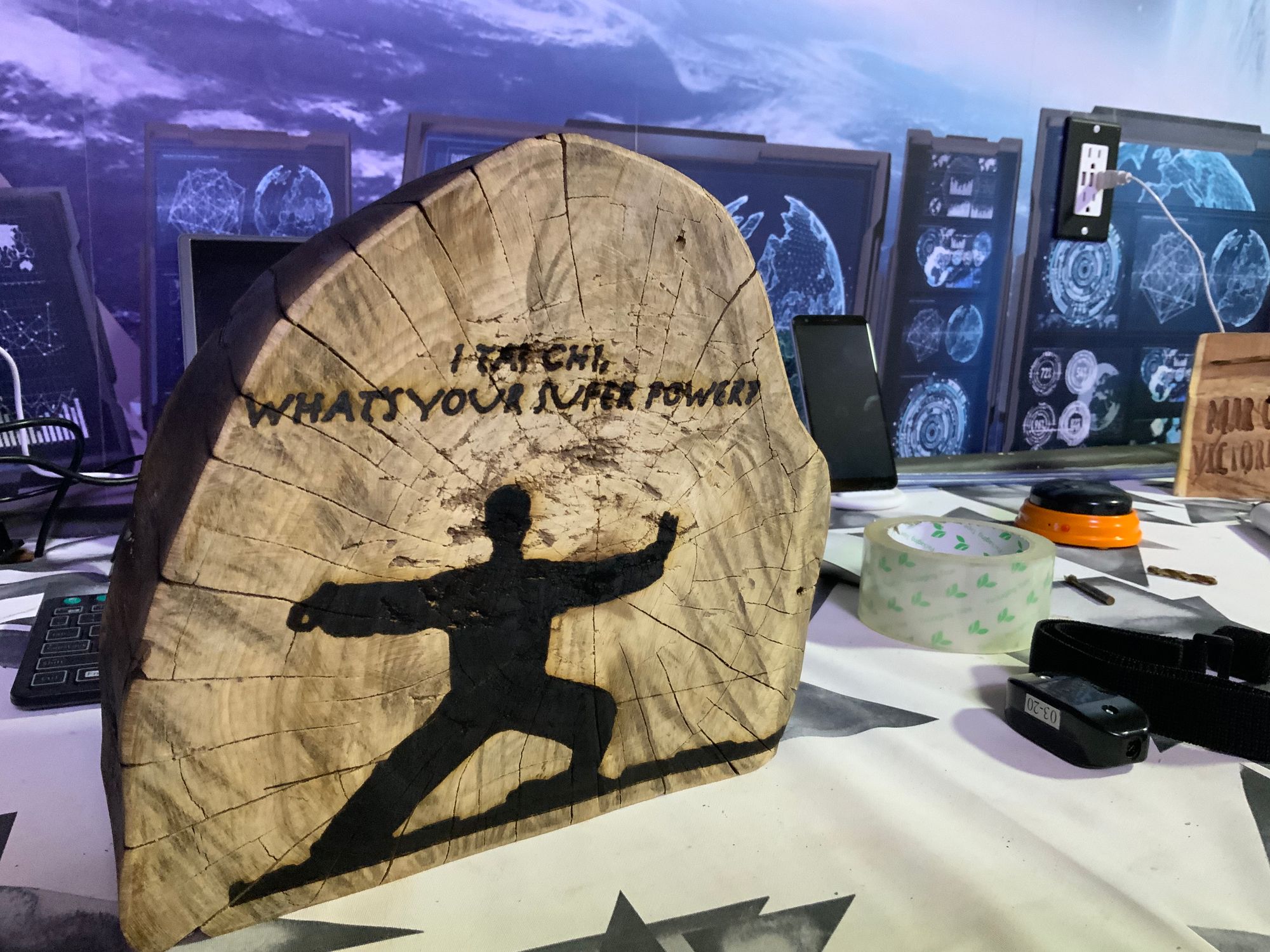 ;mE