💡
This article was created before this site became a popular pit stop for robot lovers. We keep writing this type of family news for all free members, because community comes first. If you are a paid user and have no interest in our Life On The Island, feel free to catch up on other topics on the site.
Victoria is less than two days away from landing at bLife HQ. I am very excited for us and very jealous of her leaving without me. Particularly because the weather in Molokai right now is heaven and here is... well less motivating for seashells like me.
Our now friend Sally left the place we're going to make our kingdom, like new. (kudos!) And her stuff is en route to leave the island.
I have started the countdown until I can load Scarlet, jump into a car (at this point any will do it) rush to the airport and start blogging from the plane. For those weeks that I am temporarily single and bounded to stay on the mainland, I have a mad fitness plan. I can't dishonor the island bringing outside fat belly. I am going to shred this coat of lard as much as I can, possibly without getting hurt in the process. Not because of any craziness but more because of the inclemency of the weather.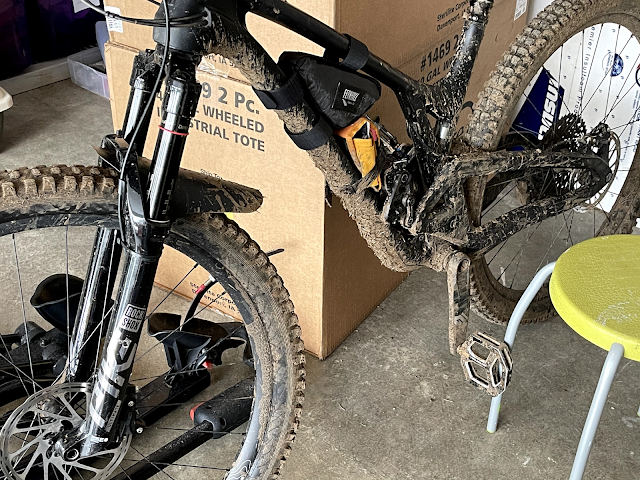 As you see by how much mud my Black Mamba collected during a not so rainy day, you can picture how bad it is here in greenhouse season.
I am looking for a shipping box to get my monster to Molokai, the tires are perfect for shredding the hills behind our place. I would prefer a fat bike but I couldn't find anyone that would ship bikes there. There seems to be a general monopoly in this type of business where stores and suppliers actively refuse to ship to HI.
My wife is using a bix box freebie by REI and today I have gone through the packing experience. The first time for me. I have asked for tips on the Evil's Facebook Group and everyone recommended things that the video below captured pretty well. In addition, people suggested considering insurance like Velosurance.
I am trying to figure out if I should order a hard box or go for a free cardboard option, fully wrapped. It's not just a matter of the cost of the item but disposal/storage of either option.
I am going to talk to my friend Hugo (don't pronounce the H, it's a big deal if you do! According to my friend Steven). And ask for advice. He lives in Texas and sells Yeti bikes. Once he was visiting and on a trail, he saved once my beacon with a flat tire. So I am hopeful he can give me some good tips on how to handle the Black Mamba.
In the meanwhile, my love, fly safe!