💡
This article was created before this site became a popular pit stop for robot lovers. We keep writing this type of family news for all free members, because community comes first. If you are a paid user and have no interest in our Life On The Island, feel free to catch up on other topics on the site.
The last time that I described what we're surrounded by, was about the birds and I got many comments that actually filled gaps of knowledge. As turns out several of our readers are birders!
This time, I am taking you through a tour of what we have as plants across the land and what we're adding in the future. Buckle up, plenty of juicy info to be shared. No mango was killed in vain for the making of this post. They made me say it!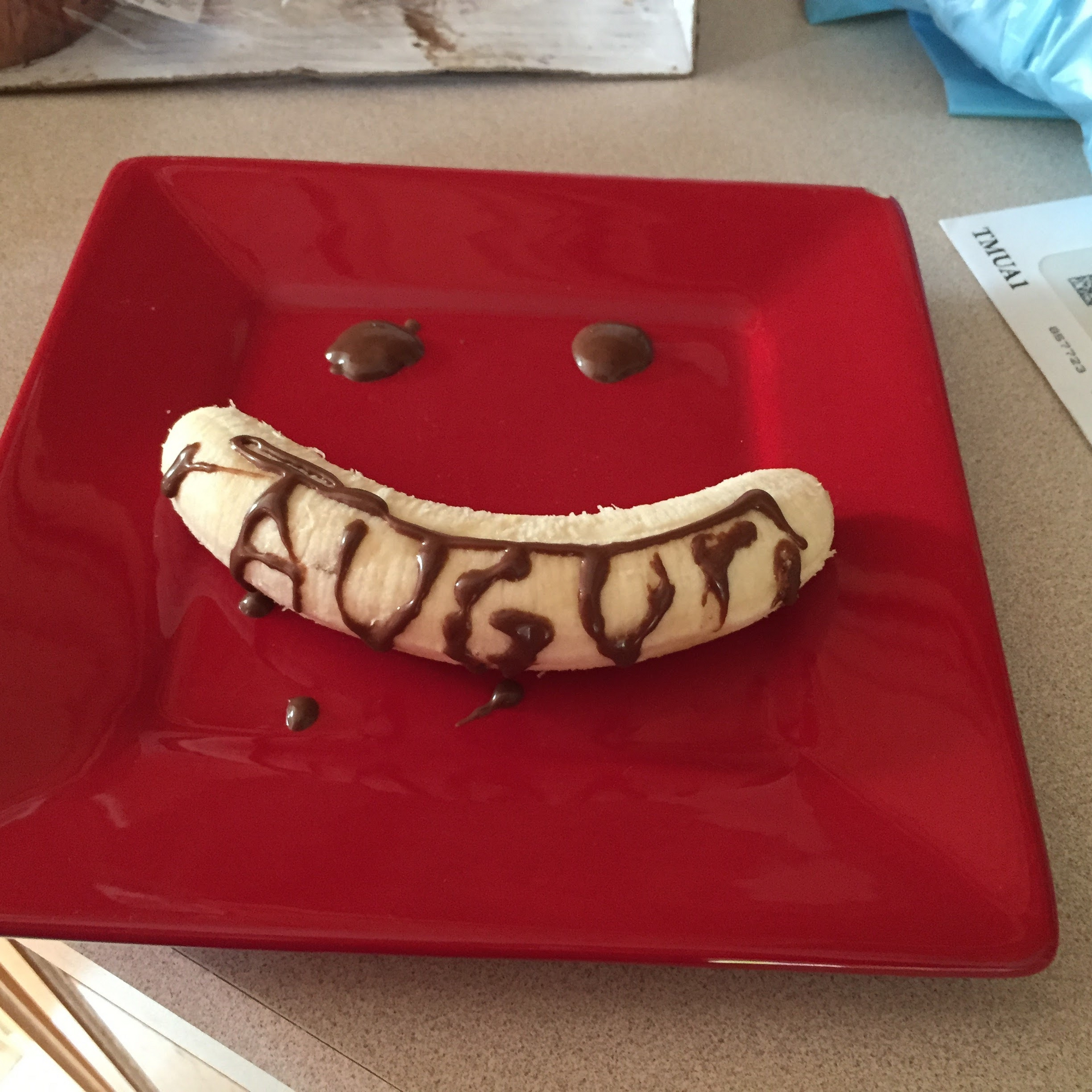 When we had to make our decision to purchase our current homestead we were at a cross between buying an already all set place and the place we end up buying.
Ultimately, we decided on the place that had the right vibes, starting with the previous owners and the fact that the whole property offers a canvas at our disposal. As makers that was a major drive because we could customize the heck out of it over time to reflect our desires and personalities.
Just like we did with our home in Seattle, from a negligible property, over a decade later it has become a crown jewel of the area. We are quite capable of building from scratch and investing in what really matters to increase the asset value.
For Mario in particular our place has "pieces of home-home with the mangos". He's from the Amalfi coast region and Moloka'i is a clone of that type of environment, lifestyle, and people. Since our first visit, his comments on the mangos were making a regular stop in every conversation about the property.
His grandmother on mom's side was a farmer and naturally, even if he was pretty young when she was alive, he picked up all the rural vibes. I grew up on Vashon Island where while it is rural you are just a quick ferry away from Seattle.
When we made the list of what we would have tackled first about the property we both said "FOOD". Mario eats vegetables like a goat and we both are driven to fruit as comfort food; so we start assessing what we had inherited and what we wanted to add to the pool.
The land is organized in tiers and after a few days going up and down through the land we looked at each other and said "we need stairs first".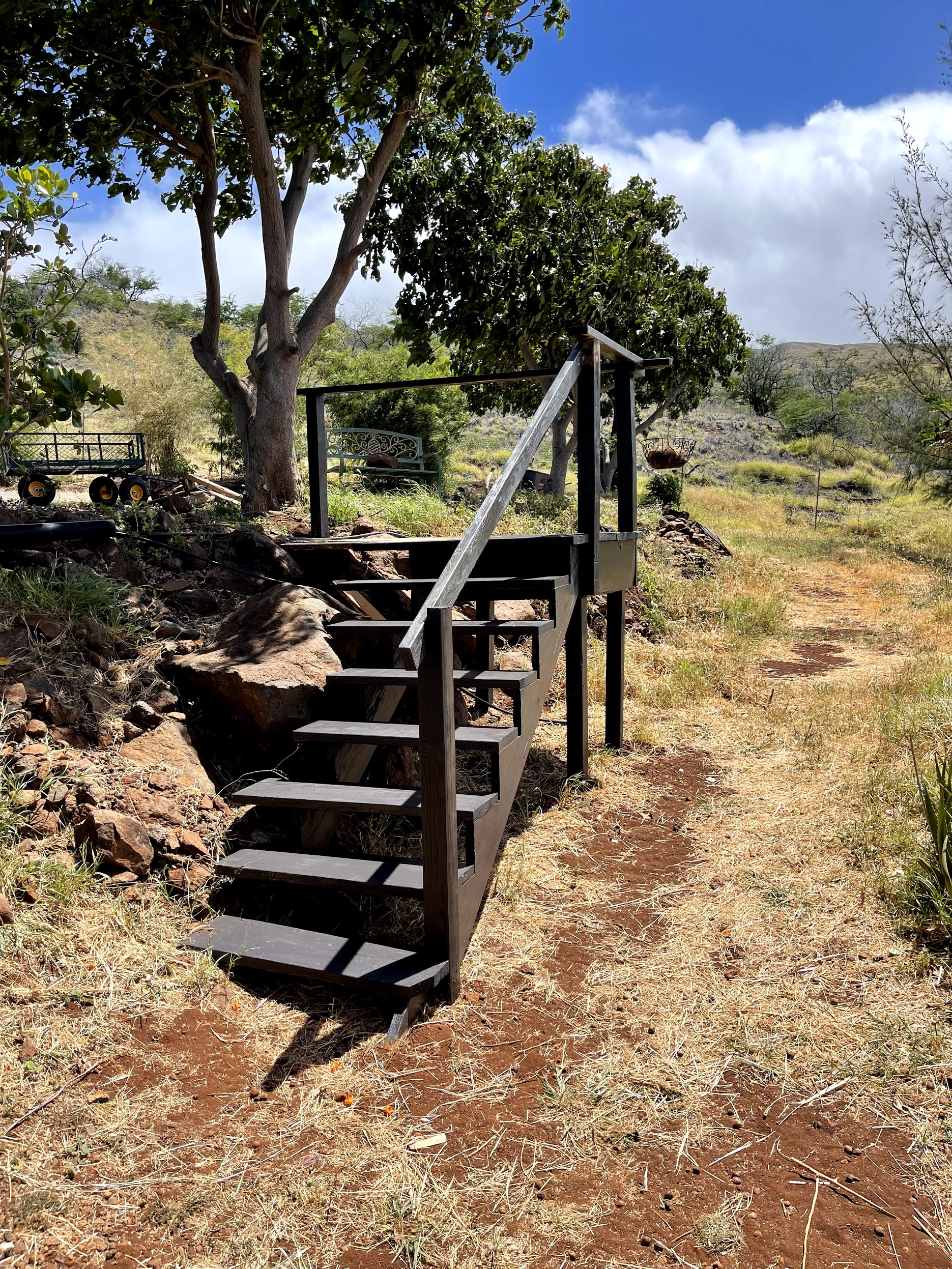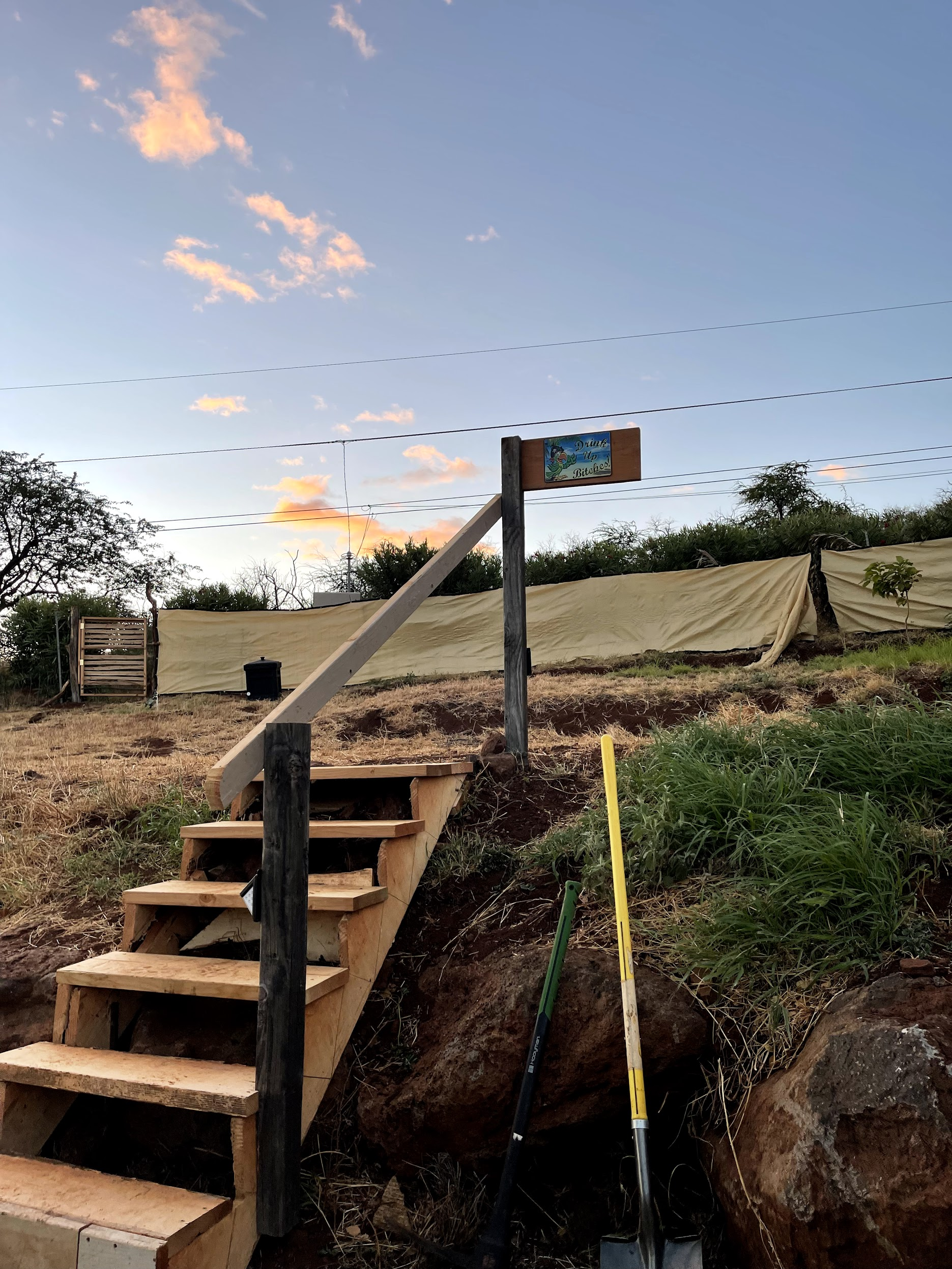 Mario has been dealing with stairs construction since the first home was bought two decades ago. As matter of fact, he taught me (a born American) the terms of all parts that make up a stair. Besides the math behind making them right, there's some full dictionary work behind it!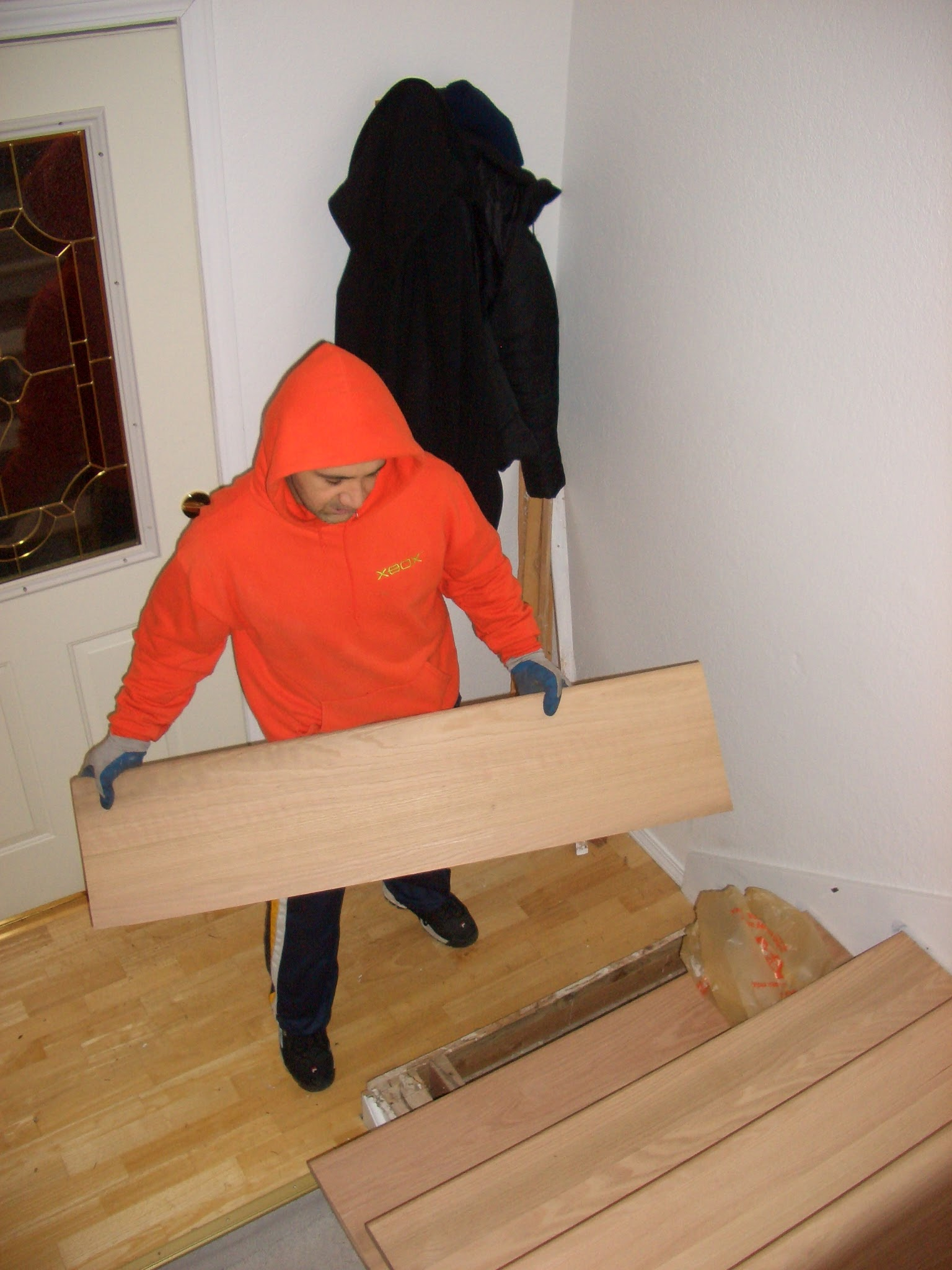 Once the stairs were set we clean up the greenhouse we inherited and after a few times going in and out, I pleaded for an actual door in place of the cloth that was in its place. Hubby obliged, I made an apple cake in return. Fair deal 😅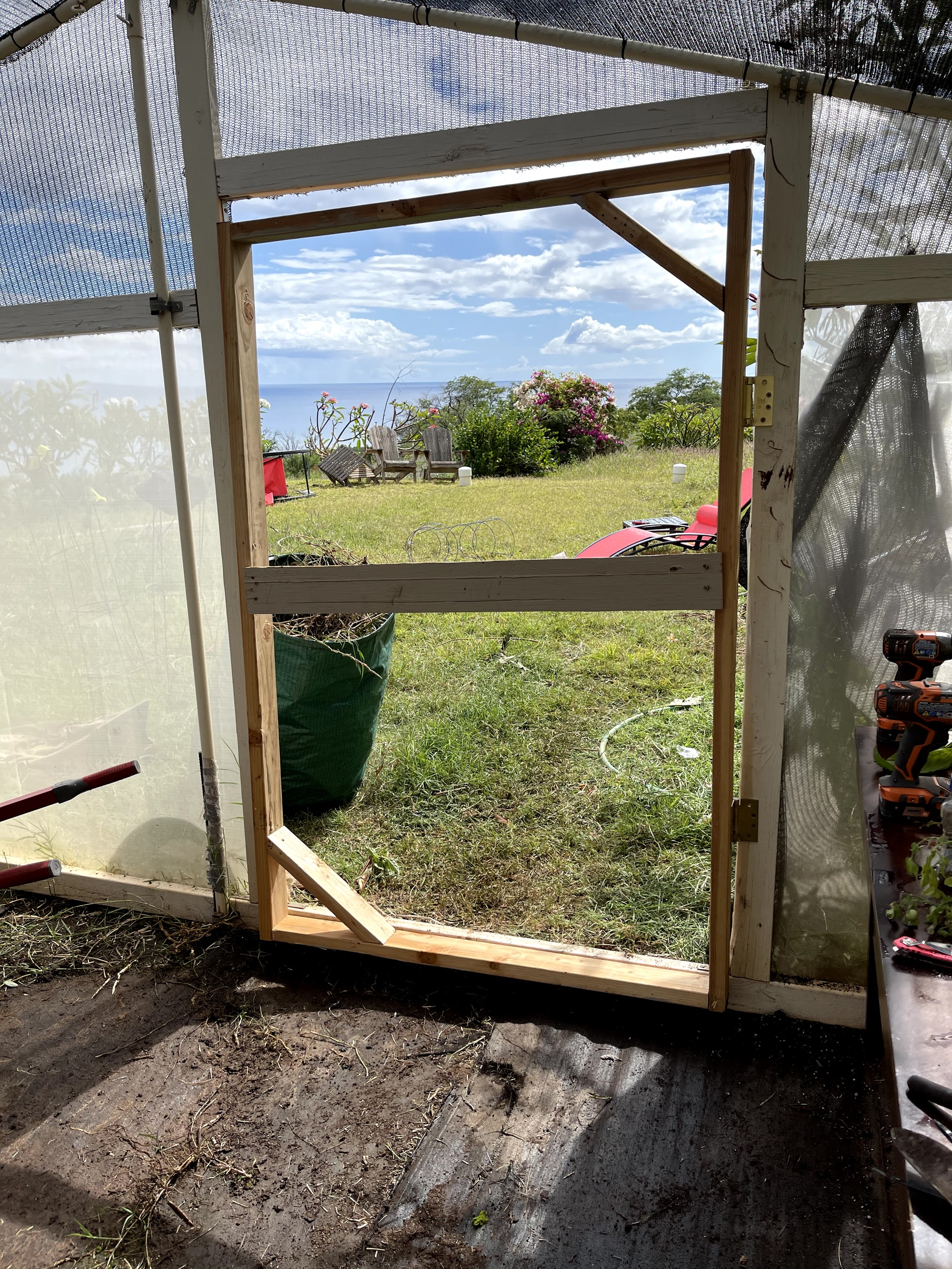 We have a greenhouse in Seattle but this one is much roomier, thank you, Sally!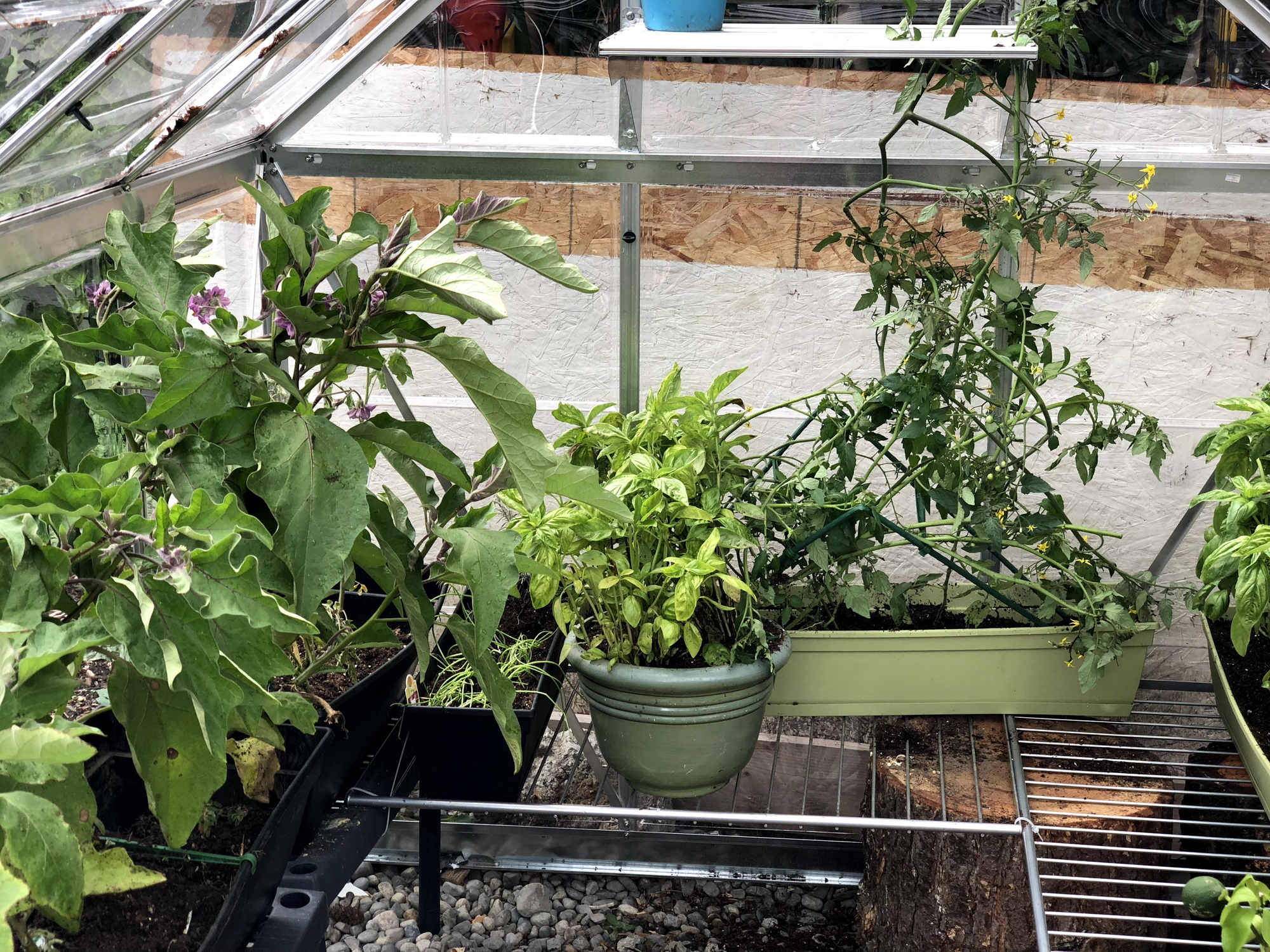 Cleanups
The first of the first of the first task was... Yep, that is not my keyboard that got stuck. Every time we thought "ok, let's start with this task" we realized that we had to do something prior to that in order to actually do what we were aiming to do first. And that chain of rolling back to yet another task has been a theme for some time. We're lovely approaching a smaller chain of firsts though 😅
There were piles of debris on the property line, an old collection of yard clean-ups, and that on top of the massive overgrown across the land. What seems a land of dead things around comes back to life in nanoseconds with just a few drops of water.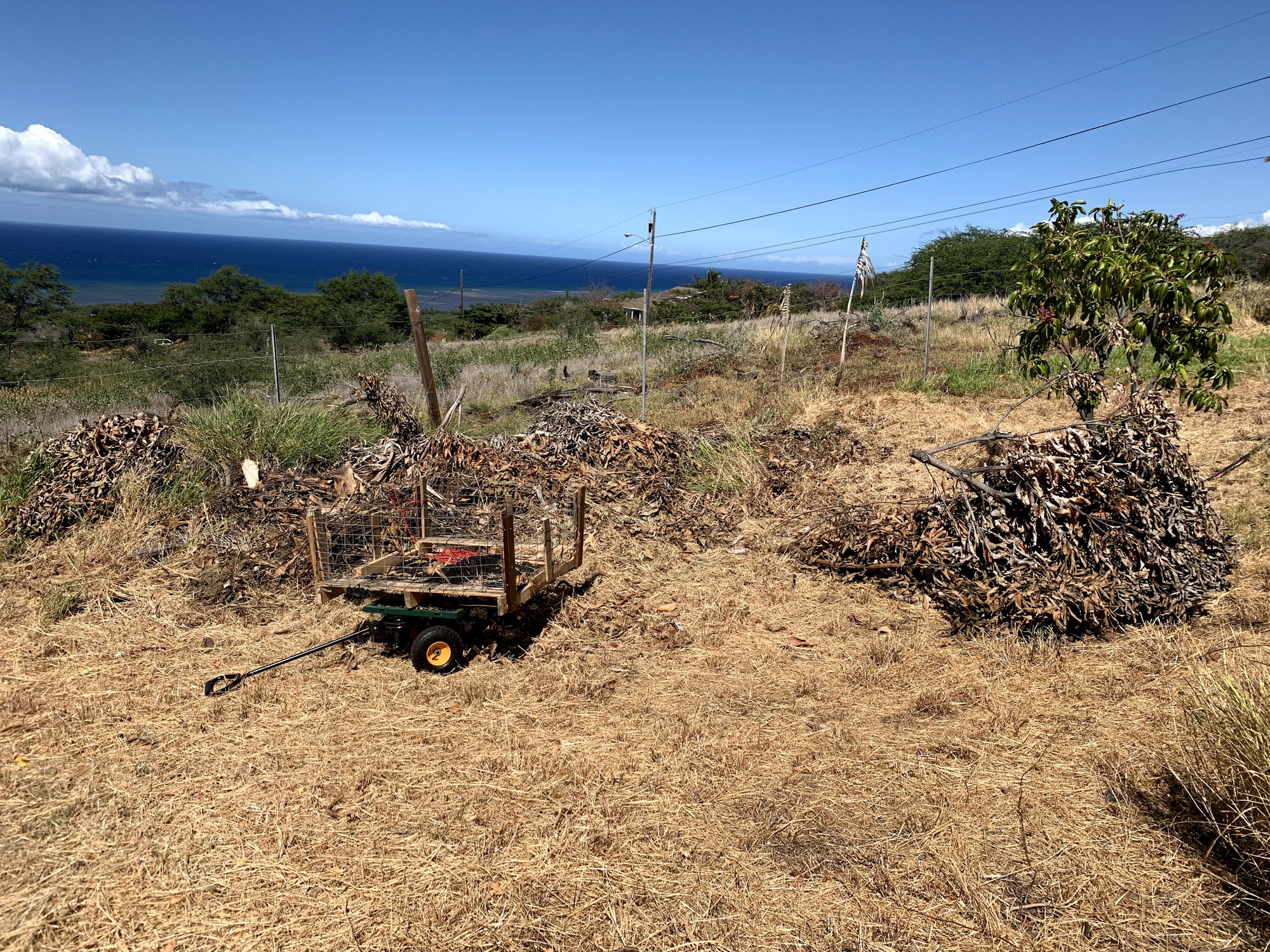 Using a pallet and a small and pathetic wagon, Mario built a monster wagon to transport all the debris to a creek part of our property where it can become compost and being out of sight.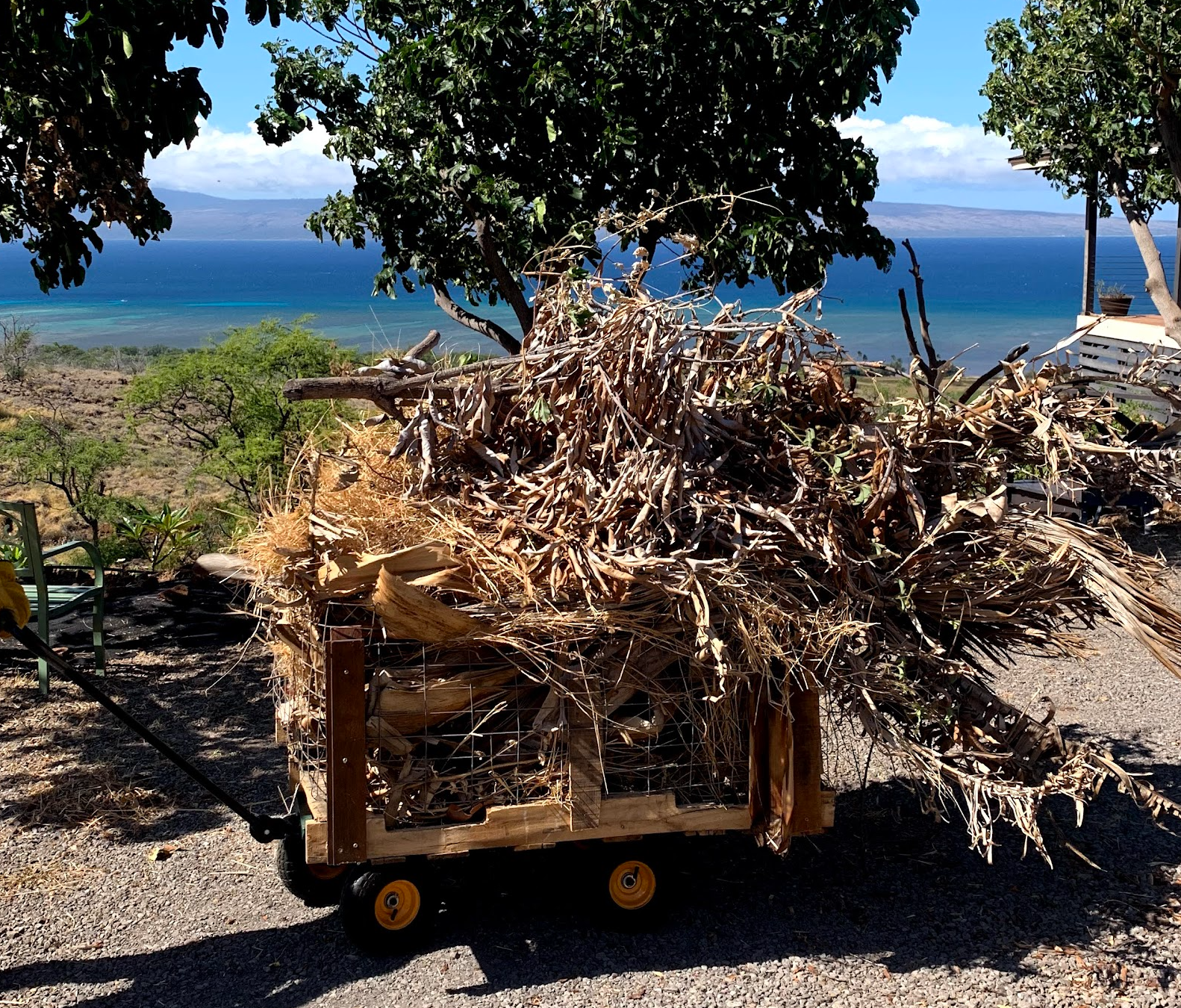 Without we would have grown twice old just moving one bag at a time.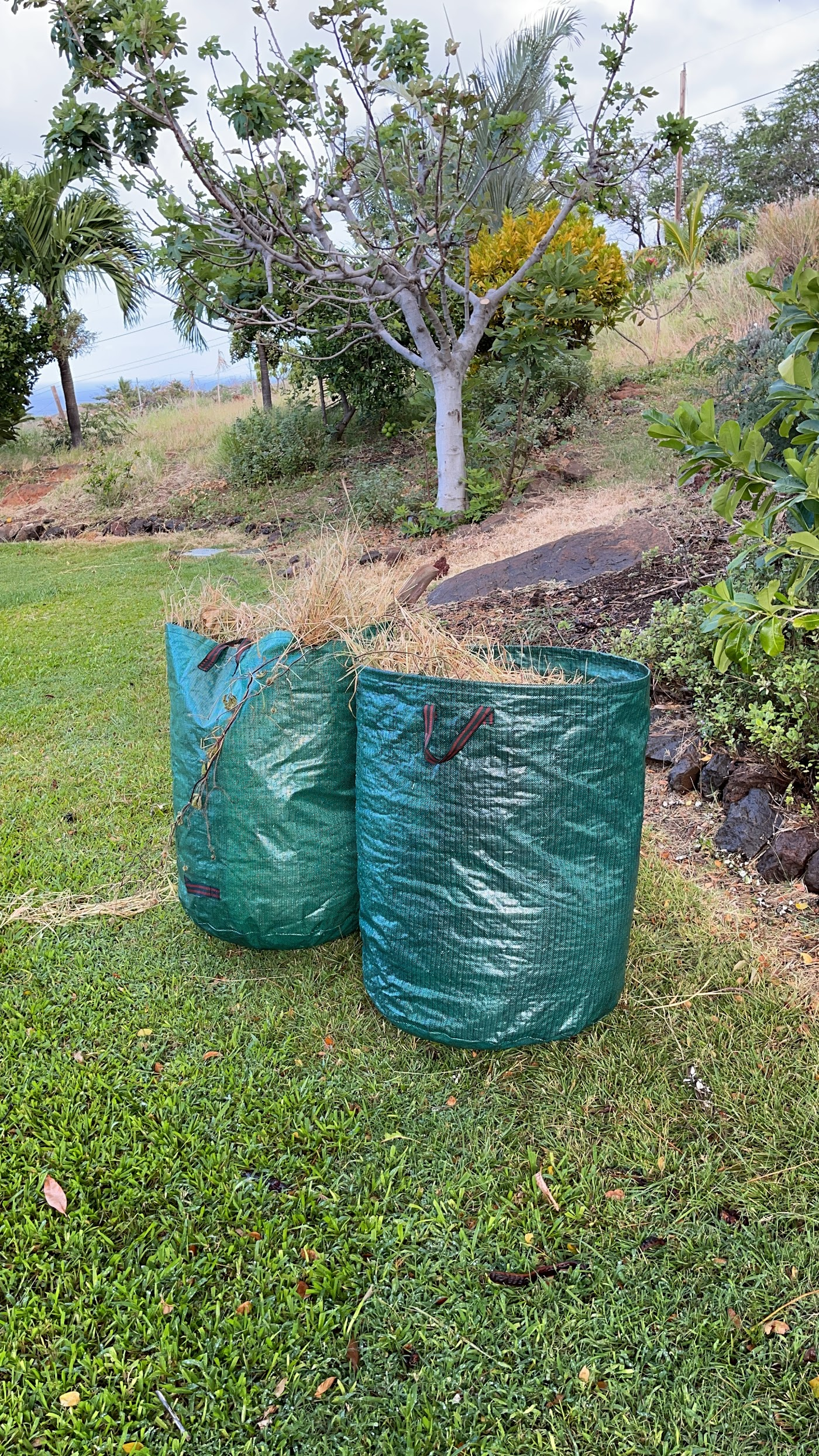 The food-making house needed a lot of love, so while hubby was taking care of structural improvements (water lines, door, rips...) I was in charge of cleaning up pods and grass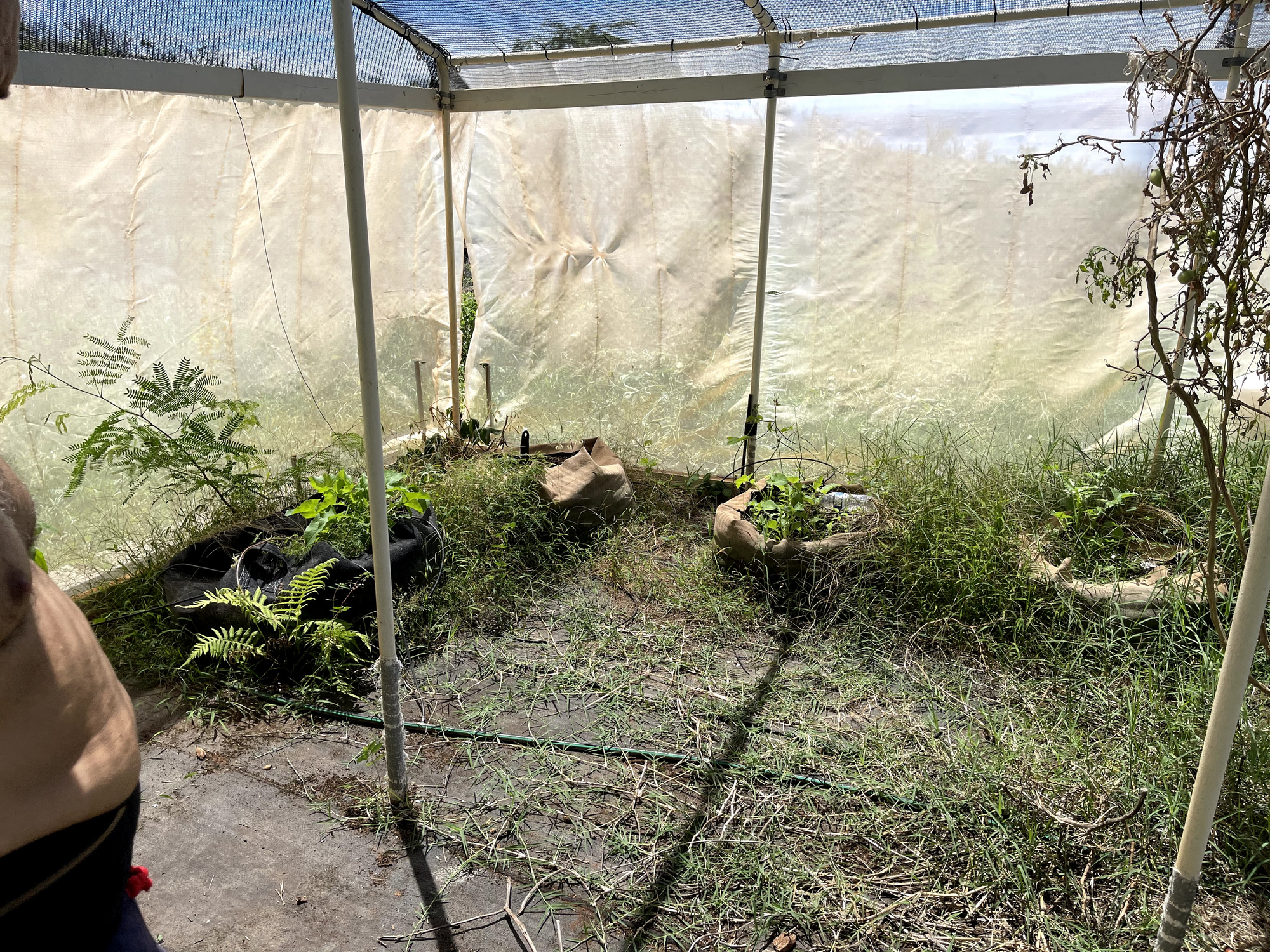 and most importantly, hunting down little bastards like this monster!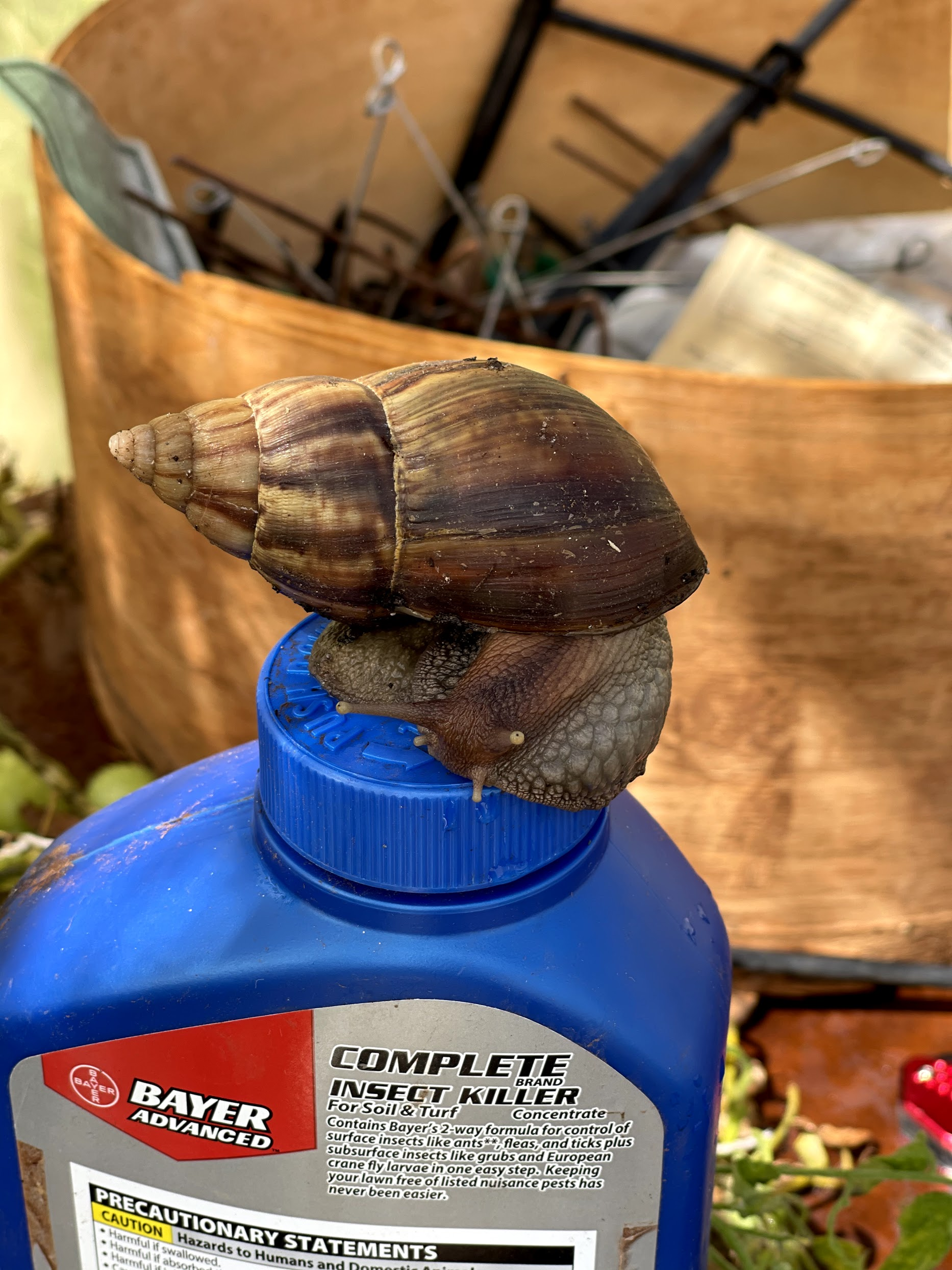 since Mario can't work in nonmultitasking mode for the love of his own life, while he was building the door, he also built me a table.
Papayas
We have several papaya trees spread across the land, a few are in infancy and three of them are making fruits already. When I say spread I do mean that they are all in different places across two acres. So the first lesson we learned was about Papaya's roots.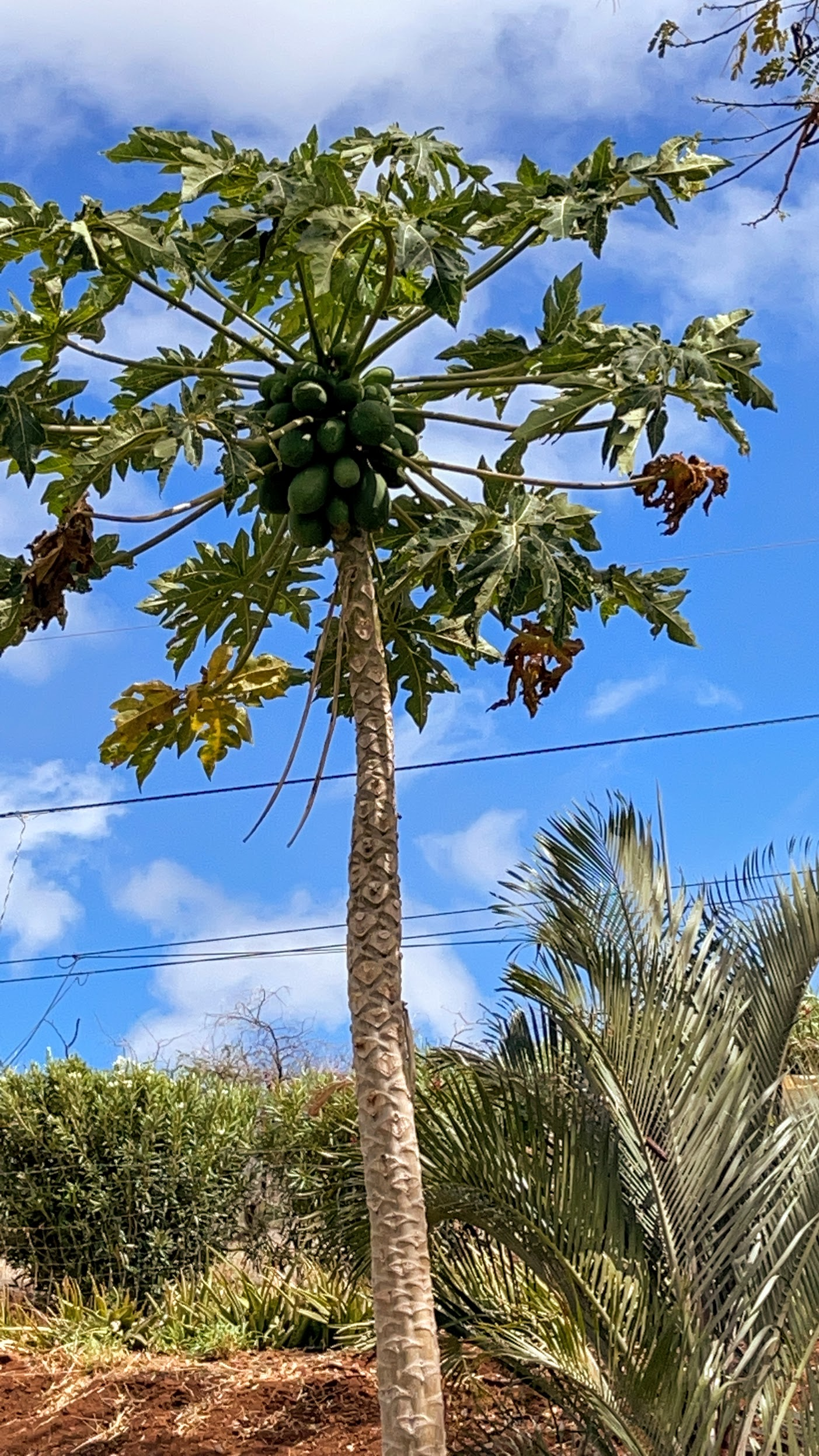 Roots are really fragile, the plant is kind of resilient, it suffers quickly upon unnecessary inflicted shovel pain but it also recovers pretty well once watered with care.
We are growing our limited tropical farming skills and from everything else that we do, from nada to space... Naturally, our YouTube playlist is getting piling up of videos like this one which I found very useful, and hopefully, it will help you too.
Muscle man set to figure out how to relocate the plants, I did the digging but ultimately at the last moment when he pulled the tree from the ground a piece of the core root was still attached to a rock, which ultimately snaped but not totally severed.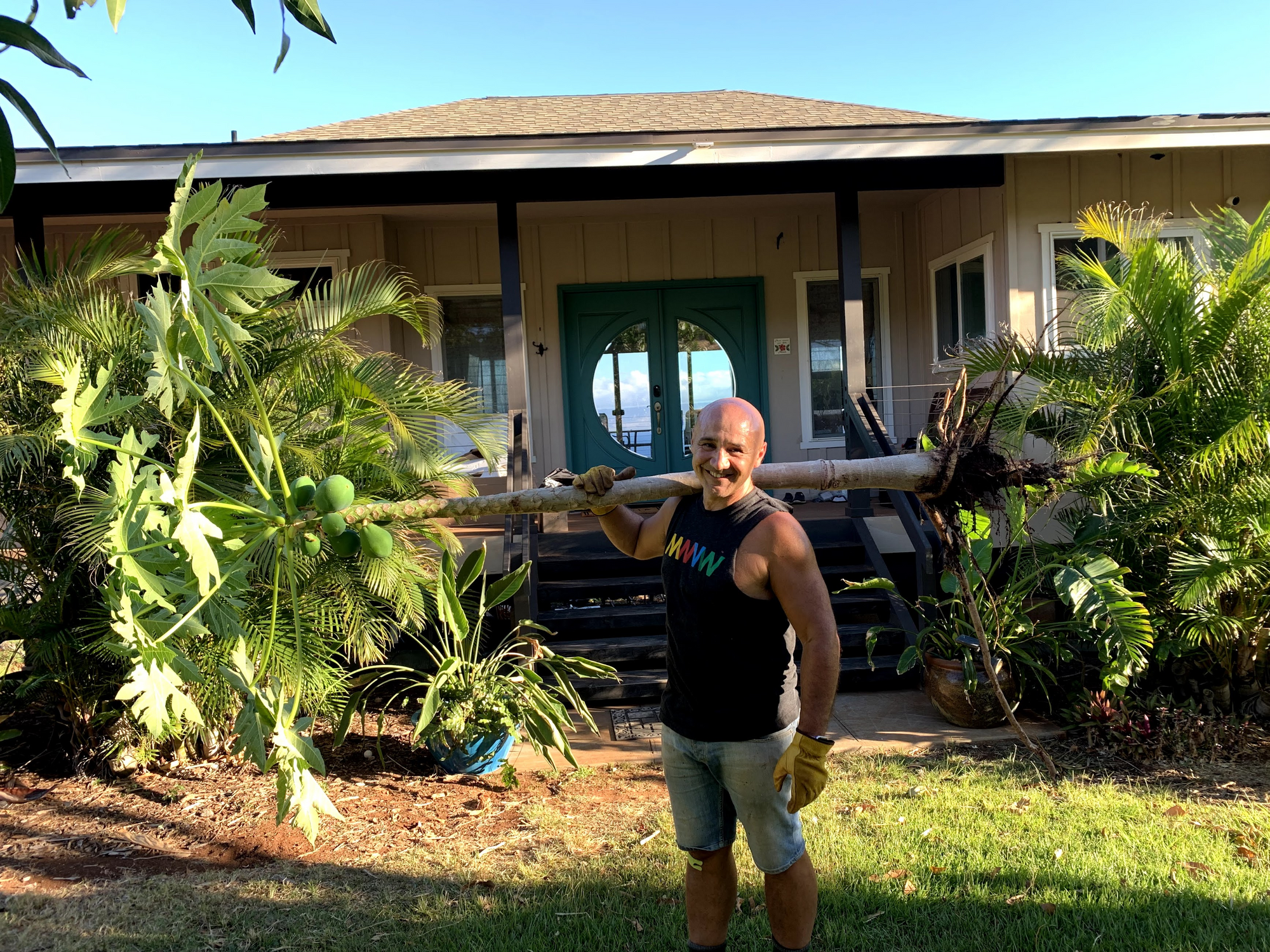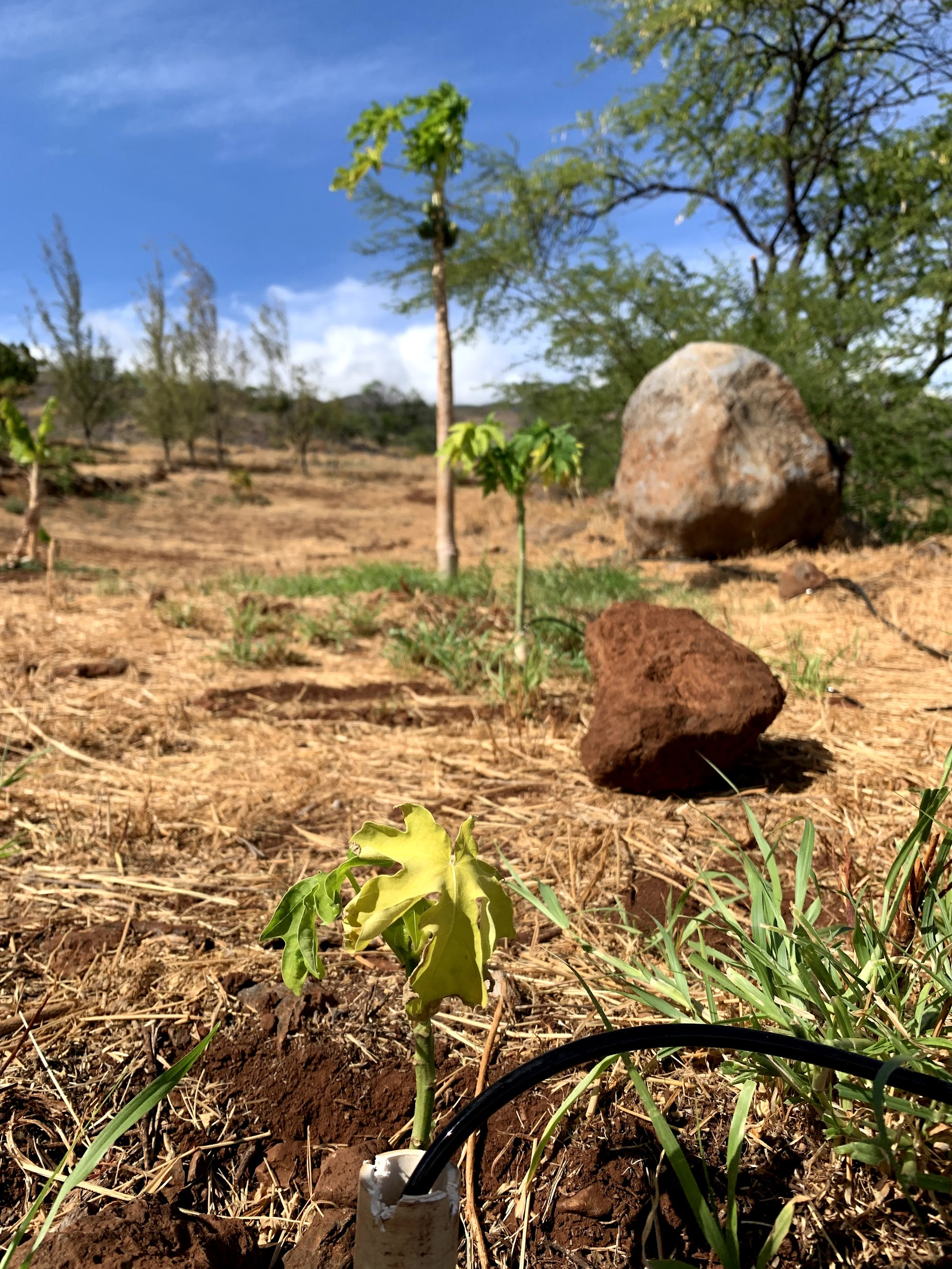 Fortunately, we only lost a few leaves and some early fruits but the plant has since then recovered and doing much better where it is now! Every time he touches something I have constantly remind him of not using the full power mode as the default option.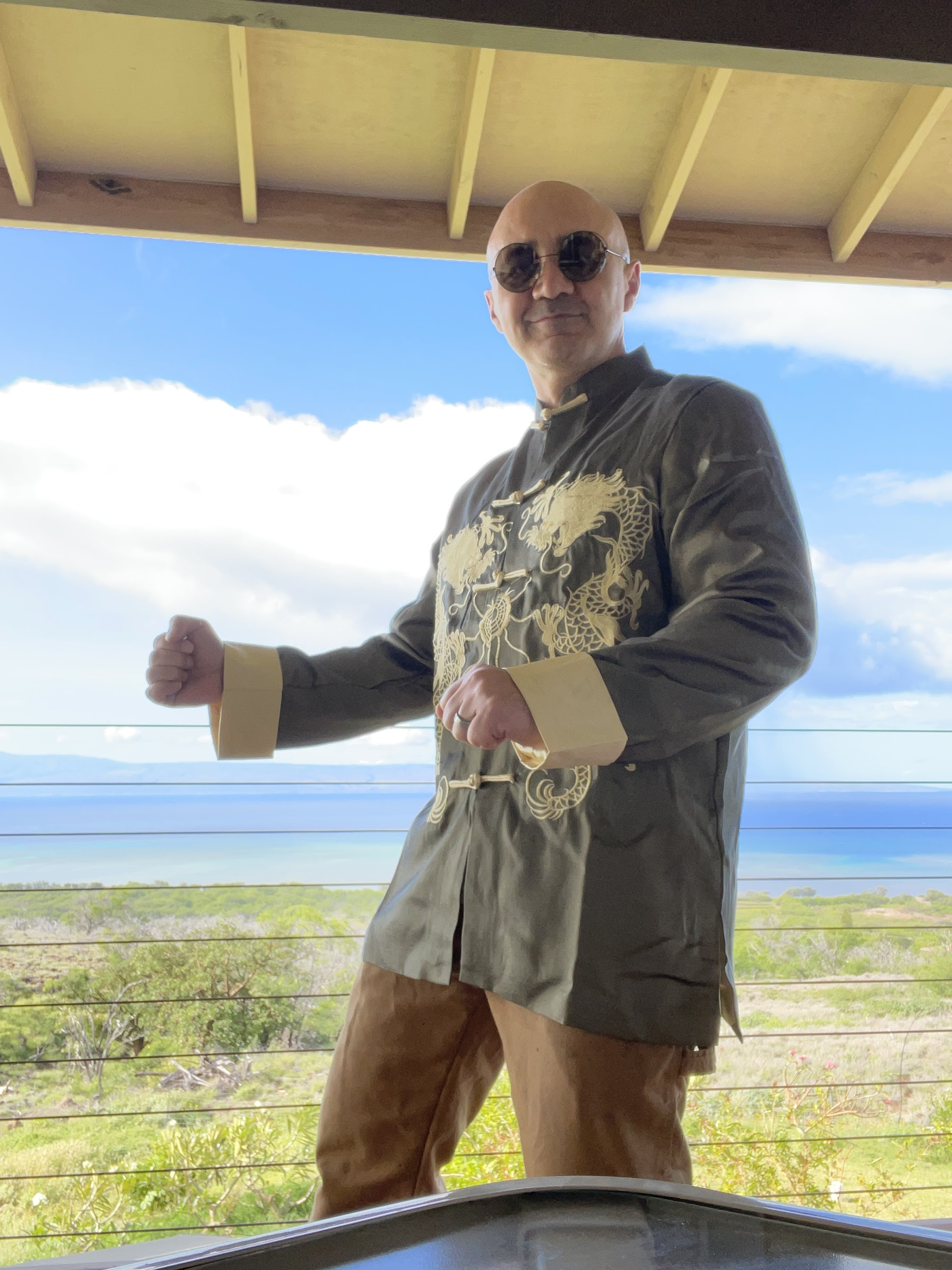 On the last tier of the land, we're building an orchid and papayas were the first to be placed.
Bananas
We have a very large cast of banana trees one next to the other, it is perfect for its location, it provides shade and breakfasts a la carte. However, it is growing too large, so we took the most external newbies and relocated them into the orchid. After the initial shock and the much swearing in fixing the water lines the plants have found their new home acceptable and they are now growing on their own.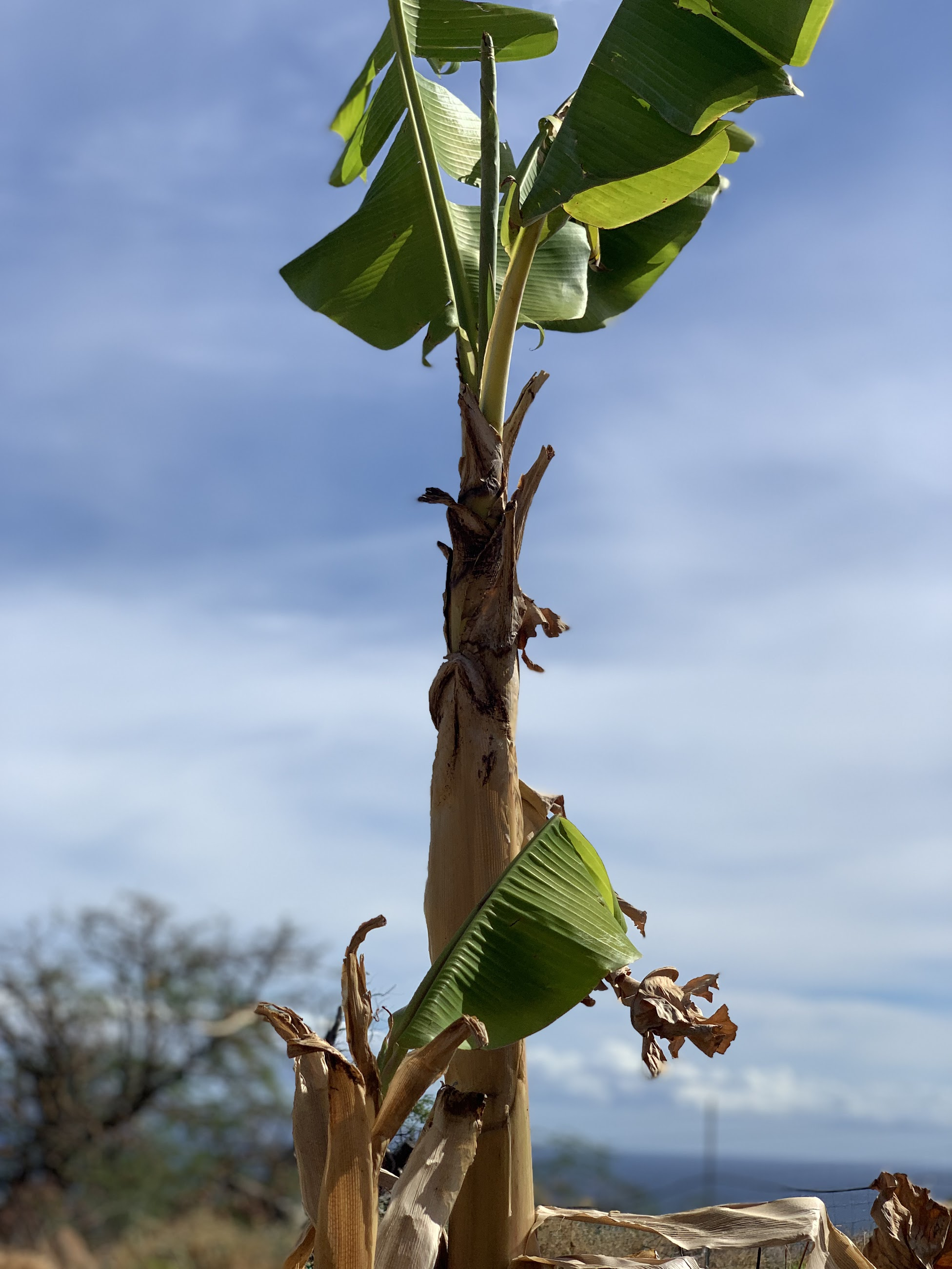 They are not like the banana Deborah and I received for our first 5K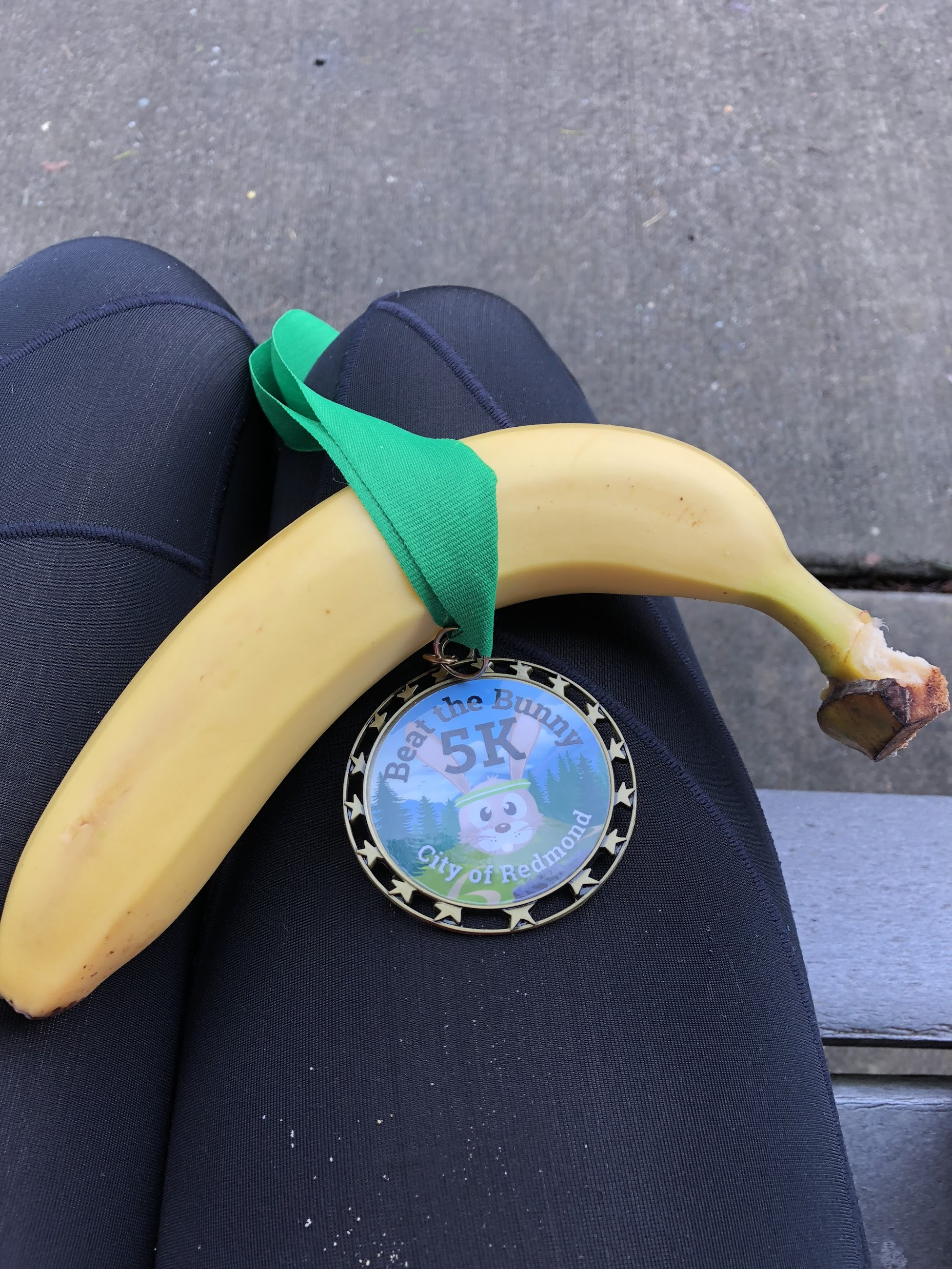 they are not even hard to remove from the tree, as matter of fact on Mario's first attempt to pick one, he got literally showered by a cask!! 🤣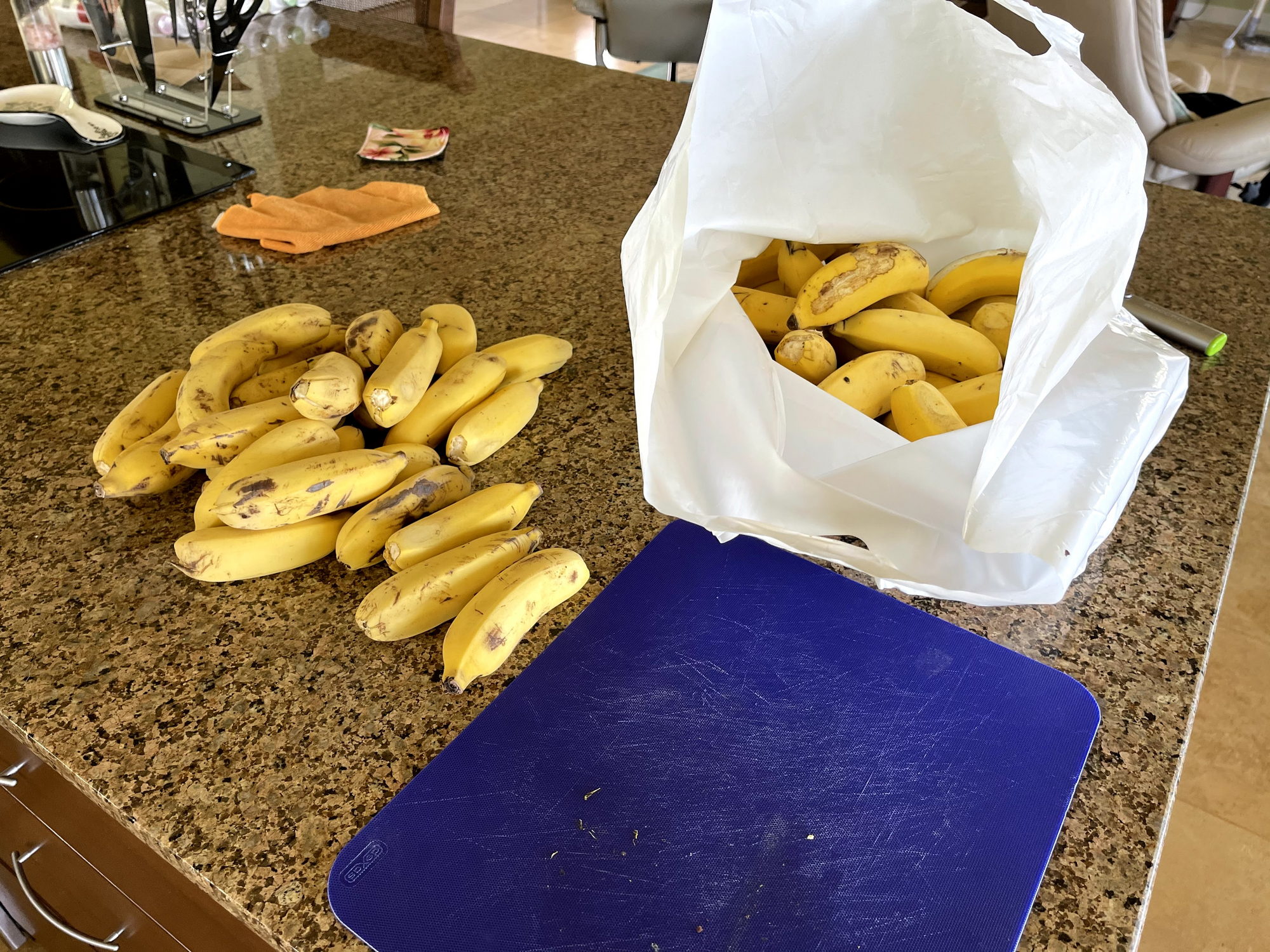 They are called Apple-Bananas
Apple Bananas are sweet with a rich, slightly tangy banana flavor that is far different from the bland sweetness typical of the Cavendish or Williams Hybrid varieties. The flesh of the apple banana is firmer and creamier where the other varieties tend to be soft and starchy. The fruit size tends to be smaller and makes a perfect sized natural snack for kids as well as adults. [source]
When we collected our first cask we were thrilled because there's nothing more tropical than grabbing bananas from your own tree from the back of your kitchen and since we're social animals, to stream it live on Facebook!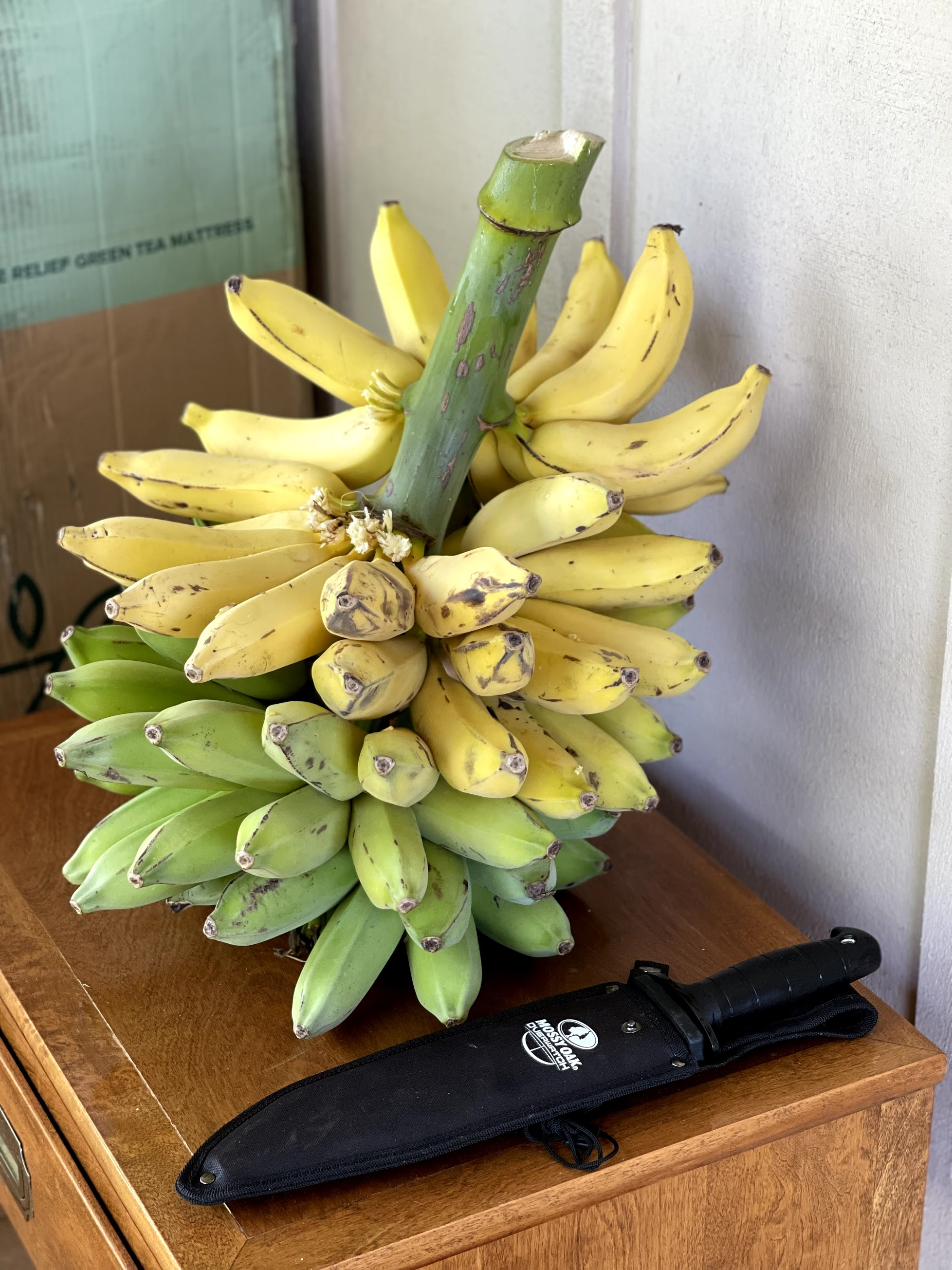 It's ironic that the same fruit we used to consume a lot back in Seattle is the same one we have available on the land!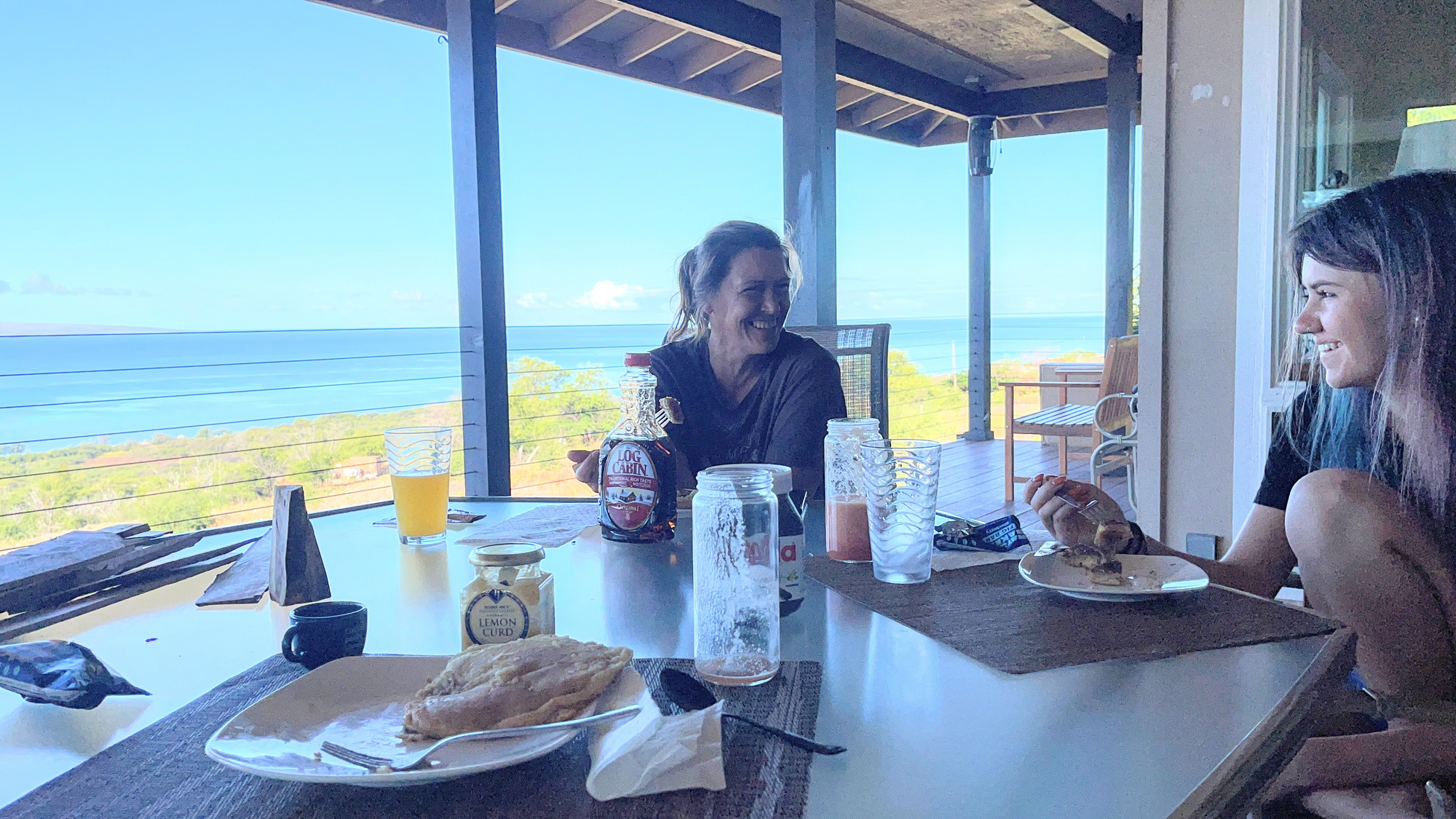 I can't stress enough how similar to Salerno this place is, this photo below was taken years ago while with my sister-in-law Carla we were a few meters away from the core of downtown. Look at that tree behind us!!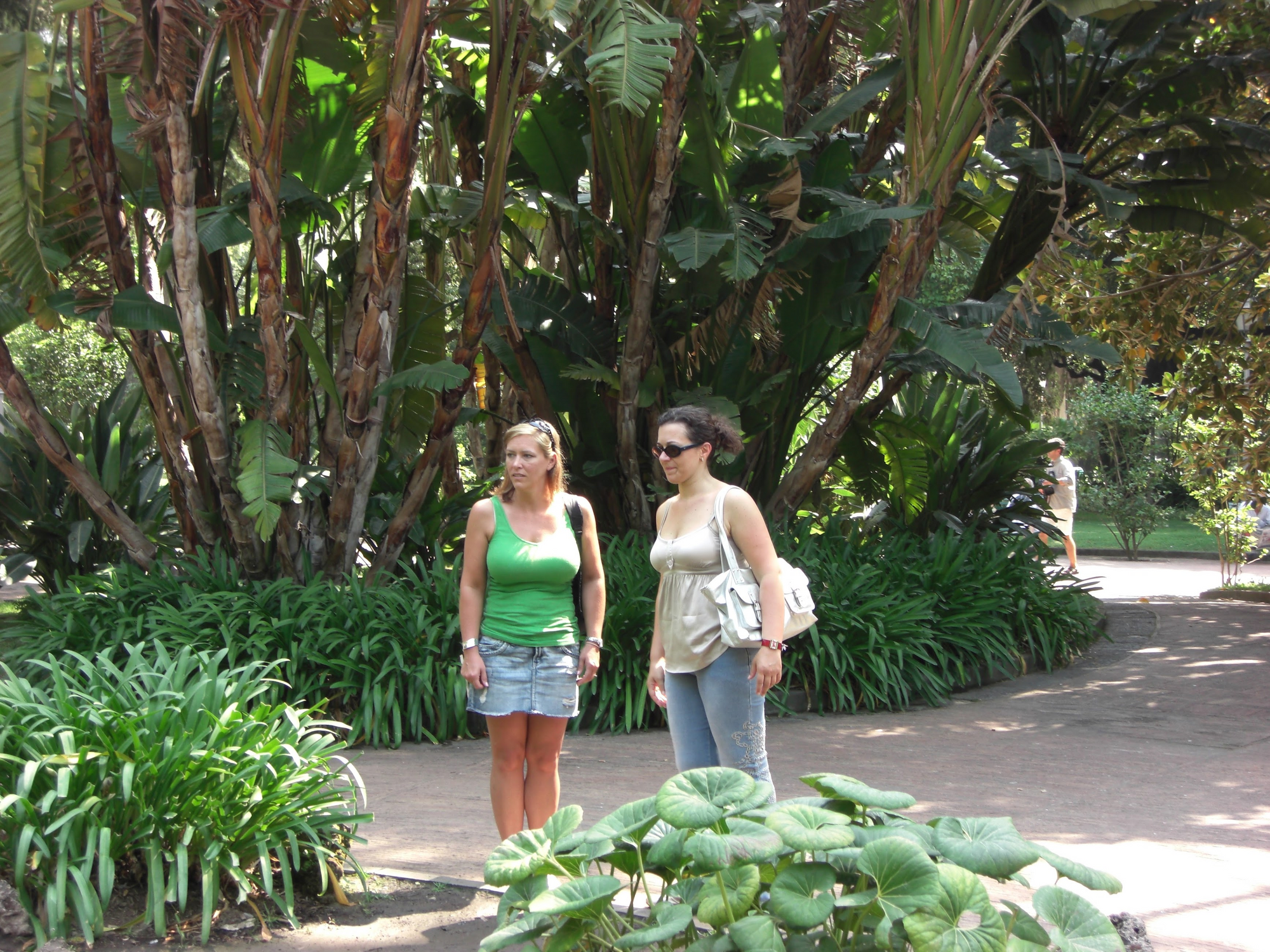 I have been placing banana and Nutella on the pizza for years... so yeah! I am pretty happy about having banana trees!!
When the boys on Saturday would leave early for the weekly MTB ride I would make them breakfast (missing you Filiis!) I would occasionally make a special edition for Steven
Coconuts
While strolling on the beach we found two coconuts that had a tiny leaf coming through the shell, we were very surprised that it was growing just a few feet away from the seawater. You know salt! And sure enough, love and care and that tiny sprout now it taking life and coming up. It will take years before any coconut will come out but you can't have a property in the tropics and not having coconut. #truestory
Pomegranates
I am not a fan but Margot and Mario are into this annoying to peel fruit. Thanks to my friend Tiziana that shared a video on Youtube that teaches how to take the fruit out with less pain than otherwise, I am coping with the requests "amo, can I have...". See, I ask for a door and a table for the greenhouse, and then I get slaved to life in peeling off fruits on demand. Be aware of what you ask for my mom used to say!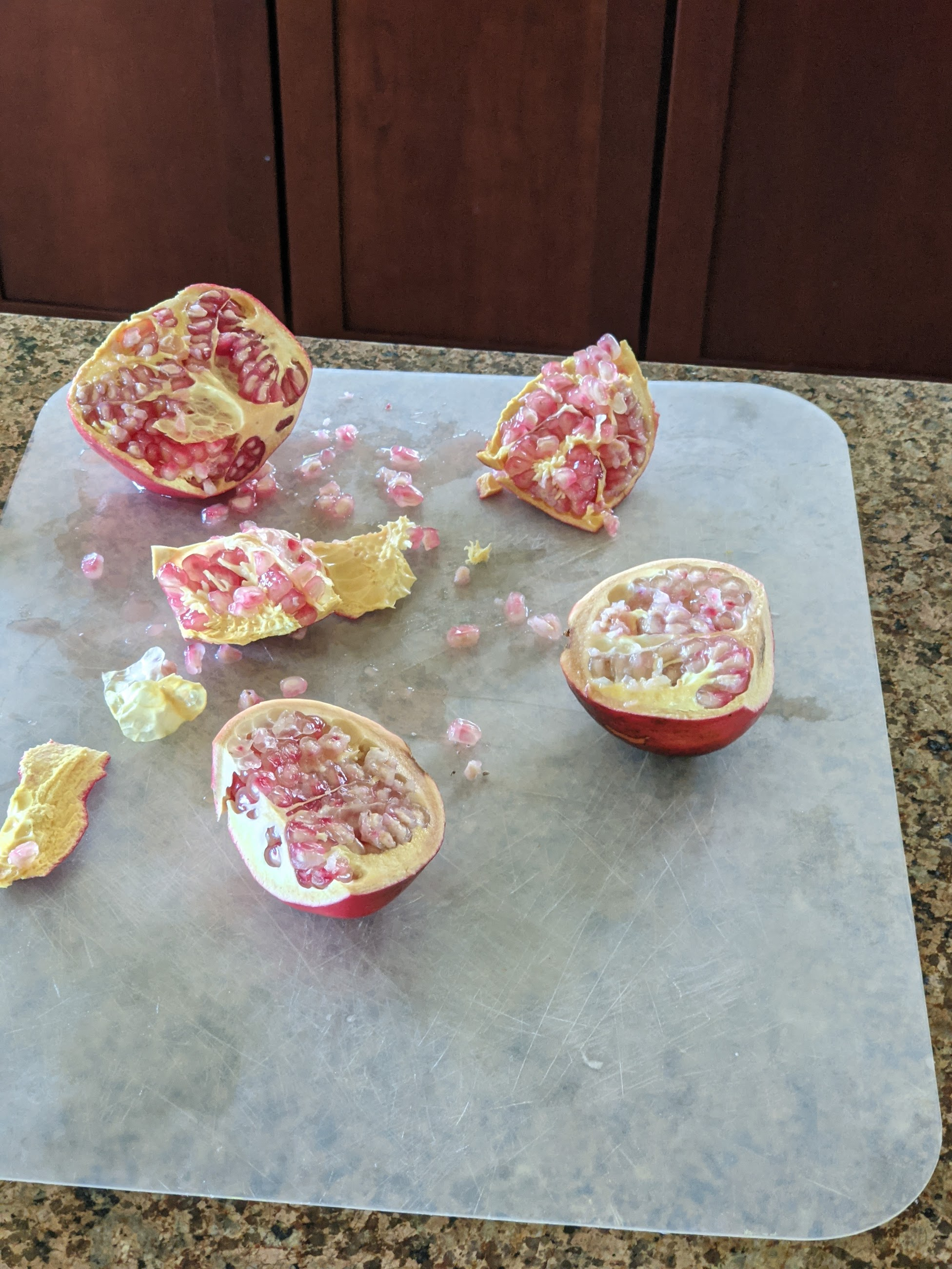 Oranges
Growing citrus-based plants here is no brainer, they just thrive naturally in this environment. We don't have any oranges and we eat them like chips at a Mexican party. So we planted three new plants.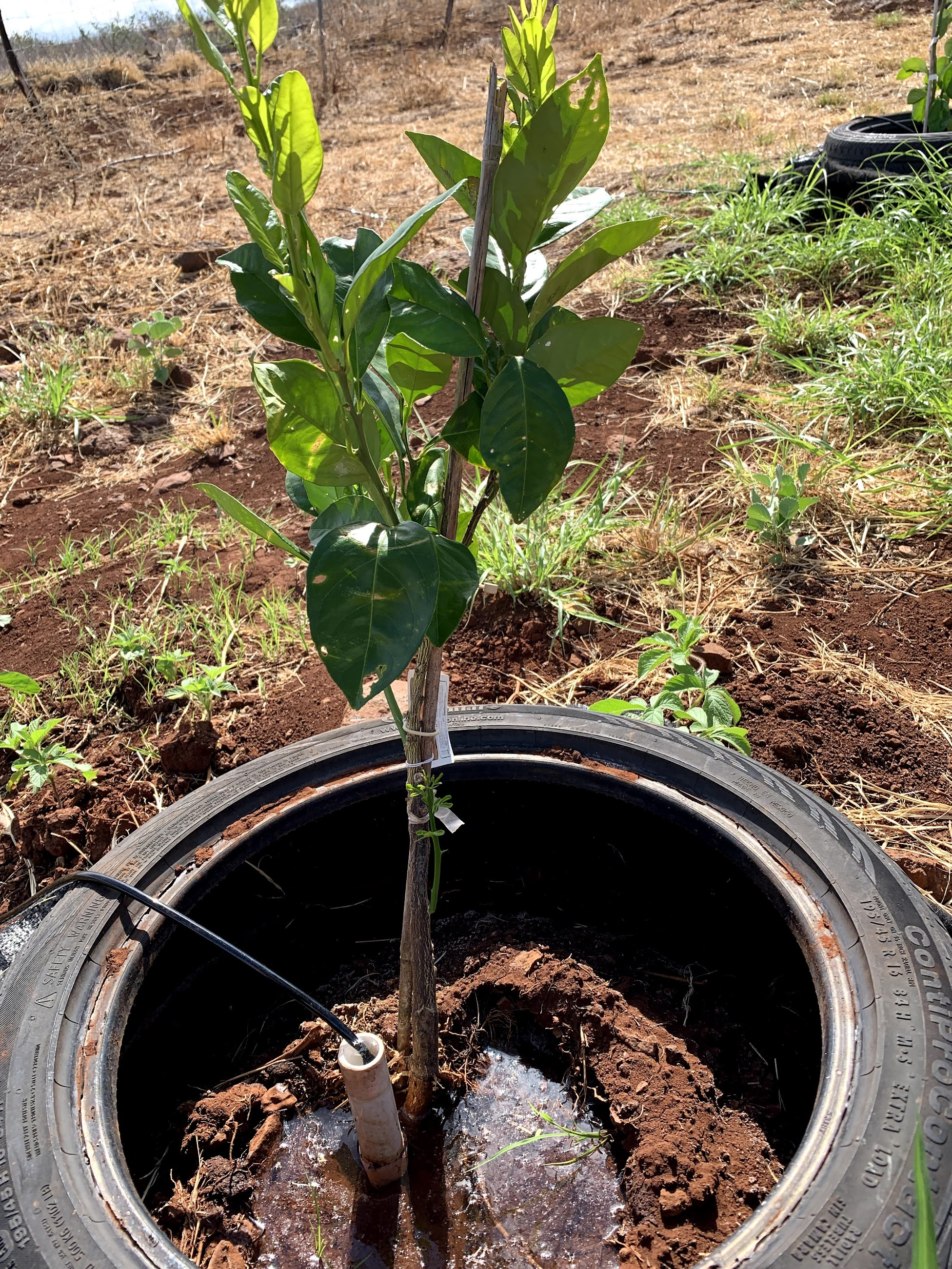 Lemons
When Mario says that this place reminds him of home, he's not joking, Amalfi is well known for its lemons and that plant here thrives!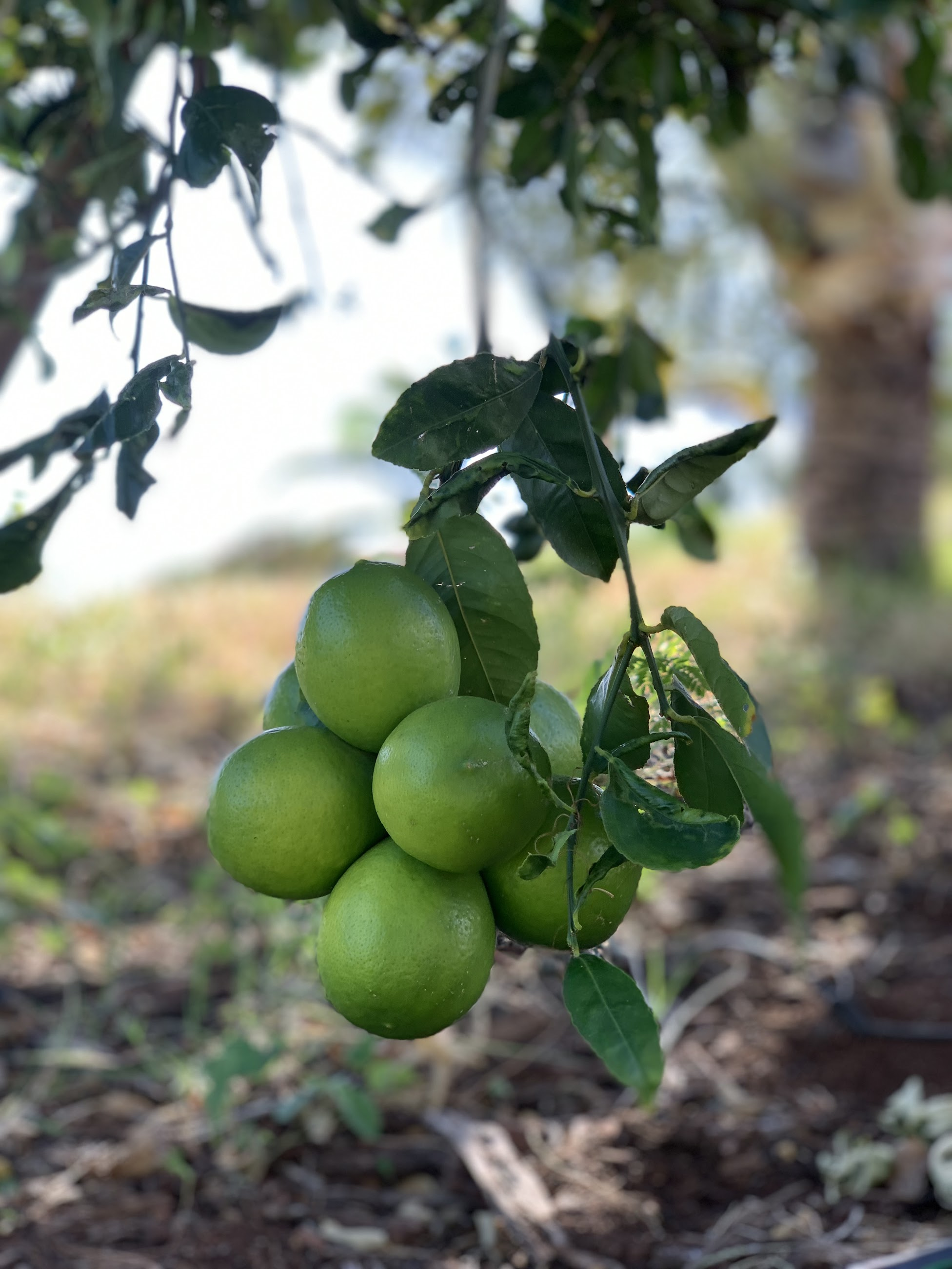 I make so make Granita (slushy) that the freezer can't keep up. It is not the same as the one my brother-in-law gets me when we visit but it is darn close.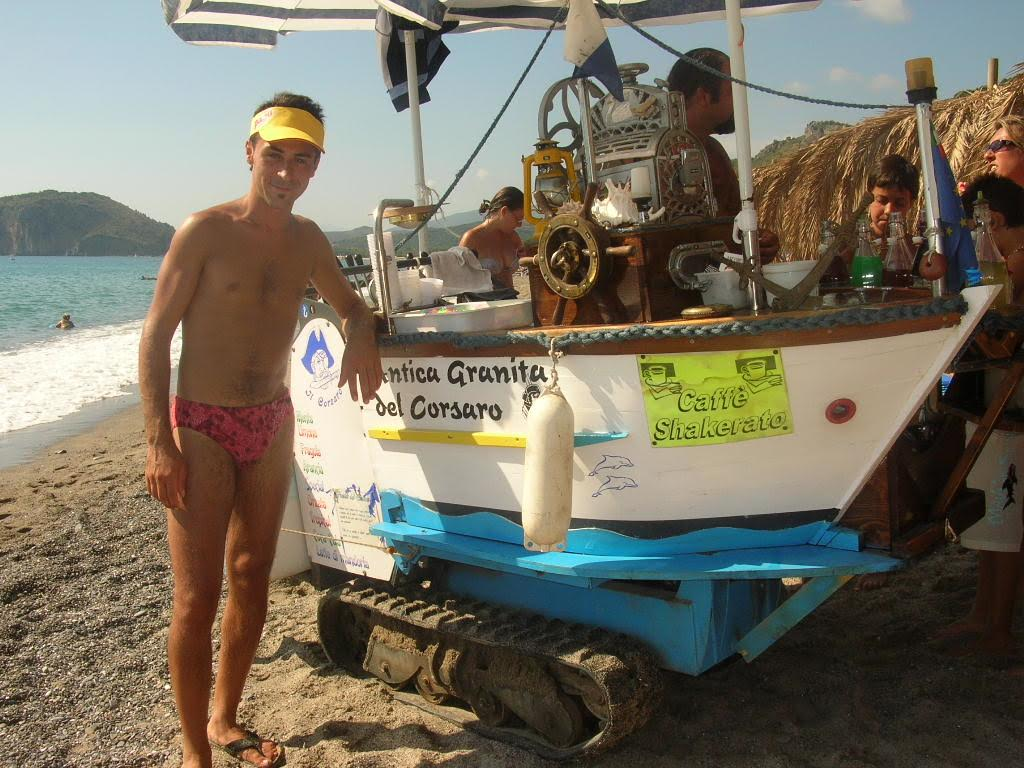 Sure enough, the lemons are not the same that grow in mama Maria's backyard but they have their punch.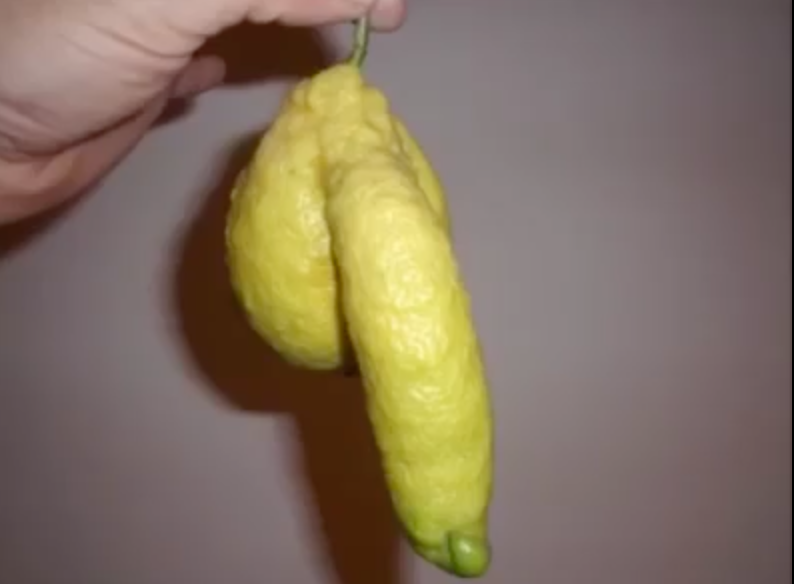 Mangos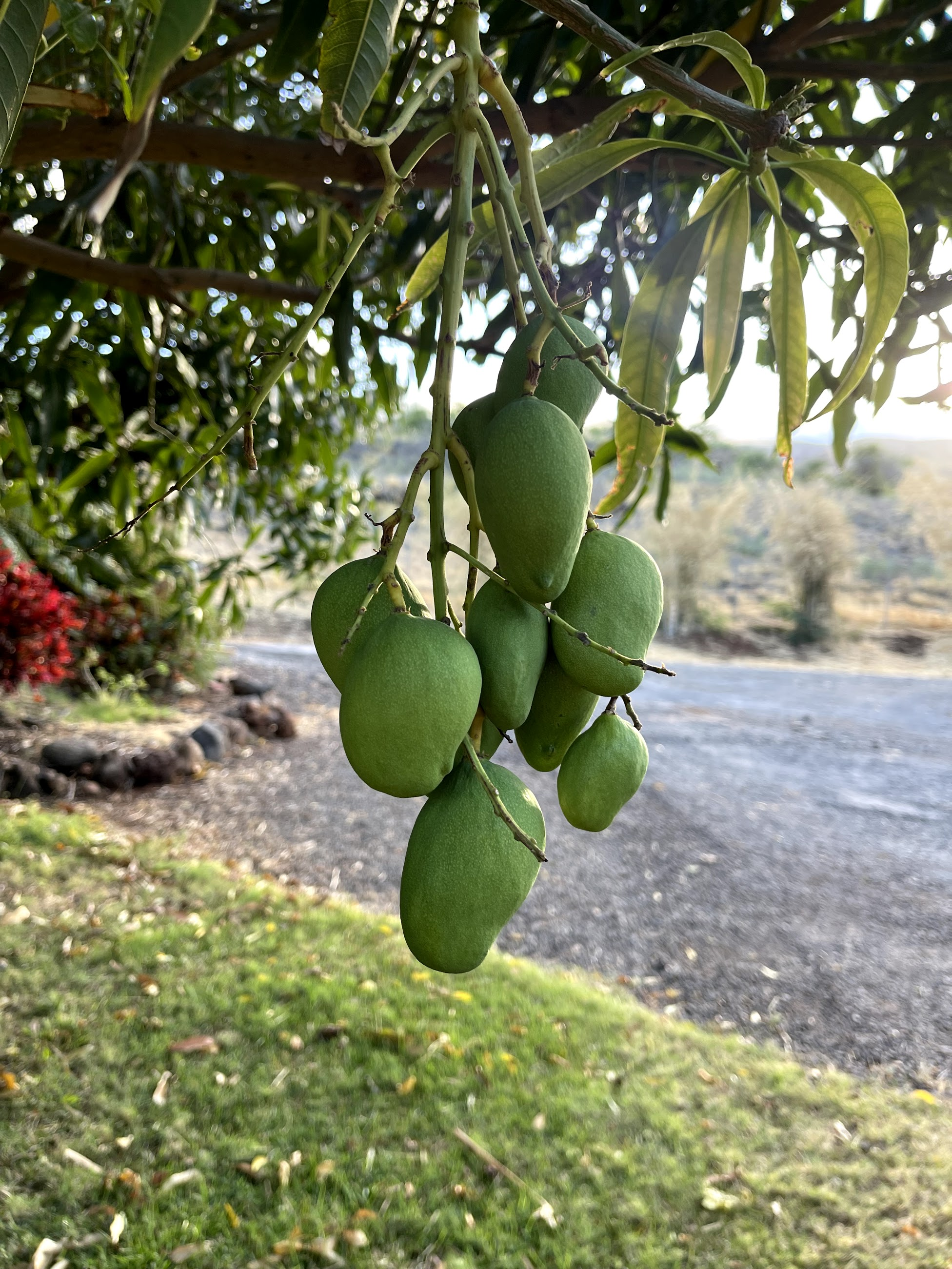 From May to October a fruit frenzy takes over the islands of Hawaii. This period, known as the mango season in Hawaii is popularly known for its mango-bursting farmer's markets and backyard trees.
We have three kinds but this one in the photo is Mario's default breakfast and every time he eats one he has the man in love face 😆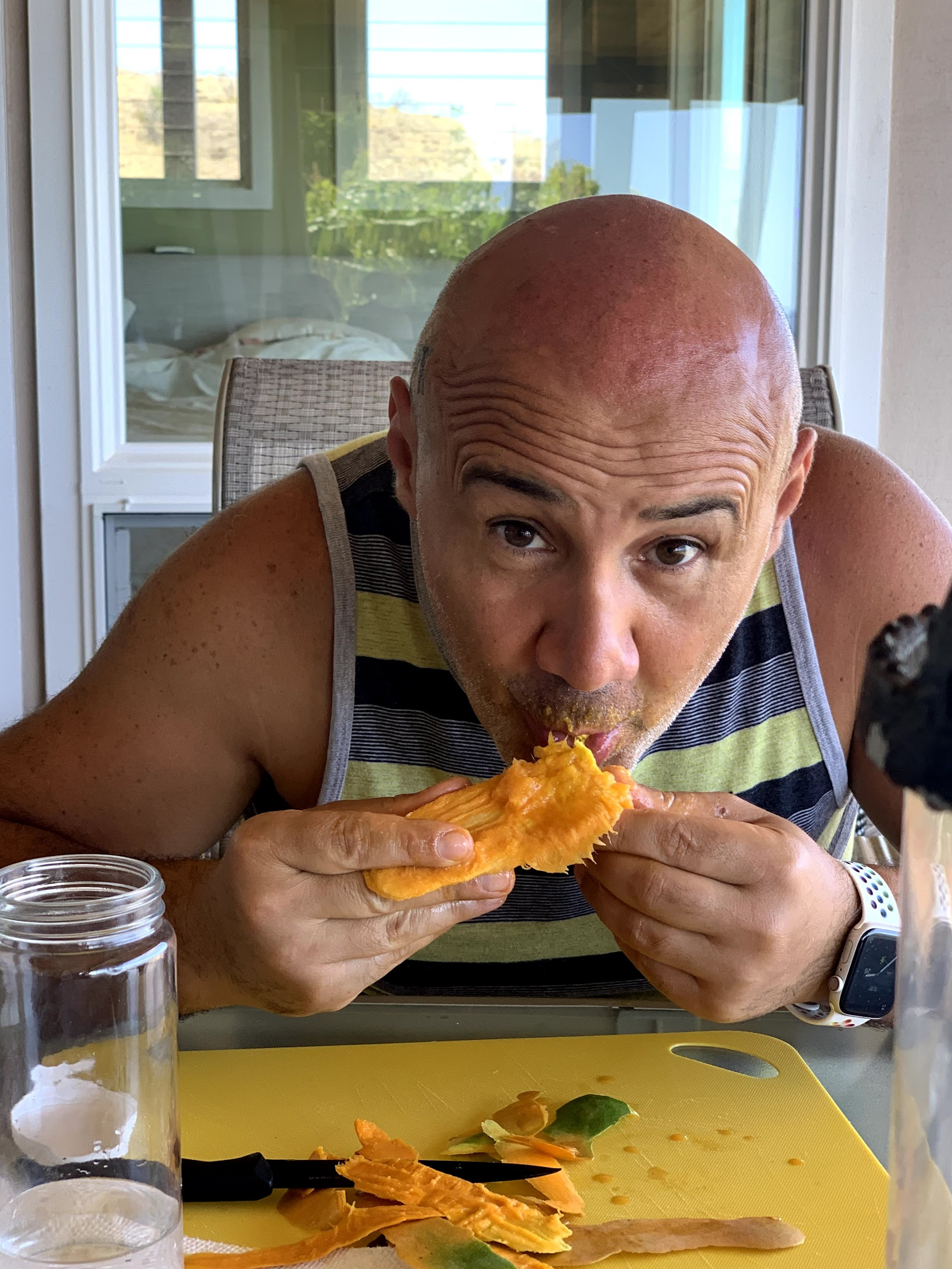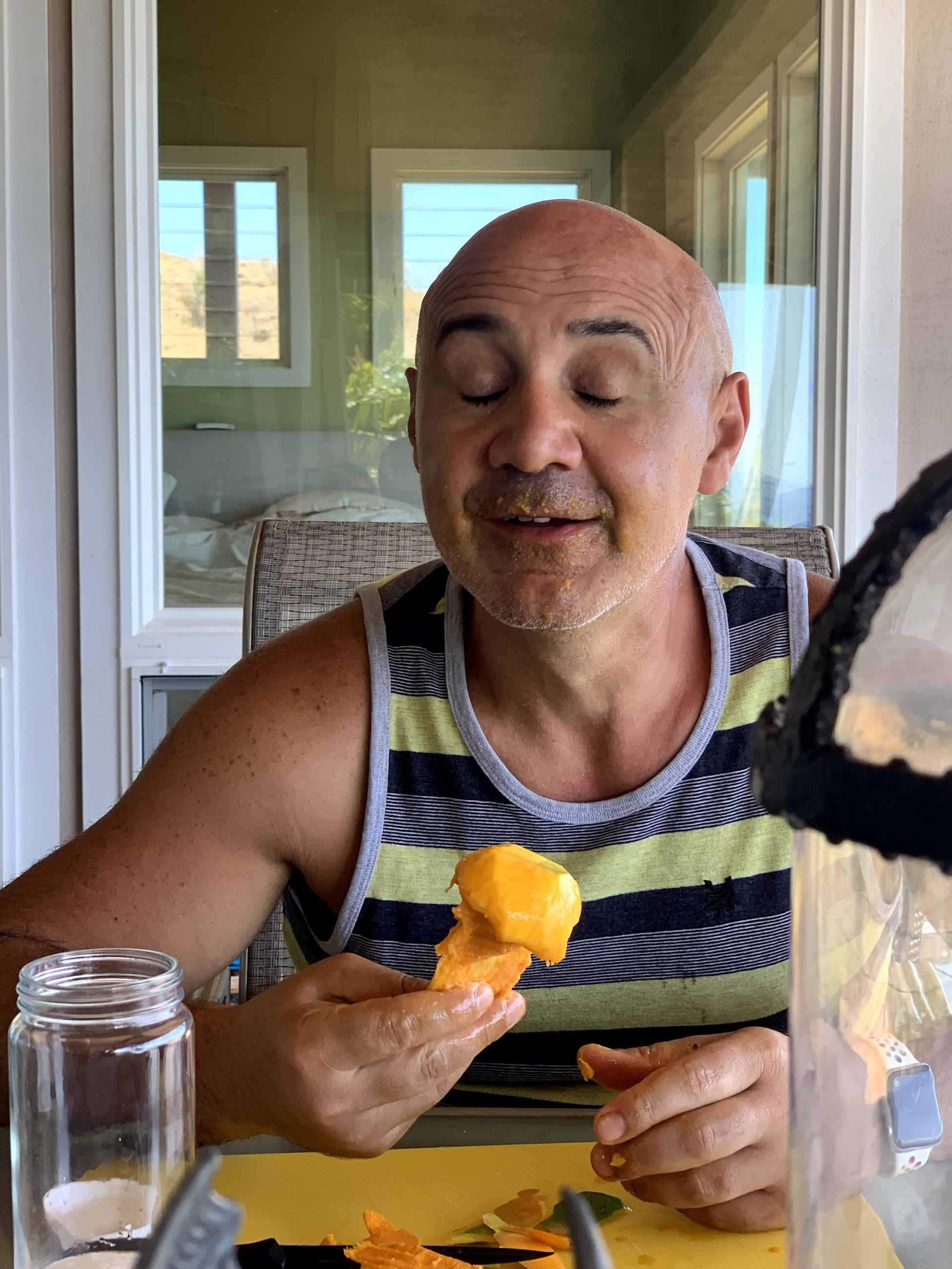 Figs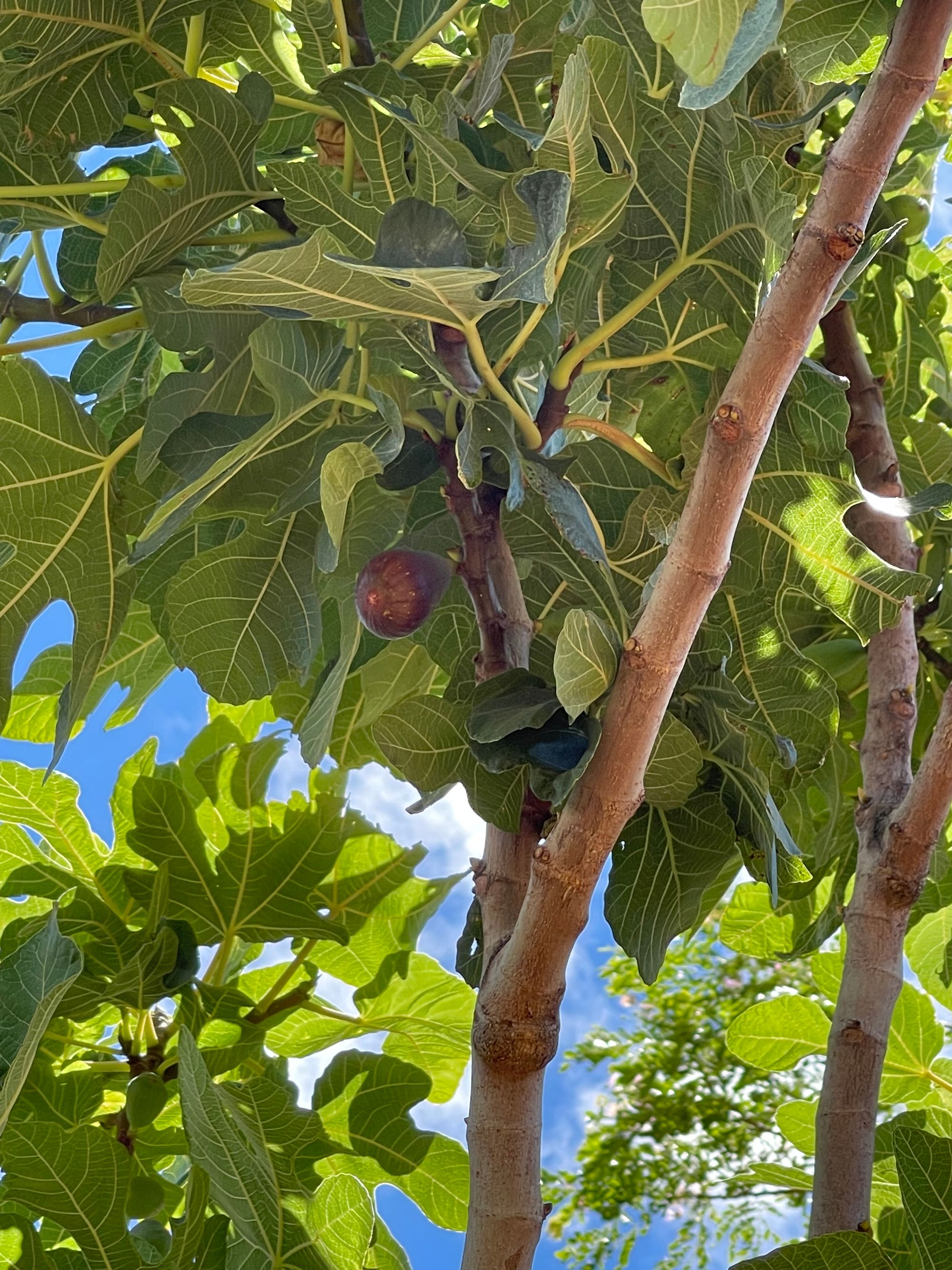 Grapefruits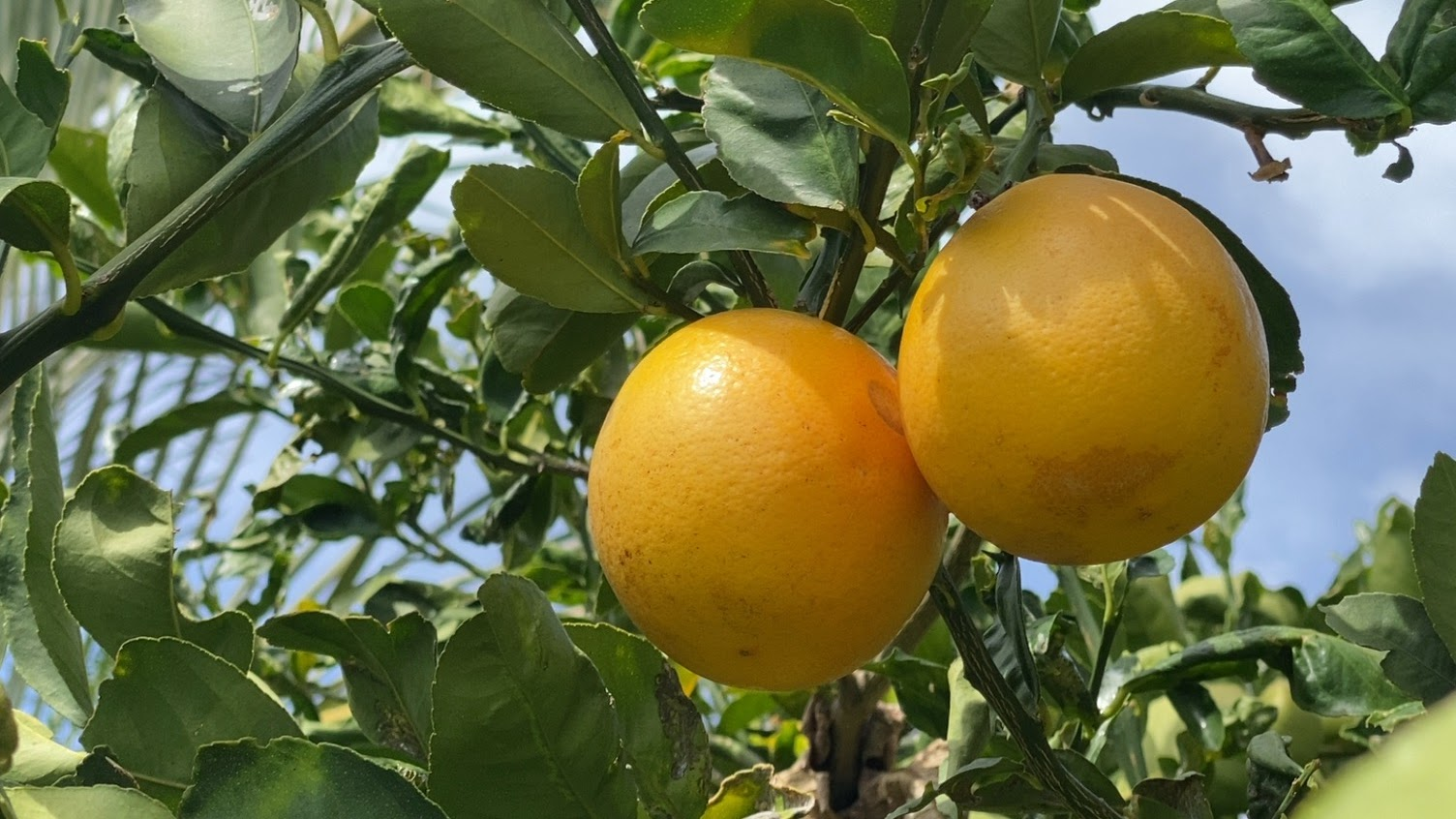 Chilli Peppers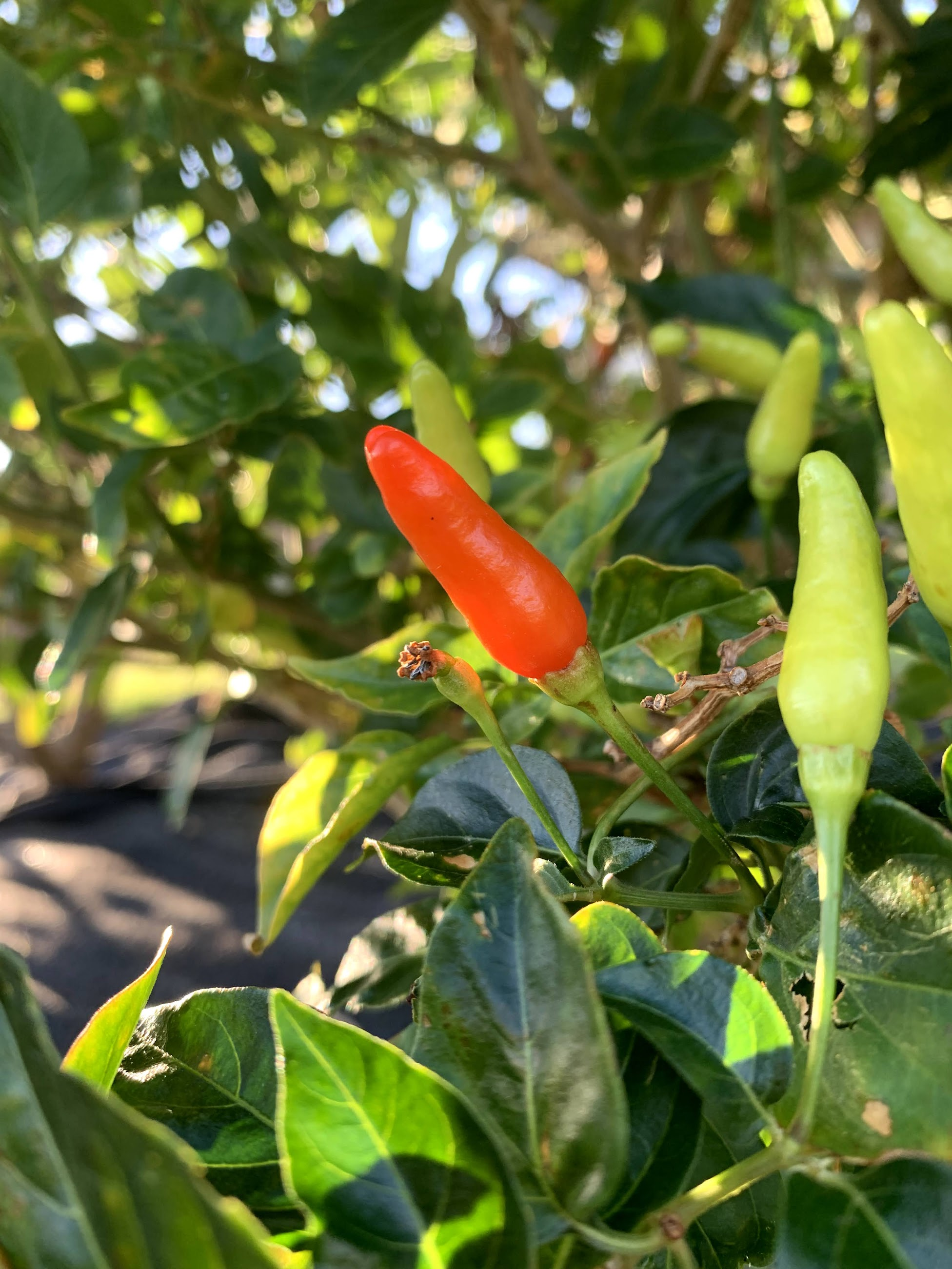 They are incredibly spicy, when we discovered them I made quickly a carrots based dish, I was too generous with the potion of the peppers and made the mistake of not tasting them first. I just opened one, smelled fabulous.
On my first tiny tasting bite, I was like Pompei after the eruption. And so my tongue. I wanted to share the experience with Mario but he was reluctant in tasting from the spoon. So I have him a blip using my pinky. He was steaming and all red!
When we told the story to our neighbor Jean about how many I put into the dish, she said "twoooo" 🔥😅 total hot spicy newbies!
Palm Trees
We have several kinds and I haven't ruled out yet, all of them, type, how to take care of them, and so on. But as hubby reminds me occasionally: "Amo, it's Moloka'i, there's no rush. It will come to us on due course". From the man that runs 100 mph on a slow day that should teach me a lesson!
The wind here is beyond what we had estimated looking at historical data. It is not unpleasant once you figured how to coexist with it but if you are in an exposed spot it can be brutal at times. Palms do a lot of wind breaking. So we definitely plan to place more Silver Fan Palm trees or Triangular palms trees.
What is on the list for the future?
Figuring out the bugs that kill plants, we lost a brand new avocado and we're super confident that it was for some kind of fungus that we don't even know how to look for.
Apples. I make regularly Italian apple cake, in all shapes and sizes, Mario loves it for breakfast and I offer it as thank you to all visitors of the land.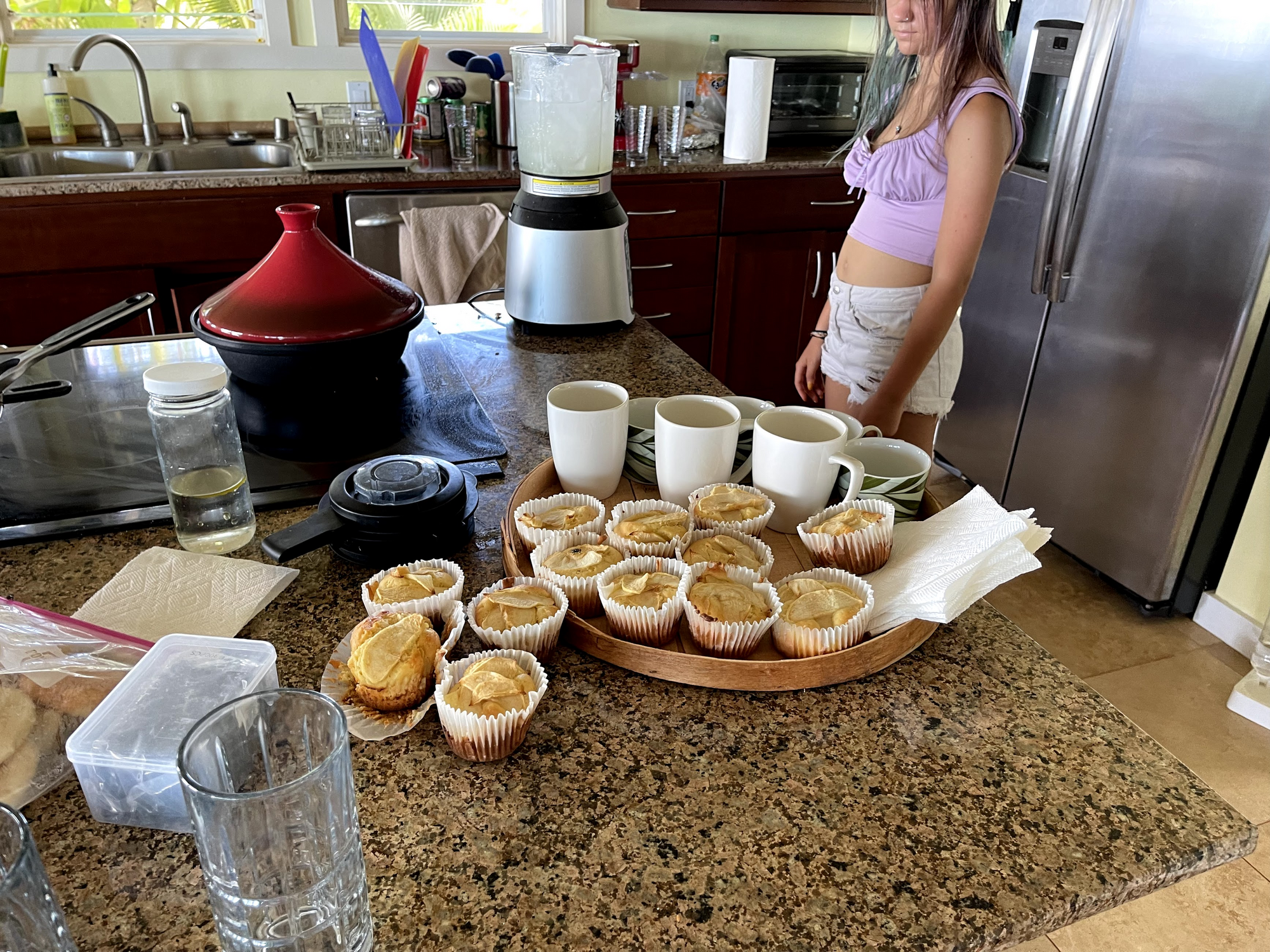 The last visitors were particularly lucky because they got lemon granita and apple cakes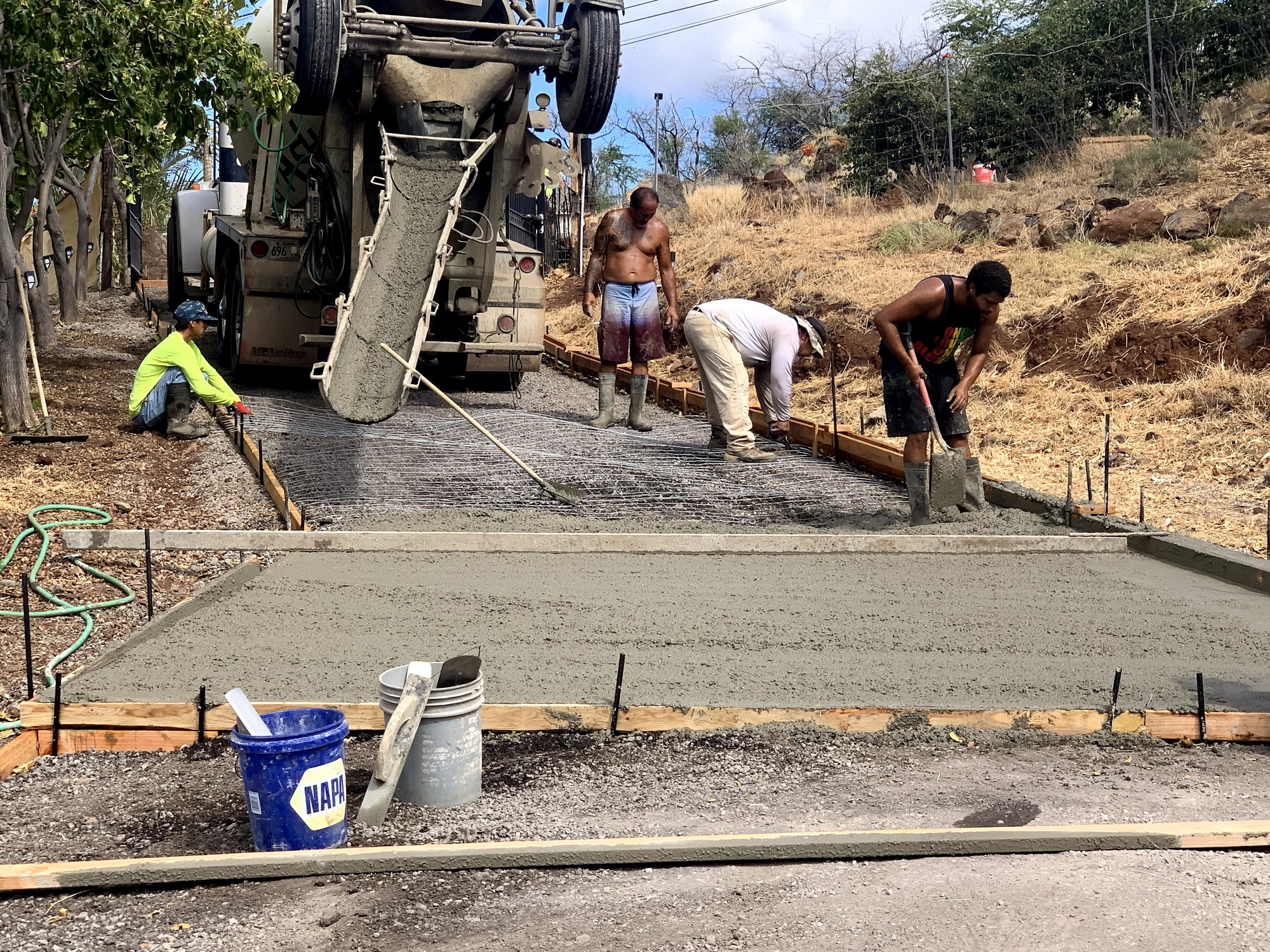 What else? Oh yes, if we could grow calamari there we would... For a mysterious reason, this dish used to be a no-brainer for me and totally knockout to make back home, here... well here comes differently!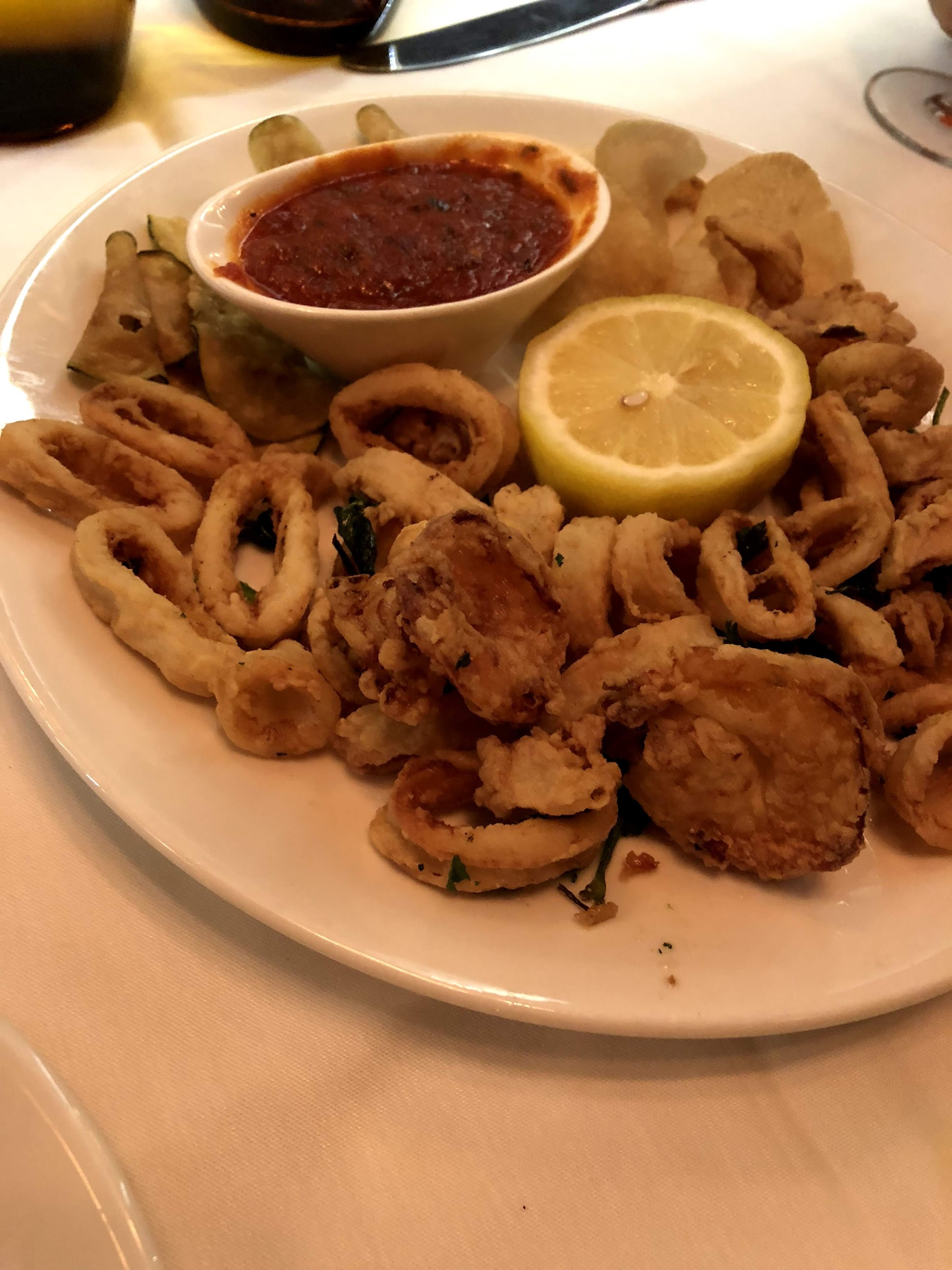 I will keep skill my farmer insights, share what you know if you think it can help, and in the meanwhile, have a bLife moment!. 🤙🏽