Hello, fellow tech enthusiasts, or someone related to one! If you're on the hunt for a stimulating and educational STEM toy that can ignite a passion for programming and robotics, you might want to pay attention to what I'm about to share.
To put in the words of my own children: xmas is coming, buckle up!
We got our hands on the DJI Intelligent Educational Robot, Robomaster S1, and let me tell you, it's been an intriguing journey of discovery. I've had the distinct pleasure of immersing myself in the intricacies of the DJI Intelligent Educational Robot, better known as the Robomaster S1.
A Hands-On Assembly Experience
Out of the box, the Robomaster S1 is a puzzle that promises (child?) empowerment. My thoughts while the hours passed by, assembling and imagining what I could do with it, was that besides my own giddiness, this robot wasn't just a playmate; it was a teacher of the tangible, bringing the abstract world of technology into clarity.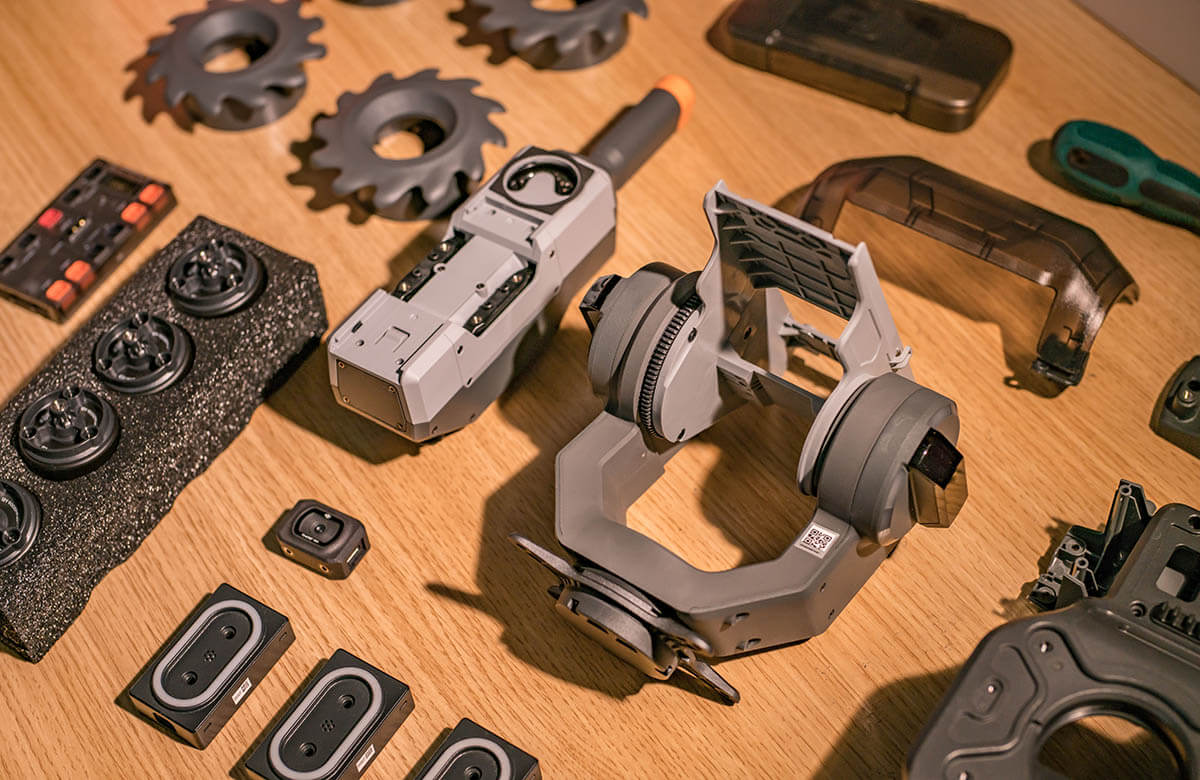 What caught my eye was its modular design, boasting up to 46 customizable components. This means endless possibilities for exploration. And for those keen on learning, the robot comes packed with a wealth of educational resources like projects, video courses, and programming guides. Whether you're a beginner or an expert, there's something for everyone to deepen their knowledge in mathematics, physics, programming, robotics, and AI.
Napkin Math: The Worth of Every Dollar
Now, let's dissect the value. That's what we all are looking for. Is it worth my hard-earned, money? For around $549, you're not just buying a robot; you're investing in a comprehensive educational toolkit.
Commonly, product review sites evaluate a product's merit based on certain criteria or the subjective views of journalists. While these methods are valid, we propose a different approach. We contend that the value of a product should be assessed by stacking its feature set against the total cost, offering a more objective measure of worth. Our method to evaluate features by compounded pricing is to split the full price by the number of main features. As an example, a Tesla without FSD is worth (to the consumer) a lot less than one that comes with it if, for that consumer, self-driving is a key selling point. An iPhone without a camera is useless and that applies to all customer base.
| Popular Feature | Cost per feature Breakdown | Description |
| --- | --- | --- |
| Mecanum Wheels | $65.00 | Provide exceptional maneuverability |
| FPV Camera | $180.00 | A HQ camera offering a 1st-person view |
| Coding Capability | $75.00 | Supports Python and drag-and-drop block coding |
| DIY Assembly | $34.00 | The build-it-yourself aspect adds an engaging element |
| Gel Bead Blaster & Laser Beams | $195.00 | A turret that can shoot both laser beams and gel beads |
Bottom Line
Yes, it's a financial commitment, but the return is an expansive skill set. Not to mention extremely fun but educational. Overall, we highly recommend the DJI Intelligent Educational Robot, Robomaster S1, to anyone looking for an engaging and educational STEM toy.
With its modular design, customizable components, and support for Scratch and Python programming languages, this robot is a great way to introduce children to the world of modern robotics and programming.
Scratch is the world's largest coding community for children and a coding language with a simple visual interface that allows young people to create digital stories, games, and animations. Scratch is designed, developed, and moderated by the Scratch Foundation, a nonprofit organization.
Scratch promotes computational thinking and problem solving skills; creative teaching and learning; self-expression and collaboration; and equity in computing.
Scratch is always free and is available in more than 70 languages.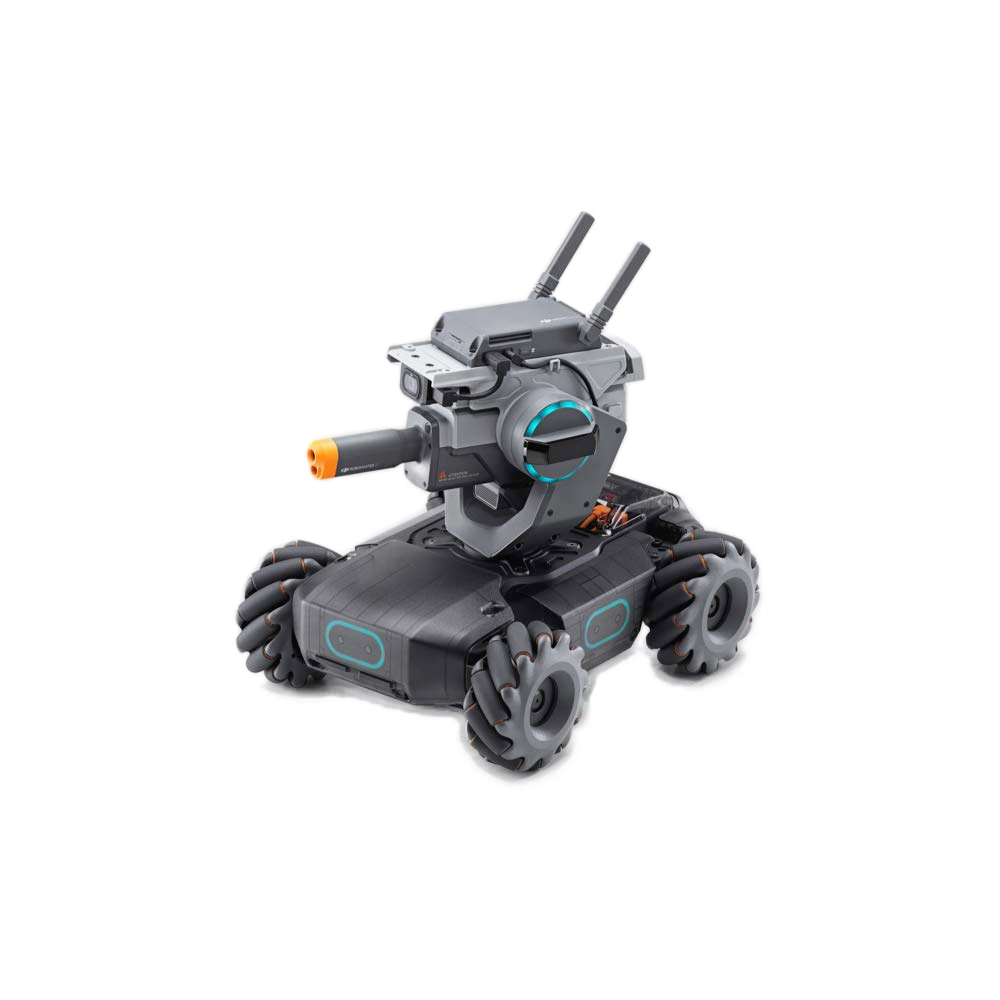 DJI RoboMaster S1 - Educational Robot
STEM Programmable Science Learning Mini Car Remote Control Intelligent AI Scratch Python Coding 5MP 1/4" CMOS Camera
AMAZON
Programming Language and Intelligence
We were impressed by the RoboMaster S1's educational resources. The robot comes with a series of projects, video courses, and programming guides that range from beginner to expert, which enhance users' knowledge and understanding of mathematics, physics, programming, robotics, and artificial intelligence. These resources are excellent ways to strengthen problem-solving and critical-thinking skills engagingly. The lessons allow users of any level to understand complex principles and apply them during competition.
We were impressed with the DJI Intelligent Educational Robot STEM Toy Robomaster S1's ability to teach children programming languages. With programmable modules and the ability to code in Scratch and Python, this toy offers a fun and interactive way for kids to learn important programming concepts. The robot also has a built-in AI system that can recognize and respond to a variety of voice commands, making it an excellent tool for developing children's intelligence.
We were very surprised away by the automatic driving and AI applications of the DJI Intelligent Educational Robot STEM Toy Robomaster S1. The S1 offers an autopilot challenge on the standard venue where it "recognizes" simulated roads and traffic lights. The line recognition feature offers users practical experience with automatic driving principles, robotic control, mathematics, and physics. The vision marker recognition, individual recognition, clap recognition, gesture recognition, and other S1 robot recognition provide even more options for fun and creativity.
The S1 supports Scratch and Python programming languages, allowing users to write programming for their own unique skills and put them to use during battle to gain a decisive advantage. Users can experience an exhilarating FPV driving experience that includes omnidirectional movement, target shooting, and so much more. The modular design of the S1 allows for up to 46 customizable components, giving users unlimited space for innovation and six PWM ports that support customized accessories, allowing them to explore the possibilities of the S1 and the magic of the robotic world.
Overall, the DJI Intelligent Educational Robot STEM Toy Robomaster S1 with Programmable Modules, Scratch, and Python Coding is an excellent educational resource that provides a seamless combination of competitive gameplay with math and physics knowledge. While it is quite expensive, it offers a wealth of teaching resources and practical knowledge that can be applied during competition. The S1 is a great tool for exploring robotics and programming, but some users may find the instructions hard to follow, and it may not be suitable as a gift.
Customer Reviews
We scoured through the customer reviews of the DJI Intelligent Educational Robot STEM Toy Robomaster S1 and found a mix of positive and negative feedback. Many customers found this robot kit a fun and educational tool for exploring robotics and programming. They appreciated the long-range video feed and the many sensors and transducers that open up limitless opportunities in coding and learning. Some customers even enjoyed using it as a simple RC vehicle.
However, some customers found the instructions hard to read and the photos difficult to follow when putting it together. Others were disappointed that DJI actively tried to block the use of the robot with the Python SDK through firmware updates. And, of course, the price tag was a concern for some.
Overall, the DJI Intelligent Educational Robot STEM Toy Robomaster S1 seems to be a great learning tool for those interested in robotics and programming, but it may not be suitable for everyone due to its price and potential technical difficulties.
It's A Wrap
After spending some time with the DJI Intelligent Educational Robot STEM Toy Robomaster S1, we can confidently say that it's an excellent choice for those who are serious about learning robotics. The S1 is equipped with a variety of sensors that can detect claps, gestures, hits, and more, and it comes with a powerful CPU and numerous advanced components that allow for a thrilling experience.
We particularly enjoyed the long-range video feed and the fact that all the components can be operated and configured. The Python Beta is currently available, and we found it easy to follow along with the guide.
While it's not a cheap toy, it's definitely worth the investment for those who are passionate about learning and exploring robotics. Overall, we highly recommend the DJI Robomaster S1 for anyone looking to take their robotics education to the next level.
The future of AI and robotics is not just about technology; it's about reimagining the very essence of humanity. Stay curious for the next chapter. 🤖✨