What about Molokai
Typically, when someone asks me "where in Hawaii?" and I answer Moloka'i I get two types of reactions:
The Lepers colony? Wow, that's remote.
Never heard of it. What's special about it?
For the first instance, I usually ask if they have been there and so far 99.9% answer "NO" or "no but I have been [another island]".
The remote comment is based on the general comparison of Moloka'i vs the rest of the archipelago that is mostly tourist-driven and as we call it "resorts islands".
There's still much to discover and learn about the culture, the place, everything but for the time being, let me share what we know thus far.
Leper Colony
Moloka'i is perhaps best known for one of the most troubling times in Hawaii's past -- the leper colony of Kalaupapa. In 1866, King Kamehameha V exiled all those in the Kingdom of Hawaii who contracted Hansen's disease to an isolated peninsula on the north shore of Molokai. Now, the site is a National Historical Park, and the remaining twelve descendants still live there full time. Only 100 adult visitors are allowed to visit the park per day, so make reservations through Father Damien Tours and set foot on truly hallowed ground. The picture below shows the leprosy colony and it was taken from the Kalaupapa viewpoint. Five minutes away from the phallic rock. What is it? Glad that you asked.
Phallic rock
The jokes here are endless but clearly make a good table conversation, for adults in some cultures, when it comes to talking about this rock shaped like a turtle even if the local tourism think of it as... a very happy to see you rock?
The ancient legend tells of the male fertility god Nanahoa, who lived in this area. His wife Kawahuna one day caught Nanahoa admiring a young girl. She got upset and pulled the girl by her hair. Nanahoa then got mad and struck his wife, who then fell down the cliff and turned into stone. Nanahoa then turned into the stone you see today, the Phallic Rock. In ancient Hawaii, infertile women came here to pray, bring offerings and spend the night in hopes of conceiving a child. Even today women still come here in hopes of getting pregnant soon. We found a recent offering at the bottom of the rock.
When I asked Victoria if she was considering spending the night there, she had a different take of it...
Hunting
There is an archery club and all sorts of hunting options. Apparently, people from the other islands of the archipelago buy small condos on Moloka'i as a hunting base. First-world problem/solutions at work!
Golf
It's Hawaii, therefore, Golf is a must to have even on the most remote island... 😆 The picture below was taken in the late afternoon, in DECEMBER!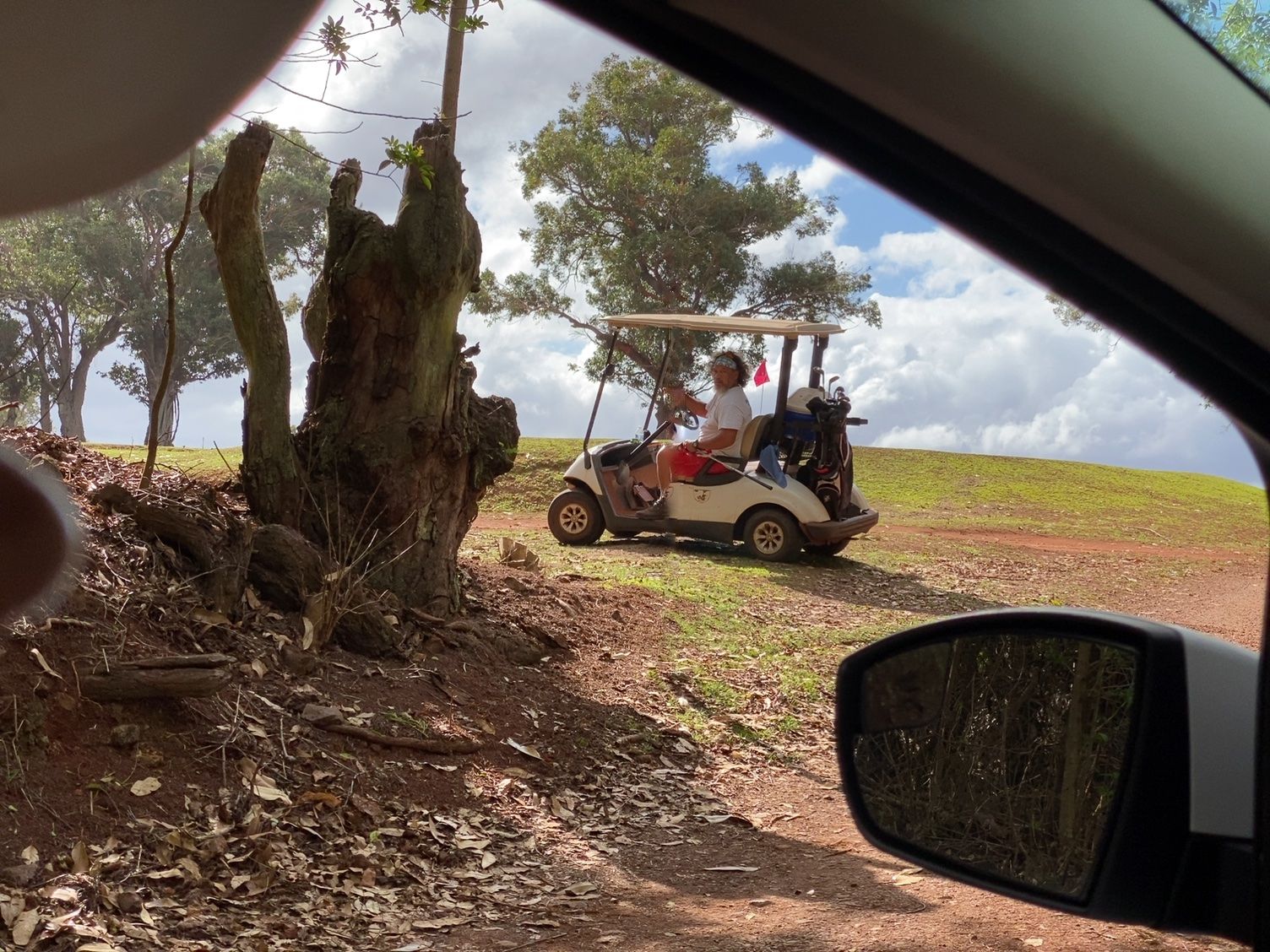 Rural but with knowledge
It is definitely a rural-based island when compared to Honolulu as an example, that is probably why in general the sentiment of the locals is a struggle between we want the money and opportunity tourists may bring in but we don't want the tourists. I have seen this phenomenon before in Italy as wittily my friend Aldo said the other day over the chat: "Like the people from Liguria." And knowing the background stories, yep, spot on.

Sure it is rural but they have plenty of talents that stem from being fundamentally happy and friendly people to the core. Not like the Seattle freeze.

And they put that creativity at work, like this mechanic built his own Christmas tree.
One of everything
There's literally everything that you can think of, but rather than have multiple options, you find ONE of the kind. One burger joint
One bike service/rental with its own website. Which is managed/owned by a mechanic across the street or so the sign on the door let to assume.
One architectural drafting service led by the only Italian (besides Mario) on the island. He designed the home we purchased and if I should judge his professional abilities from that early work of his career, the dude is awesome!
One cafe' and one Ace hardware store which is quite peculiar because rather than be in a building, it is hosted through multiple containers! As I said, the locals are very creative.
While the more mundane aspect doesn't feel much different from the mainland, including most of the prices of the products we scouted for.  We found that there are things on this island that we definitely don't find from where we come from. Like this beautiful Monarch butterfly.
Or this view from the rental condominium where we stayed for a few days while the house was getting ready.
Or this beach 12 minutes away from home.
or this sunset photo that was taken from our backyard.
For being a remote place, they have fiber optics in several spots of the island and the one we used for over two weeks performed really well even with HEAVY use throughout the day.
The temperature throughout the year is between 65F and 85F. The sun rose and sunset with a precision that even my Apple watch was surprised by the behavior. The feeling I was getting was like that a supreme force was hitting the light switch to turn on/off the sun.
and from our balcony, I could just sit and marvel at the precision, the beauty, and the sense of calm that the island seems to be infused by. The sky was going dark sharply, pitch black for 15 minutes, and then like little flowers sprouting in spring, stars would appear and brighten up the outside.
Ah, by the way, there is well-tanned chicken EVERYWHERE 😆 They are cute but way too skinny for a good BBQ. I know... I know. Hey, it's hunting season every season in Moloka'i!
Anyway, this is an early review of what we know or believe we do. As we live and learn some of the things shared here might appear different or even better than we assessed so far. One thing for sure, this place is not for everyone and if you should ever consider being as crazy as us to move here from anywhere else in the world consider these three things:
Respect the island and its culture. Although the rule of law is the same as the rest of the USA there are unwritten rules that clash with that sense of freedom. Hawaii has been abused (and occupied) therefore the sentiment of "you don't belong here" can clash with your attitude as an "outsider". They are all very friendly but there's a no-zone discussion that does give you even the opportunity of explaining yourself if you cross that line. I experienced this personally.
It's remote, which means there's concurrency for resources. You will figure out your way but don't come with the 1-click-buy concept because there's nothing more different in Moloka'i from where you are coming from than the concept of TIME.
Social tools are used here in a very intense way to broadcast feelings and very quickly they can start raising the temperature on any subject. Everyone knows everyone else and therefore what normally would be a lost comment on a social site, here becomes a brush fire very quickly because of the close ecosystem and social dynamics.
I don't want to scare you but make you aware of what I didn't know myself. I was thinking of doing something that people would have welcomed as it would have generated many consulting jobs and unfortunately, I end up running into a lot of public debates without the possibility to either understand better what was the core of the issue or to explain.
The island is majestic and its people are indeed more friendly than signs and past stories led to believe but it is not for everyone. If you fit that bill, it's up to you.